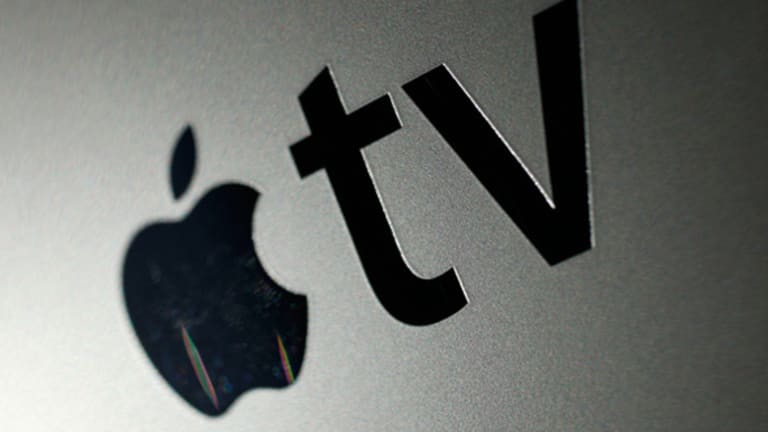 Apple TV Could Still Be a Major Opportunity, if Apple Can Execute
The tech giant's hiring of a new exec from Amazon comes as pay-TV streaming apps and a burgeoning smart home market spell new opportunities.
This column has been updated to note a February 16 Bloomberg report that states an Apple TV set-top supporting 4K video playback is being prepped.
The TV has long been Apple's (AAPL) - Get Apple Inc. (AAPL) Reportwhite whale, a giant digital content and (increasingly) communications platform that has captured its imagination for at least a decade, but one which it has only established a modest presence for through a line of streaming set-top boxes.
It's much too early to say whether Apple's hiring of someone previously in charge of a rival product line to lead its own TV-related hardware and software efforts will yield big changes. But it does suggest Apple isn't satisfied with the status quo at a time when its set-top sales are pressured and several trends provide it with a chance to grow its addressable market.
Timothy Twerdahl, the head of Amazon's (AMZN) - Get Amazon.com, Inc. ReportFire TV streaming set-top/HDMI stick business from March 2013 to December 2016 (according to his LinkedIn profile), is now an Apple VP in charge of the Apple TV set-top line. A Bloomberg source says Twerdahl reports to iPhone/iPad marketing chief Greg Joswiak, and that former Apple TV chief Pete Distad will now help lead Apple's growing content deal efforts.
Twerdahl's hiring comes just before the 10-year anniversary of the original Apple TV's launch. It also comes about 16 months after the launch of a fourth-generation Apple TV featuring Siri/voice search support and App Store support (the device starts at $149). Last October, Apple TV's software was updated to include a unified app for accessing video content from Apple and certain third parties, and to allow users to sign in just once to access apps requiring a pay-TV account, otherwise known as single sign-on.
And on February 16, Bloomberg reported Apple is prepping a set-top that supports 4K video playback and "more vivid colors"; the latter might be a reference to supporting high dynamic range (HDR) video content Roku, Amazon and other rivals have already launched 4K-capable set-tops.
Bloomberg also mentioned many Apple engineers have been frustrated over what they see as a lack of major progress towards a prior goal of seriously disrupting the TV industry. "I signed up for revolutionary. We got evolutionary," one employee is quoted as saying.
Apple had cumulatively sold 25 million Apple TVs as of early 2015, and that number might now be over 35 million. But that still pales relative to the roughly 250 million TV sets that are sold annually, not to mention the 215 million iPhones Apple sold last year at a $600-plus average selling price (ASP). The inclusion of streaming app support within game consoles and smart TVs has limited the addressable market for standalone streaming devices.
Moreover, even within this market, Apple is just one of several notable players. Last year, comScore estimated Apple TV had just a 12% U.S. share as of March, trailing Roku (49%), Alphabet/Google's (GOOGL) - Get Alphabet Inc. Class A Report Chromecast (22%) and the Fire TV (16%). Strategy Analytics assigned Apple TV a near-20% global share for 2015.
Jim Cramer and the AAP team hold positions in Apple and Alphabet for their Action Alerts PLUS Charitable Trust Portfolio. Want to be alerted before Cramer buys or sells AAPL or GOOGL? Learn more now.
Last week, CFO Luca Maestri said lower Apple TV sales were a reason that Apple's "Other Products" revenue -- which is comprised of Apple TV, Apple Watch, headphones and accessories -- fell 8% annually in the December quarter to $4 billion, in spite of higher Apple Watch sales. Altogether, "Other Products" accounted for about 5% of Apple's fiscal 2016 (ended in September) revenue of $215.6 billion.
But a newfound willingness by some pay-TV providers to let streaming devices act as substitutes for traditional pay-TV set-tops could give the market a boost. Comcast (CMCSA) - Get Comcast Corporation Class A Report recently launched a beta version of its Xfinity TV app -- it lets users watch live and on-demand video content -- for Roku's hardware. It's not hard to see Comcast supporting smart TV sets and non-Roku streaming devices down the line.
By giving consumers the chance to avoid pay-TV set-top rental fees, video apps allow pay-TV providers a chance to lower their total service prices at a time when cord-cutting continues to eat away at their subscriber bases. It also positions them to better compete against web-based TV services such as Dish Networks' (DISH) - Get DISH Network Corporation Class A ReportSling TV and AT&T's (T) - Get AT&T Inc. ReportDirecTV Now, which are generally available via streaming and mobile apps. SNL Kagan estimated in December 273 million set-tops would ship globally in 2016.
Apple TV might also have some untapped potential as a gaming platform. Though third-party game controllers are available for the fourth-gen Apple TV, not enough have been sold for game developers to embrace the platform in a big way. But that could change if Apple decides to start bundling a controller with future set-tops, particularly since it's often not hard for iPhone/iPad game developers to port their offerings to Apple TV. Hardcore gamers will undoubtedly stick with Sony (SNE) - Get SONY GROUP CORPORATION SPONSORED ADR Report and Microsoft's (MSFT) - Get Microsoft Corporation (MSFT) Reportconsoles, but given the graphics quality now delivered by iOS games running on Apple's A-series processors, many casual gamers could be won over.
And Apple TV could soon play a prominent role in Apple's reported efforts to battle Amazon's Echo speaker line and Alexa voice assistant in the fast-growing smart home hardware market. Apple TVs can already be used to field Siri commands and remotely control/automate smart home devices relying on Apple's HomeKit platform, but more can be done. Nvidia's (NVDA) - Get NVIDIA Corporation Reportlatest Shield TV set-top could serve as a template: It comes with Google Assistant baked in and can be paired with wall-pluggable speakers that can handle Assistant commands whether or not a user's TV set is turned on.
Twerdahl's background should leave him well-suited to take on some of these challenges. Under his watch, Amazon developed a quality interface for its Fire TV hardware, which runs on the company's Android-based Fire OS, and also built out a sizable ecosystem of streaming apps and (to some extent) games. Amazon has also done a good job of integrating Alexa with its streaming hardware and software, and -- though Apple might be hesitant to do something similar given its product philosophy -- has begun striking deals to bring Fire TV-powered sets from third parties to market.
One also has to wonder if Apple, which reportedly shelved plans to launch its own TV sets a few years ago after creating prototype hardware in its labs, will once more consider building its own set. But given some of the challenges posed by the TV market -- TV sets are replaced far less often than smartphones, and major hardware innovation could be more difficult -- it's best not to get one's hopes up for now.
Even without a TV set, however, a rapidly-changing home entertainment landscape and the transformation of the "smart home" from a Jetsons-like fantasy to an affordable reality could spell a major opportunity for Apple. That is, if the company can develop a cohesive strategy for positioning Apple TV as a living room and smart home hub, and execute on it.
Its latest hire might just help with that.