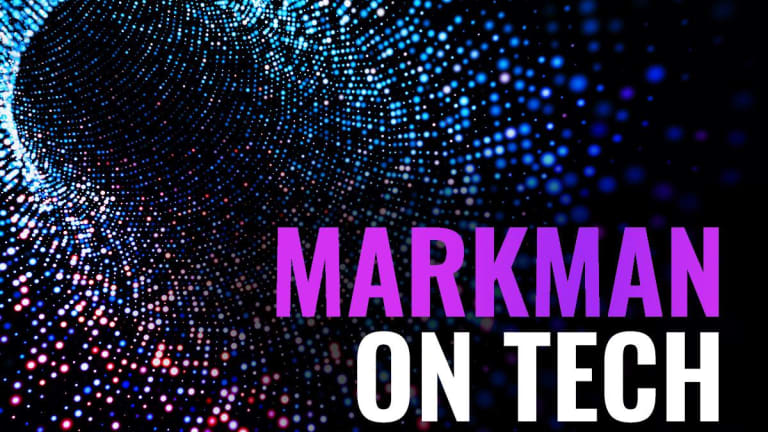 Apple Trying to Persuade Wall Street It's Not a Tech Company
Apple needs to head off Facebook, convince investors it is pursuing other business models and rebrand itself to get out of the way of potential regulation.
All the excitement over new colors finally makes sense. The reason Apple (AAPL) is no longer innovating is that it is not a technology company.
That's not hyperbole. It comes straight from Tim Cook. The Apple chief executive told reporters Monday that the Cupertino, Calif., company is more a consumer products maker than a technology maker. Besides, Cook has proof, sort of.
The new designation is convenient, and potentially genius.
Cook told a reporter  that Warren Buffet does not invest in technology companies, or ventures he does not understand. So he obviously views Apple as a consumer company.
Tortured logic aside, the assertion is correct. Big tech companies are under siege. Zealous regulators in Europe imposed arduous new legislation to protect privacy, and derail big tech's efforts to gobble up consumer data and forge new business models.
The General Data Protection Regulation became law throughout the European Union in 2018. It means every business is required to obtain consent before collecting any data online.
Cook praised the Brussels regulation last October. And he has been among the most vocal proponents of bringing regulations stateside. It's not a surprise. Facebook (FB)  has the potential to completely undermine Apple's business model.
Apple makes virtually all of its profits selling iPhones. Cupertino makes the hardware and writes the code that makes everything silky smooth. But Facebook is encroaching on the software end. Its apps, Facebook, Instagram, Messenger and WhatsApp are among the most popular iOS downloads.
Last week, the Wall Street Journal reported the social media giant is in talks with Mastercard (MA) , Visa (V)  and First Data Corp. (FDC)  about a payments system that would transform Facebook properties into a living ecosystem. This development could make the physical hardware irrelevant.
In China, WeChat enjoys similar status. Ben Thompson at Stratechery makes a convincing argument WeChat is the reason Apple is underperforming in China, despite its massive investment.
The company has 50 stores in China. The investment there is bigger than all of Europe. It is second only to the United States yet an April study from research firm IDC found its market share is only 12%, a 30% decline from a year ago.
Apple needs to head off Facebook, convince investors it's pursuing other business models and rebrand itself to get out of the way of potential regulation.
The first two initiatives are well underway. Cook has been Facebook-bashing for months. He has also been telling anyone who will listen that the company iPhone built is now a services businesses.
Surging service revenues make this a compelling story. During the second quarter, services, including Apple Music, the App Store, iTunes, Apple Pay and licensing payments from companies like Google, accounted for 20% of sales, or $11.5 billion. Yet iPhone still accounted for 54% of sales.
Despite this tech-heavy split, Cook has most of Wall Street convinced Apple has been transformed. Forget that iPhone is a high margin business and services, with the exception of licensing and apps, is a low margin affair.
If he can rebrand Apple as a consumer products company, the rewards are mindboggling.
Bespoke Investment Group ran a list of the sectors and their respective price to earnings ratios. Right now, Apple shares trade at a 17.47 multiple of trailing earnings. The P/E ratio afforded dull consumer staples businesses is 20.07.
Best in class consumer products companies like Proctor & Gamble (PG) , and Colgate Palmolive (CL)  get multiples closer to 25. If Apple traded at a similar P/E the stock would fetch $296. 
In many ways, Apple is a conundrum. It is clearly a great franchise. People love Apple products. But iPhone is no longer a growth business because consumers, especially in China, are gravitating toward more innovative and less expensive products.
Trading iPhone sales losses for services growth is clever spin, but it creates a math problem. Cook is trying to change the calculus with gigantic share repurchase programs to goose earnings per share, and lots of high profile public statements about the nature of the business.
I view the stock as a great trading vehicle, but not a suitable longer-term investment. Share buybacks can only carry the business so far. I suspect shares will get stuck in a trading range as investors begin to see through the financial engineering.
The irony is Apple today looks a lot like IBM in 2011.
Back then, Buffet bought Big Blue shares for $170. He praised its share buybacks and long history of profitability. He ended up selling the position for an 18% loss in 2018. During the same stretch the Standard and Poor's 500 advanced 116%.
To learn more about Jon Markman's stock picks at the crossroads of culture and technology, check out his daily investment newsletter Strategic Advantage. To learn about Markman's practical research in the short-term timing of market indexes and commodities, check out his daily newsletter Invariant Futures
Apple and Facebook are components of the Action Alerts Plus portfolio. To find out more about why Jim Cramer and the AAP team like the stocks, click here now to get more information about the Action Alerts PLUS portfolio.
Jon Markman owns the following stocks mentioned in this column: P&G, Mastercard, Visa