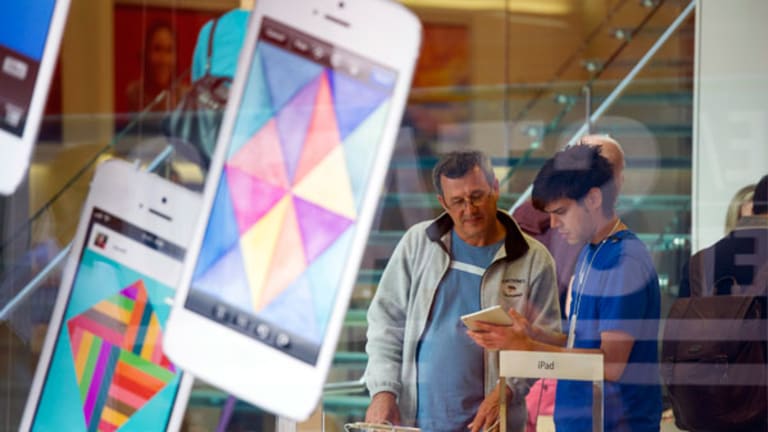 Apple Sells $17B in Largest Debt Offering Ever
Apple sold $17 billion in corporate debt, which would be the largest debt offering in U.S. history for a non-financial company.
NEW YORK (
) --
Apple's
(AAPL)
next hit may not be an iWatch or iTV, but the company's bond offering.
Apple sold $17 billion worth of
in the largest corporate non-financial bond offering in history, according to data from
Bloomberg
.
In the six-part offering, Apple sold debt with maturities starting in 2016 and ending in 2043, according to a regulatory filing. As part of the offering, the iPhone maker will be selling $5.5 billion worth of 10-year fixed debt, which are going to start trading at 75 basis points above comparable U.S. Treasury debt. Currently, the yield on a 10-year U.S. Treasury is 1.675%.
Apple will also send $1 billion worth of three-year fixed rate notes, which will start trading at 5 basis points over the 3 month LIBOR rate.
Here's the entire offering, according to data from
Bloomberg
:
$5.5b 10y FIXED NOTES LAUNCH AT +75 BPS
$1B 3Y FRN LAUNCH AT 3ML + 5 BPS
$1.5B 3Y FIXED NOTES LAUNCH AT + 20 BPS
$2B 5Y FRN LAUNCH AT 3ML+25 BPS
$4B 5Y FIXED NOTES LAUNCH AT + 40 BPS
$3B 30Y DEBT LAUNCHES AT +100 BPS
Apple announced the debt offering as part of its massive capital return to shareholders when it reported
earlier this month. The Cupertino, Calif.-based firm increased its quarterly dividend by 15% to $3.05 a share and upped its share repurchase program by $50 billion to $60 billion in total, as part of a plan to return $100 billion in cash to shareholders by the end of 2015.
Apple's cash hoard had come under attack by investors clamoring for a return, including David Einhorn, the
Greenlight Capital
hedge fund manager. In an emailed statement earlier this month, Greenlight welcomed the increase in dividend and buybacks. "We applaud Apple's decision to borrow money and return excess capital to shareholders, an idea that was off the table only months ago," a Greenlight Capital spokesperson said following the April 23 announcement.
Goldman Sachs
and
Deutsche Bank
are the lead underwriters on the debt offering. Reports have come in that the order book, the amount of orders for the offering, was almost three times oversubscribed, with orders approaching $50 billion.
Apple shares finished higher in Tuesday trading, up 2.94% to $442.78.
--
Written by Chris Ciaccia in New York
>Contact by
.