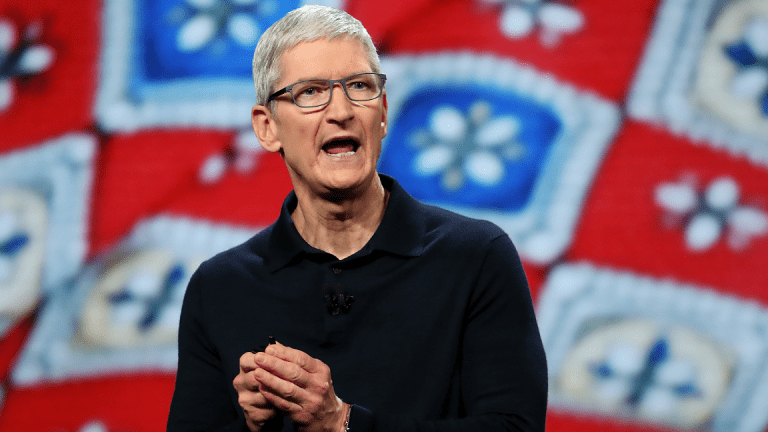 Apple's Tim Cook: 'Technology Needs to Be Regulated'
The CEO is one of a growing number of people both inside and outside the tech sector calling for more federal oversight.
The CEO is one of a growing number of people both inside and outside the tech sector calling for more federal oversight.
Apple (AAPL) - Get Report CEO Tim Cook added his voice to the growing chorus of prominent people both inside and outside the tech sector that are calling for government to become more involved in regulating technology firms.
"I think there's some serious issues with tech," Cook said during a Q&A session at the inaugural Time 100 Summit in New York City on Tuesday morning. "We all have to be intellectually honest and admit that what we're doing isn't working, and that technology needs to be regulated. There are now too many examples where [having] 'no rails' has resulted in great damage to society."
Facebook's (FB) - Get Report Mark Zuckerberg recently wrote an op-ed for the Washington Post in which he called for the government to regulate tech firms in the areas of harmful content, election integrity, privacy and data portability. Facebook has been embroiled in many of the highest-profile cases involving those issues. 
And a growing number of politicians, notably Democratic presidential candidate Elizabeth Warren, have called for regulation and even a break-up of some of the U.S.'s largest tech companies in the wake of incidents of mishandling and misuse of user data, interference in U.S. elections and antitrust concerns.
However, Cook, who said he previously was not a believer in regulation, noted he wasn't confident in governments' abilities to regulate the tech sector intelligently.
"Europe is likely to come up with something," Cook said. "GDPR is not ideal, but at least it's a step in the right direction in the privacy space. The center of gravity may be in Europe and eventually [rules] may come to the U.S."
Data privacy has been an issue that Apple has emphasized, seeing it as a way to differentiate it from rivals such as Facebook and Alphabet's Google (GOOGL) - Get Report , both of which rely heavily on utilizing their users' data to make money.
In January, Cook wrote his own op-ed for Time Magazine in which he called for Congress to establish federal privacy legislation that would protect consumers' data, enable them to track how it's used and give them the ability to delete that data on demand.
Cook also reiterated his optimism about Apple's potential in health care, citing the latest Apple Watch's ability to do an EKG and detect atrial fibrillation.
"I do think we'll look back at one point and say, Apple's greatest contribution to mankind has been in health," Cook said.
Apple shares were up 1% to $206.50 on Tuesday morning and are up more than 30% so far this year. The company reports its quarterly earnings on April 30.
Apple, Facebook and Alphabet are holdings in Jim Cramer'sAction Alerts PLUS Charitable Trust Portfolio. Want to be alerted before Cramer buys or sells these stocks? Learn more now.