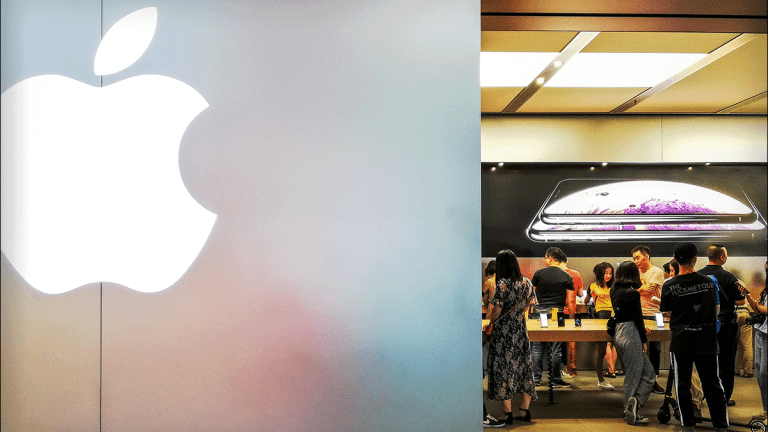 Taxman Cometh for Apple? European Battle Part of Broader Clampdown on Tech Taxes
Apple is seeking to overturn a European decision that would force it to pay billions in back taxes to Ireland. In Europe and elsewhere, a (gradual) crackdown on international tax loopholes is underway.
Apple (AAPL) - Get Apple Inc. Report is pushing back on a ruling that could raise its tax bill going forward.
On Tuesday, Apple opened a court challenge to a 2016 decision by the European Commission mandating that Apple pay billions in back taxes to Ireland, where two Apple subsidiaries, Apple Sales International and Apple Operations Europe, are based. The 2016 decision charged that Ireland, which has one of the lowest corporate tax rates in the world, struck deals with Apple allowing it to declare European sales in the country and pay miniscule tax rates -- deemed by the commission an improper form of "state aid." Apple shares closed 0.35% higher on Tuesday at $220.70.
Both Apple and Ireland objected to the commission's tax ruling, which sought about $14 billion in back taxes and penalties. Apple's lawyer, Daniel Beard, argued on Tuesday in Europe's General Court in Luxembourg -- the second-highest court in Europe -- that the European Commission's decision "defies reality and common sense," while Ireland called the ruling "an intrusion on its sovereignty" according to reporting from Reuters.
A decision by the General Court is expected within a few months, and that will likely be appealed to Europe's highest court, the EU Court of Justice, by whichever party receives an adverse ruling. In total, it could take several years for a final ruling to be issued in the tax case, which is one instance of a broader crackdown on Big Tech in Europe.
Other than the European Commission, other governmental bodies are seeking to reform international tax rules for the digital age, with major tech multinationals in the crosshairs.
In July, France enacted a 3% digital tax on companies that sell more than $27.86 million in digital services in the country and have more than $830 million in revenues globally -- including Amazon (AMZN) - Get Amazon.com Inc. Report , Alphabet (GOOGL) - Get Alphabet Inc. Report and Facebook (FB) - Get Meta Platforms Inc. Report . Other EU member states, such as the UK and Czechia, floated versions of a digital tax over the past year. 
In the meantime, however, the 36-member Organization for Economic Cooperation and Development (OECD) is hammering out a way forward on taxation of multinational tech companies, with the goal of reaching a unified consensus by the end of 2020. In a 2015 report, the OECD estimated that $240 billion, equivalent to 10% of global corporate tax revenues, had been lost because of profit-shifting to low-tax jurisdictions.
Because of the many parties and interests involved, international tax codes take a long time to update -- and they are as much a matter of politics as they are of finance. 
The White House has chafed at higher international tax rates for U.S.-based firms, with the Trump administration's trade office asserting in August that the French digital tax "unfairly targets U.S. companies" and President Trump threatening to impose heavy tariffs on French wines. At the recent G-7 summit, French President Emmanuel Macron and President Trump proposed a compromise whereby companies that pay the 3% tax can deduct that amount once a new multilateral agreement on how to tax Internet giants is reached.
The goal of a digital tax on the tech giants is to gain a "not insignificant" amount of revenue without encouraging massive restructuring efforts to avoid the tax, according to Benjamin Alarie of Blue J Legal, a predictive tax law software firm.
"Ultimately, it's going to come down to some extent to geopolitics -- the amount of tax isn't going to make a dent with these tech players," he said.
Apple shares are up 39.2% year to date.
Amazon, Facebook and Alphabet are holdings in Jim Cramer's Action Alerts PLUS member club. Want to be alerted before Jim Cramer buys or sells the stocks? Learn more now.