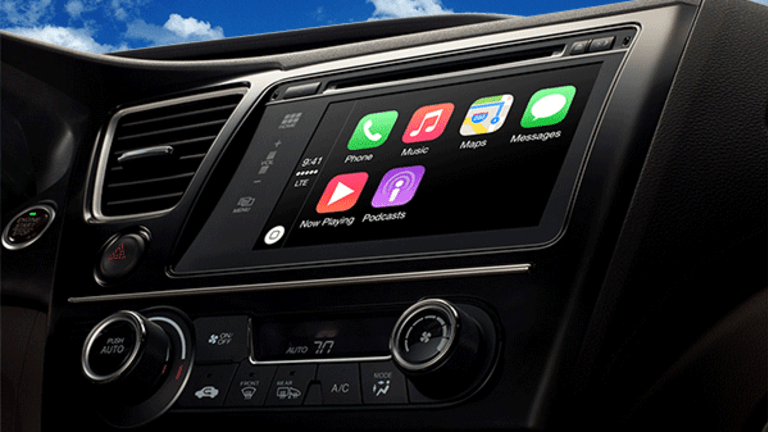 Looks Like Apple Just Killed the iCar
The tech giant has abandoned the idea of building an entire Apple-branded car, moving instead to focus on the underlying technology.
Apple Inc. (AAPL) - Get Free Report may have gotten a bit too ambitious in its haste to not miss out on the self-driving car race, and now the tech giant has scaled back its efforts to break into the market. 
The company had first hoped to build an Apple-branded autonomous vehicle on its own, but due to a series of disagreements between executives and confusion about the project's goals, Apple ultimately decided it would focus on the underlying technology used to power self-driving cars, The New York Times reported on Tuesday, Aug. 22, citing sources close to the situation. Apple plans to test the autonomous vehicle technology in a self-driving shuttle service that will ferry employees around the company's Palo Alto, Calif., campus -- an effort called PAIL, for Palo Alto Infinite Loop, according to the Times. 
The moves echo comments made by Apple CEO Tim Cook earlier this month and in June, when he said the company was working on a "large project" focused around autonomous systems. Cook has called autonomous vehicles the "mother of all" artificial intelligence projects, which suggested Apple might be building its own car, but on the company's latest earnings call, he made it seem like Apple is reconsidering that idea.
Apple's iPhone 8 Might Be So Hot That Taiwan's Largest Airline Stock Is Surging
Why Google's Android Oreo Doesn't Push the Envelope as Much as Apple's iOS 11
"The autonomous systems can be used in a variety of ways, and a vehicle is only one," Cook said on the call with investors. "There are many different areas of it, and I don't want to go any further with that." 
Apple is joining an already crowded market populated by rivals including Alphabet Inc.'s (GOOGL) - Get Free Report Waymo, Tesla Inc. (TSLA) - Get Free Report and Uber Technologies Inc. Waymo is widely considered to be the front-runner among companies developing autonomous technology. Apple's technology is said to be at the stage where Google's self-driving car efforts were three years ago, Business Insider reported, citing sources familiar with the situation. The tech giant plans to target the ride-hailing industry with its autonomous systems but isn't trying to overtake Uber, Business Insider noted. 
Project Titan, the internal code name given to Apple's car project, has been in the works since 2014. Apple staffed up the project heavily, primarily with veteran engineers who had expertise in constructing cars, the Times noted.
The team hoped to disrupt the traditional automobile experience, not just with autonomous technology but by introducing things such as motorized doors that open and close silently and the possibility of building spherical, globelike steering wheels. Engineers also thought about ways to redesign Lidar sensors, the core technology that basically acts as the eyes for a self-driving car, by using lasers that scan and analyze the car's surroundings. Apple reportedly wanted to redesign the Lidar sensors, which typically protrude in a cone shape from the top of a car. Other ideas involved adding augmented reality features to a car's dashboard. 
A few years into the project, however, it began to hit some speed bumps. Steve Zadesky, a 16-year Apple veteran who oversaw Project Titan, quit the project in January 2016, after a series of disagreements with Apple design chief Jony Ive. Zadesky wanted to focus on a semi-autonomous car that would have self-driving capabilities but would allow the driver to resume control of the car, while Ive pushed for a fully autonomous car that would let Apple control the entire end-to-end experience. 

The project is now overseen by longtime Apple executive Bob Mansfield and has reshifted its focus toward building autonomous technology. Apple has been spotted testing its self-driving technology on a fleet of Lexus RX450h SUVs in California, not long after it was granted a test permit by the California Department of Motor Vehicles.
Analysts and experts have said it would make more sense for Apple to scale back its ambitions, lest it risk tapping into the self-driving car race too late. Building an entire car comes with its own challenges, not limited to forming relationships with dealerships, which can be complicated, said Bob O'Donnell, chief analyst at TECHnalysis Research LLC.
"All of those kinds of things are what they probably started to realize would be more challenging," O'Donnell said. "Whereas actual software and tech they were probably making good progress on and said, 'Look, we've got all this work and how should we leverage it?' It's not at all hard to draw the story where that's the case."
Apple shares rose 0.13%, to $159.98 Wednesday. The company did not immediately return a request for comment.
Apple and Alphabet are holdings in Jim Cramer's Action Alerts PLUS Charitable Trust Portfolio. Want to be alerted before Cramer and the AAP team buy or sell AAPL and GOOGL? Learn more now.
Jim Cramer Reveals Why Apple Shouldn't Go Up Against Alphabet's Waymo in Self-Driving Cars
More of What's Trending on TheStreet: