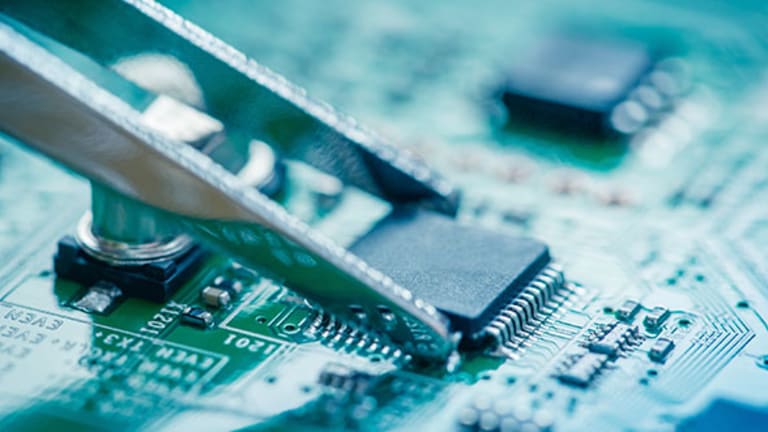 Apple Supplier InvenSense Could Be The Next Takeover Target in Chips
The motion sensor chipmaker is in talks to be acquired by Japanese electronics parts maker TDK for $12 per share, according to reports.
The motion sensor chipmaker is in talks to be acquired by Japanese electronics parts maker TDK for $12 per share, according to reports.
InvenSense (INVN) , a motion sensor supplier for iPhone maker Apple (AAPL) - Get Report and technology conglomerate Samsung Electronics (SSNLF) , is reportedly in talks to be purchased by Japanese electronic parts maker TDK.
The reported $12 per-share bid would help TDK boost its business in the sensor technology sector. InvenSense's technology helps smartphones calculate motion, which is integral in enabling popular augmented reality games like Nintendo's (NTDOY) Pokemon Go.
InvenSense hopes to close the deal by month's end, although negotiations are still ongoing and the final closing price could change, sources told Reuters. An InvenSense spokesperson told TheStreet that the company doesn't comment on speculation.
The report caused InvenSense stock to jump more than 27% on Friday. The stock closed up about 1.4% to $10.97 on Tuesday, and has risen about 7% year-to-date.
Loop Capital analyst Betsy Van Hees said that the TDK deal is "very realistic, and very real," as well as fairly priced. "I think this would be a great deal for the shareholders and the employees, too," she said.
Richard Shannon, analyst at Craig-Hallum Capital, said that InvenSense is likely to take any bid that's close to $12 per share. "I think most owners would sell," he said. Shannon added that the company is "clearly for sale."
In October, InvenSense issued a statement saying that the company had hired a financial adviser to explore strategic options and to evaluate "indications of interest," which Van Hees noted could have been the company's attempt to float the idea of a merger to gauge interest.
But the company did not specify who was looking to acquire it.
Beyond TDK, Van Hees noted that other buyers for the San Jose, Calif. company could include Sony (SNE) - Get Report, private equity bidders or other larger competitors in the space. She said, however, that she doesn't expect a competitive bid to TDK's to come in.
Shannon, meanwhile, argued that InvenSense has a unique opportunity in that it is one of the "very few" companies able to manufacture chips using the foundry model without being vertically integrated. "Other large companies could view [InvenSense's] capability as something to build on, and thus [I'm] not surprised it is a very large company that is interested," he said.
He said that other companies who are looking for sensor technology, be it for phones or other devices, could be looking to scoop InvenSense up as well.
Summit Redstone Partners' Jagadish Iyer said in a Dec. 12 analyst note that semiconductor maker Ambarella (AMBA) - Get Reportcould be a good fit as a suitor, "given complementary products and similar end markets."
"We believe the combined specialty semi company will have a diverse revenue base from smartphones, autos, drones, IP security with a global footprint," Iyer noted.
He added, however, that a fair value price for the company could be between $10.30 and $12 per share, given similar acquisitions in the space recently. TDK's reported bid is at the higher end of that range.
"We see that the possibility of INVN being taken out to be quite high over the next 1-2 quarters," Iyer added. "Though premiums particularly by Japanese companies... have been much higher during M&A than average for the group, we believe unless we see another possible bidder to INVN assets, we view INVN's shareholders will likely approve the transaction."
If InvenSense finds a buyer, it will be just another in the spate of companies in the space to consolidate over the past year or so as chipmakers seek to increase scale amid growing competition.
In November, chipmakers MACOM Technology (MTSI) - Get Reportand Applied Micro (AMCC) agreed to a $770 million merger. In October, Qualcomm (QCOM) - Get Reportagreed to snap upNXP Semiconductors (NXPI) - Get Reportfor a mind-blowing $47 billion and Broadcom (AVGO) - Get Reportsaid it would buyBrocade Communications (BRCD) for $5.9 billion. In June 2015, Intel (INTC) - Get Reportbought Altera for $15 billion, and just one month earlier Avago and the former Broadcom merged in a $37 billion deal, with Avago assuming Broadcom's name.
And the consolidation may not be over yet. Drexel Hamilton analyst Cody Acree said in a recent analyst note that datacenter connectivity companies Inphi (IPHI) - Get Reportand Mellanox Technologies (MLNX) - Get Report could be potential targets in upcoming months, as well as chipmakers Semtech (SMTC) - Get Report, Silicon Laboratories (SLAB) - Get Report and Power Integrations (POWI) - Get Report .
Van Hees said she thinks consolidation in the segment will persist, but it might begin to look a little different in the coming months. "I do think that we're going to continue to have consolidation in the sector, but it's going to happen at a much slower pace, because there simply aren't as many companies," Van Hees noted. "More companies are looking at maybe buying IP instead of pursuing mergers and acquisitions."
Apple is a holding in Jim Cramer's Action Alerts PLUS Charitable Trust Portfolio. Want to be alerted before Cramer buys or sells AAPL? Learn more now.