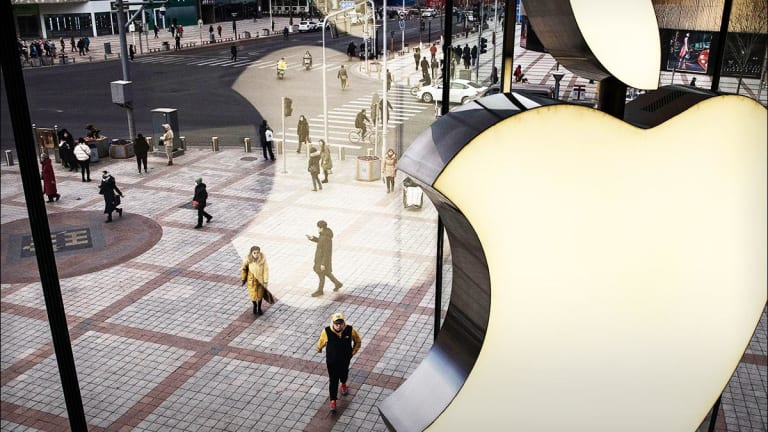 Apple Stock Is an Underappreciated Bargain
The tech giant's stock has fallen from grace, with investors uncertain about its future prospects. But there's still much to like about its business and the stock is mighty cheap.
Apple (AAPL) - Get Apple Inc. Report is best bought when it's out of favor. While every investor and analyst is attempting to find out via channel checks how many iPhones are expected to be sold, I argue that this is the wrong way to think about investing in Apple. 
Back in November 2018, Apple announced that it was no longer going announce iPhone unit sales. This left many analysts focused on the fact that iPhone numbers are no longer growing and investors concerned with the lack of disclosure from the notoriously tight-lipped company.
Customer Loyalty?
Consumers are fickle, with most shopping on price above all else. But one company stands out for a reputation of having its customers queue up for hours in the hopes of getting their hands on its latest product. That is not only great free marketing that generates huge product buzz, but it speaks of the quality of iPhone's ecosystem.
That's why I believe that investors are thinking about Apple in the wrong terms. It's no longer just about hardware sales. Apple's focus is now to sell consumers the convenience of belonging to Apple's ecosystem.
Apple Services
Slowing iPhones sales do have a meaningful impact on Apple's operations, but this insight has already been factored into its share price many times over. The game for Apple now is less focused on hardware with supply constraints and distribution issues, and more focused on selling its Services.
Apple's Services is a terrific opportunity for Apple, incentivizing consumers have to buy the newest Apple devices if they wish to have compatibility with the full scope of Apple's offerings.
Streaming Services
Netflix's (NFLX) - Get Netflix Inc. Report market cap is more than $150 billion, yet it doesn't generate any free cash flow and won't for at least several years. However, despite this, investors have come to appreciate just how valuable high-quality content can be.
Consequently, Amazon (AMZN) - Get Amazon.com Inc. Report realized how sticky top-quality content can be and it launched Amazon Video. Disney (DIS) - Get The Walt Disney Company Report is now also jumping on the bandwagon. This highlights that several well-resourced tech juggernauts have fully understood the opportunity at hand and are willing to chase it.
Apple is expected to get into streaming video (and perhaps other content) with a subscription product later this year. So why are streaming services great for Apple? Because they give its consumers a bonus for paying a premium for Apple's products. I suspect that Apple's strategy will revolve around a few flagship series, which are hoped to hook in loyal Apple fans and generate a lot of media buzz. This could serve to add stimulus to consumers to upgrade to the latest Apple device or once again return to this premium brand.
However, even if Apple's Streaming Services turn out to be slow to gather momentum, presently investors are not being asked to pay up for it.
Valuation - Cheap Any Way One Looks At It
As shown above, Apple's cash flow from operations trades at a meaningful discount to its peer group. Investors have come to believe that Apple is no longer an innovative and disruptive company, and are unwilling to pay a high multiple for it.
This is largely up for debate. What is not debatable is that Apple has a very strong buyback plan in place and is set on deploying the remainder of its net cash position of $130 billion into share repurchases over time. None of its peers listed above even comes close to having this level of confidence in the value of their stock.
The Bottom Line
The best way to profit is by being a contrarian and buying up stock in a high-quality company with a strong financial position while it's out of favor, and Apple certainly fills all these criteria. The key final ingredient is to be patient by holding onto these shares for two to three years, and waiting for positive sentiment to return to the stock. 
Apple, Amazon and Disney are holdings in Jim Cramer'sAction Alerts PLUS Charitable Trust Portfolio. Want to be alerted before Cramer buys or sells AAPL, AMZN or DIS? Learn more now.
A Special Invitation: Do you want to learn more about planning for and living retirement from the nation's top experts, including Ed Slott and Robert Powell, the editor of TheStreet's Retirement Daily? Want to learn how to create tax-efficient income in retirement and how to manage and mitigate all the risks you'll face in retirement? Then sign up to attend TheStreet's Retirement Strategies Symposium on April 6 in New York City. For a limited time, you can attend this extraordinary symposium for $149 -- a cost savings of $50 off the general admission price of $199. 
You can see the full day's agenda, learn about the guest speakers and sign up HERE for this special event.
I have no positions in any stocks mentioned.