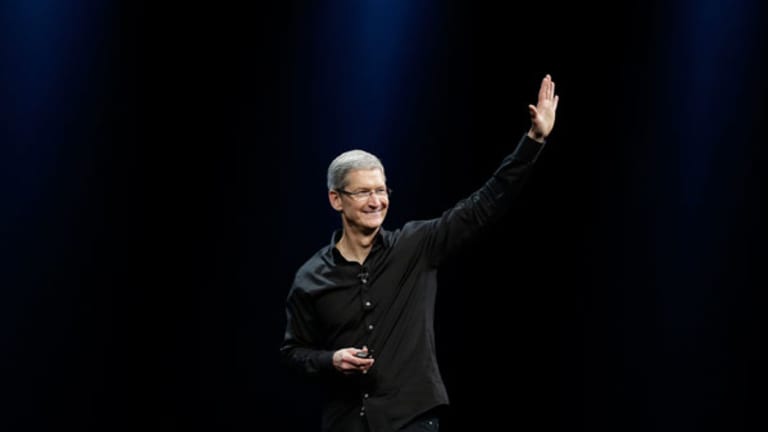 Apple Should Be Ashamed of Itself
Apple presses <I>iTunes Radio</I> terms on independent labels that serve Apple's interests, not indie artists.
NEW YORK (TheStreet) -- I wanted to wait to comment on The Wall Street Journalpiece from earlier this week that discussed the terms Apple (AAPL) - Get Apple Inc. (AAPL) Report is offering independent music labels for its forthcoming iTunes Radio service. I wanted to wait until I saw the actual contract. Industry rag Digital Music News proved it's good for something after all by snagging a copy of the agreement and posting it at its Website.
So, now that I know the
WSJ
had its ducks in a row, I can comment.
Please consider two paragraphs in the original WSJ article. They do a nice job summarizing two of the more salient segments of this agreement, which, by the way, is for indies only; the major labels swung their own separate deals with Apple.
Apple Screws Indies, Part One
Apple won't have to pay royalties for some performances of songs that are already in listeners' iTunes libraries, or songs that might be on an album that a listener owns just part of. Similarly, "Heat Seeker" tracks selected by iTunes for special promotions, are also exempted. Apple also doesn't have to pay for songs listeners skip before 20 seconds have elapsed. The company only gets to avoid paying royalties for two songs per hour for any given user.
Apple Screws Indies, Part Two
The iTunes Radio licensing document also includes several references to terms for the use of music in talk, weather, sports and news programming on the new service. The agreement said Apple wouldn't have to pay the independent labels royalties for snippets of music used in the background of those sorts of programs. But it's unlikely Apple will invest much in creating such programming, given that it has long shied from creating its own content.
And, somehow,
Pandora
(P)
ends up the bad guy in this chaotic, poorly understood debate. I could likely do more than two parts to
Apple Screws Indies
, but for the sake of space and an aversion to nausea, I'll keep it where it's at for now.
So, think about Part One.
When you play a song from your iTunes music library (or any other collection where you purchased and, in turn, "own" the music), no royalties go from the source to the creators, labels, publishers, etc. There were a host of what I'll call one-time royalty payments on the sale of the song or an entire album. You could play the song (or songs) from your collection one hundred times over and there's just the one-time set of royalty transactions.
This much is cool.
If, however, you stream the song on Pandora (or another streaming service), the Internet radio platform pays a royalty (actually royalties) each time you stream the song. Part One shows that Apple is telling independent labels (not sure about the majors) that it's circumventing paying royalties on some streams in certain situations. (Make a note to self: Indies aren't making a killing --
hardly
-- on iTunes digital sales to begin with).
*Edit: I should also point out the other raw deal in Part One. Apple will not have to pay royalties, in some cases, when it streams some songs from an album an iTunes user only owns part of. Wow.
Now ... Consider Part Two.
While Apple might never use music in association with other types of programming, it's covering itself in case it decides to do so.
You created and/or performed a song (note: this stipulation, as far as we know, applies only to performance royalties, not songwriting) and Apple wants to use it to enhance another type of programming, but it doesn't want to pay you -- the independent label and performer -- for the use of your work in that capacity. What's next? Apple not paying for music it uses in its commercials or in spots it puts together for iAd network advertisers?
And somehow Pandora gets branded with the tag of trying to shortchange artists.
A source sent me some thoughts on the iTunes Radio contract for indies. This person noted that Apple will not pay the indies through
SoundExchange
(fair enough) and "negotiated" a rate that, ultimately, ends up lower than Pandora's. There's only one thing wrong with that statement.
Apple
, from what I understand,
didn't negotiate a damn thing!
. It's saying "Here's our offer, Indies, take it or leave it." Of course, Apple has the right to do this. It has the right to use its power, size and scale to create the best deal it can for itself and its shareholders. But, if you're discussing what's good and what's not so good for the music industry, particularly independents, an old adage applies:
With friends like Apple, who needs enemies?
.
It's not even about the amount Apple pays per song or the percentage of ad revenue it shares (which, by the way, also
), it's about the company doing whatever it can do to get out of paying for all of the music it streams.
While I can't necessarily get with it, there's validity in the argument that there's nothing wrong with Apple serving its own interests, even if it's at the expense of working musicians. We're talking about a multi-billion dollar corporation after all, beholden to a slew of stockholders. But it is curious that Tim Cook can make a dog and pony show of working conditions in China, while gleefully continuing sweatshop conditions for independent artists here at home and abroad.
--
Written by Rocco Pendola in Santa Monica, Calif.
Rocco Pendola is
TheStreet's
Director of Social Media. Pendola's daily contributions to
TheStreet
frequently appear on
CNBC
and at various top online properties, such as
Forbes
.