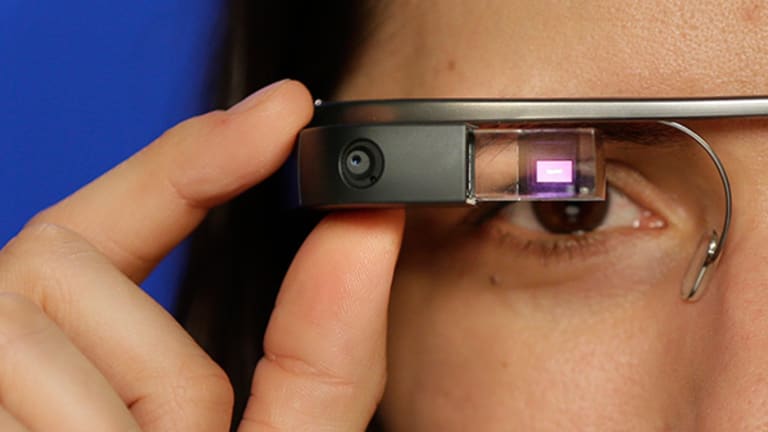 Apple's Smart Glasses Can Succeed, But It Has to Move Fast to Beat Microsoft and Facebook
The failings of Google Glass and the limitations of Microsoft's HoloLens provide an opening for Apple in augmented reality. But the clock's ticking.
If Apple (AAPL) - Get Report ultimately produces smart glasses that prove to be a smash hit, it should send a thank-you card to Alphabet/Google (GOOGL) - Get Report for all its missteps with Google Glass.
And the company might also want to thank Microsoft (MSFT) - Get Reportfor both showing how an augmented reality (AR) headset can capture imaginations and appeal to developers, and initially focusing on a headset that's only meant to be used indoors. But this assumes that Microsoft won't have enlarged its ambitions by the time Apple's own headset goes on sale.
Bloomberg, which has produced many Apple scoops since hiring the well-connected Mark Gurman away from 9to5 Mac, reported Monday that Apple is thinking about creating smart glasses that would "connect wirelessly to iPhones, show images and other information in the wearer's field of vision, and may use augmented reality."
It adds Apple has "ordered small quantities of near-eye displays from one supplier for testing," and that its glasses would launch in 2018 "at the earliest." Himax (HIMX) - Get Report, which supplied the micro-displays used by Google Glass, rose 2.7% on Tuesday.
One big qualifier to Bloomberg's report is that Apple often "explores" launching products that never see the light of day. However, the report does fit with one earlier this year from The Financial Times, which said Apple has created "a large team of experts in virtual and augmented reality and built prototypes of headsets."
Apple and Alphabet are holdings in Jim Cramer's Action Alerts PLUS Charitable Trust Portfolio. Want to be alerted before Cramer buys or sells AAPL or GOOGL? Learn more now.
In addition, Apple has bought Flyby Media, a startup that was working on software that let phones scan and identify real-world objects, and Metaio, a developer of tools for creating AR experiences. And Tim Cook has made favorable remarks about both augmented and virtual reality, while suggesting the former market will be bigger than the latter.
Meanwhile, Pokemon Go's stunning success showed the mass-market potential for experiences in which digital content is superimposed on a user's real-world view (the traditional definition of AR). And as many of the technology's proponents have observed, AR headsets could both provide valuable information about a user's surroundings and let them perform many of the tasks they currently rely on smartphones for -- reading texts and e-mails, taking photos and videos, getting sports scores and weather info -- while keeping their hands free and not completely disengaging from those around them.
This was really Google's market to lose, given the giant head-start Google Glass had. But more than three years after a $1,500 Explorer Edition of Glass was made available to developers, Glass still hasn't seen a true commercial launch. It looked as if an Enterprise Edition of Glass would launch in early 2016 -- retail and factory workers, surgeons, security personnel and referees are among the professionals who have been viewed as potential Glass users -- but that's also AWOL for now.
Bad PR hasn't helped Google's cause: Glass was seen as a product for tech "dorks" and its built-in camera stoked privacy fears. Interestingly, though, Snapchat parent Snap Inc. hasn't faced either issue to date for its recently-launched Spectacles video-recording sunglasses.
Glass has also suffered from leadership issues. It was previously overseen by Nest Labs founder Tony Fadell, but former Motorola Mobility chief Rick Osterloh, who is now in charge of many of Google's hardware efforts, became responsible for Glass this spring. Fadell left Alphabet soon afterwards.
While Glass has turned into a punchline, Microsoft's HoloLens AR headset has won rave reviews and received the backing of numerous developers dreaming up a variety of productivity, communications and entertainment use cases. But for now, HoloLens is only available through a $3,000 developer kit. Moreover, Microsoft CEO Satya Nadella has suggested HoloLens will initially target developers and enterprises before going after consumers.
And just as importantly, whereas Google Glass weighed just 1.5 ounces, the first-generation version of HoloLens weighs 1.4 pounds (more than most 10-inch tablets) and isn't meant to be used outdoors. Microsoft does want to support a diverse array of third-party AR and VR headsets through its Windows Holographic ecosystem, and that could well include light AR headsets that can be worn all day, but the effort is still in its early stages.
Oculus parent Facebook (FB) - Get Report has also signaled an interest in creating AR headsets, and Mark Zuckerberg has predicted we'll one day have "what [look] like normal-looking glasses that can do both virtual and augmented reality." But Oculus hasn't launched any AR headsets yet, and much of the company's work is clearly focused on commercializing VR products.
All of that leaves the door open for Apple. The company's brand, hardware engineering chops, developer base and AR-related acquisitions give it a chance to develop a hit product. As does its ability to use the iPhone to offer a solution that works seamlessly with a paired smartphone, something that could be more challenging for Microsoft and Facebook.
But the clock's ticking. Just as Apple is far from the only tech giant to show an (apparent) interest in autonomous driving, it's far from the only one to have gotten AR religion.