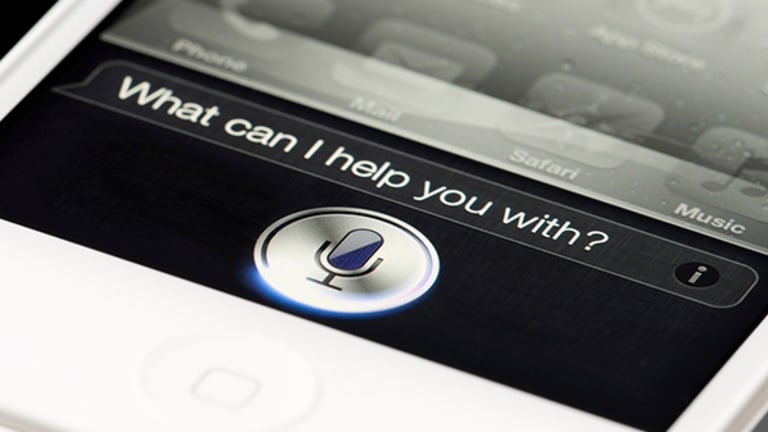 Apple's Siri Continues to Play Catch Up to Amazon's Alexa and Google Assistant
Apple seems to have re-focused on Siri, including with a new four-minute commercial featuring Dwayne 'The Rock' Johnson.
The once-trailblazing Apple (AAPL) - Get Apple Inc. Report  has taken a lot of criticism for failing to innovate recently, with some saying that lack of initiative has held back the growth of its digital voice assistant, Siri. 
Jackdaw Research chief analyst Jan Dawson said that while Apple may have not have concentrated as much on Siri in the past, it has recently doubled down on its efforts to improve the assistant. 
"I think there was a period when Siri evolved pretty slowly and I think that reflected a lack of focus on Apple's part for several years," he said. "That, in turn, reflects ongoing resource constraints at Apple. Over the last couple of years, though, the focus has definitely come back, with big upgrades to Siri in both last year's and this year's versions of iOS."
Apple first released digital voice assistant Siri in October 2011 on the iPhone 4S. That's well ahead of the early 2014 release of Microsoft's  (MSFT) - Get Microsoft Corporation Report  digital voice assistant Cortana, the late 2014 release of Amazon's  (AMZN) - Get Amazon.com, Inc. Report  Alexa on the Amazon Echo, and nearly five years ahead of the release of Google Assistant in 2016 from Alphabet's (GOOGL) - Get Alphabet Inc. Class A Report Google unit. 
But despite the generous head start, many experts say Siri has fallen behind both Google Assistant and Alexa. 
Apple and Alphabet are holdings in Jim Cramer'sAction Alerts PLUS Charitable Trust Portfolio. Want to be alerted before Cramer buys or sells AAPLor GOOGL? Learn more now.
More of What's Trending on TheStreet:
Chipotle Is Doomed Unless It Takes This One Dramatic Measure
Google Assistant beat out Siri, Cortana and Alexa in a study from Loup Ventures that was released in May. The assistants were all asked 800 questions and Google Assistant understood an impressive 99.9% of the questions and answered 74.8% of them correctly, while Siri understood 94.4% of the questions asked and answered 66.1% of them correctly (Google Assistant had also outperformed Alexa in a previous study done by Loup). In early July, Amazon said its Echo device has 15,000 skills, up from 10,000 skills in February.
Former Apple executive Hugh Dubberly told TheStreet that while Apple had early success with Siri, it has since lost its lead in the digital assistant world. "It's sad to see Apple slipping to the position of follower," he said about Apple's overall position in the tech world. In addition, Foursquare co-founder and executive chairman Dennis Crowley recently told TheStreet that Alexa is clearly the best digital voice assistant at the moment. 
This negative sentiment around Siri could be why Apple released a nearly four-minute commercial for Siri on Sunday. The commercial follows megastar Dwayne "The Rock" Johnson as he uses Siri to "dominate the day." Apple is under pressure to boost Siri's marketability ahead of the December release of its HomePod smart speaker, which is coming out a full three years after its competitor, the Amazon Echo. 
Apple is trying to "prep the market" for the Siri-powered HomePod by releasing a commercial with a likable character, Foundational Capital general partner Steve Vassallo said on CNBC on Monday morning. However, Apple still has a lot of work to do on Siri before it can actually do everything that was advertised in the commercial, he noted. 
Not all experts are so quick to dismiss Siri, however.
Dawson noted that Siri is used the most regularly out of all voice assistants. He also noted that Alexa doesn't have a strong mobile presence. "Although Alexa might seem to perform better on a dedicated home speaker, the early evidence suggests the smartphone version is pretty poor, so if you're comparing apples to apples, I don't think Alexa is really better," Dawson said. 
Like the study from Loup Ventures showed, Dawson noted that Google Assistant is "arguably stronger than Siri" in some ways. However, Google Assistant still isn't on many devices, limiting its use and market penetration. When looking at voice-enabled speakers, Amazon's Echo claims 70.6% of the market, followed by Google Home, which claims just 23.8% of the market, according to a study from eMarketer. 
Apple has been careful to emphasize the HomePod's speaker quality, positioning it as a tool that's ideal for playing music. While it might seem that Apple is trying to deemphasize Siri, Dawson thinks Apple is just trying to differentiate the HomePod from the Amazon Echo. "I think Apple wants people to think of the HomePod as being in a category of its own, focused on high-quality audio," he said. "Siri will clearly be a really important feature that we'll hear more about as the launch gets closer."