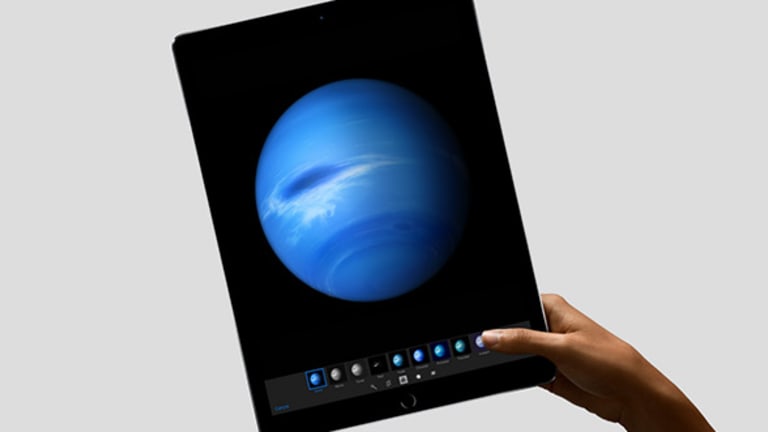 Apple's Reported Plan to Launch Several New iPads Makes Sense, But Won't Stabilize Tablet Sales
Launching new iPad Pro models should strengthen Apple's grip on the high-end. But bigger improvements will be needed to spark an industry recovery.
For a little while during the early part of the decade, many were convinced that tablets would supplant PCs as the primary computing device for most consumers by pairing the ease-of-use and convenience of smartphones with larger displays. And as sales of Apple's (AAPL) - Get Apple Inc. (AAPL) Report iPad surged, low-cost Android rivals proliferated and PC sales began slumping, many bought into Steve Jobs' prediction that the relationship between tablets and PCs going forward would be much like that between cars and trucks.
Such enthusiasm is of course a lot harder to find today, as the tablet market remains stuck in a multi-year decline that hasn't shown signs of ending. As phablets have proliferated, many consumers have decided that smartphones are good enough for their portable computing needs, including inside the home. And while PC sales aren't booming either, most consumers and office workers who own one still find them indispensable for certain tasks.
Against this backdrop, Apple's reported plans for an iPad refresh delivering incremental feature improvements could give the company's tablet sales a boost, but likely won't address the big-picture issues that led only 12 tablets to be shipped last year for every 100 smartphones.
Japanese site Mac Otakara, which has a decent (though not perfect) record when it comes to Apple product scoops, reports Apple plans to unveil 7.9, 9.7, 10.5 and 12.9-inch iPad Pro models at a March event. A version of the 4-inch iPhone SE featuring 128GB of storage will also reportedly be launched -- the SE is currently sold in 16GB and 64GB variants -- as will red iPhone 7/7-Plus models.
Not surprisingly, the new 12.9-inch iPad Pro will reportedly sport a True Tone display similar to the one currently found on the 9.7-inch Pro. The new tablets are generally expected to feature 12-megapixel rear cameras (also found on the current 9.7-inch model) and quad microphones; the last enhancement could be a positive for Apple microphone supplier Knowles (KN) - Get Knowles Corp. Report.
The 10.5-inch Pro will reportedly be no larger than current 9.7-inch iPads, thanks to smaller bezels. Last summer, KGI Securities analyst Ming-Chi Kuo also forecast a 10.5-inch iPad Pro would launch this year, along with a new 12.9-inch tablet and a "low-cost" 9.7-inch model. No mention was made of a new 7.9-inch model, but with the iPad Mini not having been updated since a modest refresh was made in September 2015, it makes sense to launch a new model.
What doesn't arguably make as much sense is having the new 7.9-inch iPad be a Pro model. The market for smaller tablets is pretty cost-competitive, and as Apple's iPad Pro ads show, the company is betting heavily on selling consumers on the idea of using Pro tablets, which feature Smart Connectors that can connect to keyboards, as PC substitutes. And a 7.9-inch tablet is just too small to serve that role effectively.
Jim Cramer and the AAP team hold a position in Apple for their Action Alerts PLUS Charitable Trust Portfolio. Want to be alerted before Cramer buys or sells AAPL? Learn more now.
Likewise, if Apple plans to launch a 10.5-inch Pro model with a form factor similar to the current 9.7-inch version, it makes sense for the new "low-cost" 9.7-inch tablet to be a refreshed iPad Air rather than an iPad Pro. Otherwise, there's just too much overlap with its 10.5-inch sibling.
Thus it's possible Mac Otakara was off in stating all four new iPads will be Pro models, rather than just the two biggest ones. Either way, the devices should provide a boost to an iPad business that saw revenue drop 22% annually in the December quarter to $5.5 billion (7% of total revenue), with units falling 19% to 13.1 million. That was much worse than the September quarter, when healthy iPad Pro demand allowed revenue to be flat and units to drop a relatively modest 6%.
Tim Cook indicated channel inventory swings and the fall 2015 launch of the 12.9-inch Pro hurt last quarter's performance. But none of that changes the fact global tablet demand remains quite weak. Research firm IDC estimates industry shipments fell 20.1% annually in Q4 to 52.9 million units, and 15.6% for the whole of 2016 to 174.8 million. The firm previously estimated shipments fell 10.1% in 2015.
For comparison, IDC thinks global smartphone shipments rose 2.3% in 2016 to 1.47 billion. PC shipments are believed to have fallen 5.7% to 260.2 million (still 49% higher than tablet shipments). The iPad is estimated to have a 24.4% tablet share in 2016 -- revenue share may have been north of 40% -- up slightly from 2015 in spite of a 14.2% unit decline. Amazon.com (AMZN) - Get Amazon.com, Inc. Report, Samsung, Lenovo and Huawei also gained share.
Part of the problem here is that consumers generally don't replace tablets as often as they replace smartphones, which are often purchased via installment or early-upgrade plans. But the other, larger issue is that -- as much as this iPad Air 2 owner and others may enjoy using them -- it increasingly feels as if tablets occupy a no-man's land in personal computing. A 5-inch plus smartphone is deemed good enough by many consumers for things like web browsing, e-mail, gaming and video, and, Apple's marketing efforts notwithstanding, the PC is still viewed as a go-to device for content creation, lengthier browsing sessions and more advanced gaming experiences.
To change this status quo, more dramatic tablet enhancements will be needed than what Apple appears to have planned for its upcoming iPads. They might just arrive next year, if a KGI report about iPads with flexible OLED displays being prepped pans out. With Samsung reportedly about to launch a phone that can fold open to become a 7-inch tablet, a 2018 foldable iPad launch isn't entirely far-fetched.
A pocketable tablet that can be unfolded to feature, say, a 9-inch display could just be the kind of thing that would light a fire under the tablet market. But until this or some other major breakthrough arrives, Apple and other tablet vendors will have their work cut out for them.