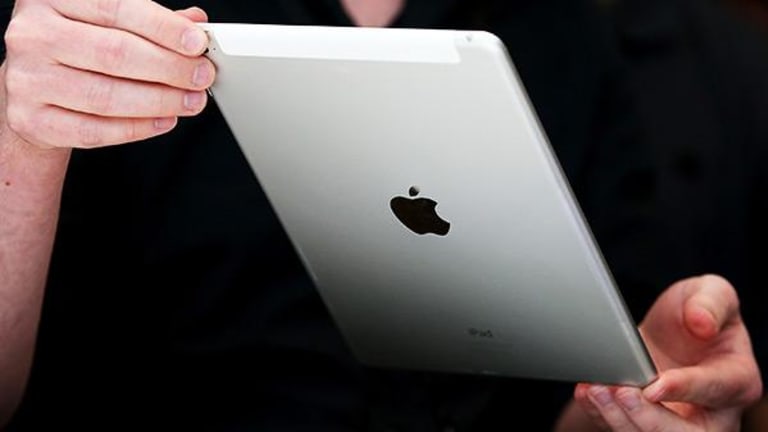 Over the last 12 months, we've seen Apple (AAPL) - Get Apple Inc. (AAPL) Report go after the mid-range smartphone market to a degree that it never had before -- most notably by launching the 4-inch iPhone SE last March, but also by recently re-introducing the 4.7-inch iPhone 6 in China and India.
It now looks as if the company is getting just as serious, if not moreso, about competing in the mid-range tablet market. And considering how much weaker iPad sales are relative to iPhone sales, the incentives for moving downmarket are arguably stronger, even if there is some real cannibalization risk.
On Tuesday morning, Apple launched a 9.7-inch tablet that will simply be called the iPad, while simultaneously discontinuing the 9.7-inch iPad Air 2. Where 32GB and 128GB Air 2 models sold for $399 and $499, respectively, comparable iPad models will go for $329 and $429.
Apple also announced it's doubling the storage capacities of its $399 and $499 iPhone SE models to 32GB and 128GB, respectively; flash memory vendors such as Micron (MU) - Get Micron Technology, Inc. (MU) Report and Western Digital's (WDC) - Get Western Digital Corporation Report SanDisk unitmust be pleased. And the company is also launching a red iPhone 7 model -- a portion of unit sales go to HIV research.
Finally, Apple has unveiled Clips, a free iPhone/iPad app for creating social media-friendly photos and videos that feature things such as filters, text overlays and live tiles. Clips could prove a good fit for the 3D sensing and augmented reality features Apple is reportedly baking into the iPhone 8.
Apple's new iPad features an A9 processor (also found on the iPhone 6S) that's slightly more powerful than the A8X processor found on the Air 2, but inferior to the iPad Pro's A9X processor and the iPhone 7's A10. With a weight of 1.03 pounds and and a thickness of 0.29 inches, it's slightly thicker and heavier than the Air 2 and 9.7-inch iPad Pro, and it also lacks the anti-reflective coating found on the latter two models.
Jim Cramer and the AAP team hold a position in Apple for their Action Alerts PLUS Charitable Trust Portfolio. Want to be alerted before Cramer buys or sells AAPL? Learn more now.
Other than that, the iPad's specs aren't much different than the Air 2's. Those wanting a device that supports Apple's Smart Keyboard and Pencil (stylus) accessories will still have to buy an iPad Pro.
With the 9.7-inch Pro starting at $599 and the 12.9-inch model at $799, everyone outside of power users and those looking to buy an iPad as a PC replacement will for now have a strong incentive to consider the new iPad. Apple reportedly plans to refresh its high-end lineup this year by launching a 10.5-inch Pro model -- it will have the same form factor as the 9.7-inch Pro, but with smaller bezels -- along with a new 12.9-inch Pro. Looking further down the line, Apple might be exploring the launch of an iPad with a foldable OLED display.
Regardless of what its future high-end tablet plans are, a depressed consumer tablet market gives Apple a big reason to launch a mid-range, 9.7-inch iPad with reasonably good specs. After getting propped up for several quarters by iPad Pro demand, Apple's iPad revenue fell 22% annually in the December quarter to $5.5 billion, with unit sales dropping 19% to 13.1 million. For the whole of 2016, unit sales fell 14% to 42.6 million.
Rivals generally aren't doing any better: Research firm IDC estimates global tablet shipments fell 20.1% annually last quarter to 52.9 million, and 15.6% in 2016 to 174.8 million. For comparison, smartphone shipments are estimated to have risen 2.3% last year to 1.47 billion, with iPhone sales accounting for 215.4 million of them. Many consumers have clearly decided that smartphones can meet all of their mobile computing needs, and that tablets still can't replace PCs for certain computing use cases.
And while this fall's expected iPhone 8 launch has a good chance of at least temporarily allowing iPhone sales to return to solid growth, there has been little reason to think that iPad sales will see a similar rebound in the absence of more compelling low-cost offerings. Especially since tablets, unlike high-end smartphones, aren't often sold via installment plans.
Likely to aid Apple's mid-range push: The iPad is still widely seen as the gold standard for the tablet market, and whereas Android's smartphone app ecosystem is now nearly as good as iOS', the same doesn't hold for its tablet ecosystem. During its last earnings call, Apple (citing research firms) mentioned the iPad maintains an 85% share of the $200-plus U.S. tablet market, and that its customer satisfaction rates remain above 90%.
At the same time, the launch of a 9.7-inch iPad with a $329 starting price raises some uncomfortable questions about the future of the 7.9-inch iPad Mini, which hasn't seen a new model launch since a 4th-gen device selling for $399 arrived in September 2015. Apple did increase the Mini 4's base storage to 128GB from a prior 32GB today, but it also discontinued the $249 iPad Mini 2. And with the Mini 4 costing just $30 less than a 9.7-inch iPad featuring just as much storage and a faster processor, its value proposition is pretty questionable.
The lack of love for the iPad Mini says a lot about how limited the addressable market for 7-inch to 8-inch high-end tablets has become. Phablets have eaten into the small-tablet market in general, and while the iPad remains quite popular with buyers of larger tablets, those purchasing smaller tablets -- often for children, or to just casually use around the house -- mostly opt for cheap Android devices such as Amazon.com's (AMZN) - Get Amazon.com, Inc. Report$50 Fire tablet.
Given all of this, the new iPad leaves Apple in much better position to gain share in a tablet market where it accounted for roughly a quarter of unit sales last quarter, and likely north of 40% of revenue. It's far from a given that the launch will allow iPad unit sales to return to positive growth, and it's bound to pressure an iPad average selling price (ASP) that stood at $423 last quarter.
But one only has to take a quick look at the current state of the tablet market to grasp its logic.