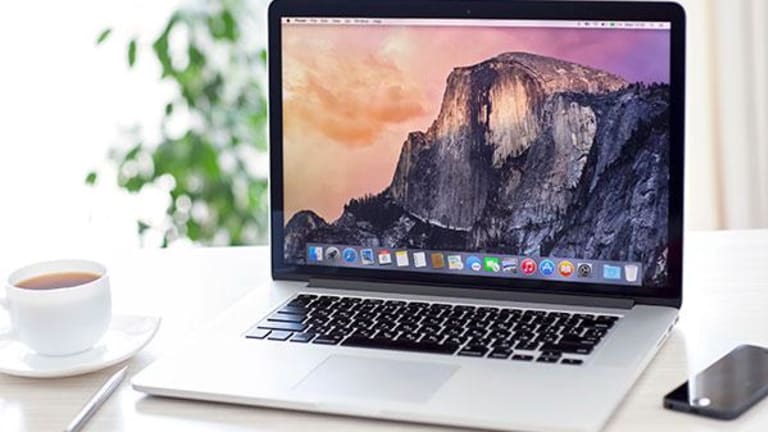 Publish date:
Apple's New Macs Leave Budget-Conscious Consumers in the Lurch
With the incredibly flexible new Touch Bar, Apple's new MacBook Pros should be well-received by professional and enthusiast Mac users. But more cost-sensitive customers were left hanging.
With the incredibly flexible new Touch Bar, Apple's new MacBook Pros should be well-received by professional and enthusiast Mac users. But more cost-sensitive customers were left hanging.
Editors' pick: Originally published Oct. 28.
This article has been updated to note Apple has discontinued its 11-inch MacBook Air.
For a company whose ability to deliver big new innovations has often been critiqued in recent years, Apple (AAPL) - Get Report revealed some genuine out-of-the-box thinking at its Wednesday MacBook Pro launch event about how the age-old PC user interface can be enhanced.
Apple is a holding in Jim Cramer's Action Alerts PLUS Charitable Trust Portfolio. Want to be alerted before Cramer buys or sells AAPL? Learn more now.
The fruits of this thinking, together with the nuts-and-bolts improvements provided for the latest MacBook Pros thanks to Apple's top-notch engineering work, should provide a nice boost to Mac sales, which have been hurt in recent quarters by weak PC demand and a stale lineup. However, the prices attached to Apple's newest laptops, along with a lack of new cheaper models, raise major questions about how the company plans to meet the needs of cost-sensitive MacBook buyers going forward.
At an event held at its Cupertino headquarters, Apple showed off three new MacBook Pro models -- two 13-inch systems and a 15-inch system. Easily the highlight of the event: Apple announced that the 15-inch Pro model and one of the two 13-inch models do away with the traditional function key row in favor of the Touch Bar, an OLED touch strip whose functions change depending on the app or software feature being used.
The possibilities for what the Touch Bar could be used for are pretty much endless, particularly given that it can show images, icons, color palettes, slider bars and emojis in addition to text. Use cases shown off at Apple's event included switching between browser tabs (the tabs are shown as icons), adjusting volume and brightness levels, controlling musical instruments and selecting colors and filters in a photo-editing app.
Developers can create their own sets of Touch Bar controls for an app, and in some cases, users can customize which controls appear for an app. And a demo from media software giant Adobe (ADBE) - Get Report showed the ability to multitask by simultaneously using the Touch Strip and a MacBook Pro's trackpad.
Speaking of the trackpad, Apple has significantly increased its size relative to older Pro models. It has also given the newer systems a revamped display promising 25% more colors and a 67% increase in brightness and contrast ratio.
Other hardware improvements include new Intel (INTC) - Get ReportCore i5 and i7 CPUs, an AMD (AMD) - Get Report Radeon Pro GPU based on the chipmaker's new Polaris architecture (15-inch model only), faster solid-state drives and a Touch ID fingerprint sensor built into the power button. And as you might expect, the new Pros are thinner and lighter than their predecessors.
But all of this won't come cheap: The Touch Bar-sporting 13-inch Pro starts at $1,799, and the 15-inch model starts at $2,399. A new MacBook Pro lacking the Touch Bar starts at $1,499.
By contrast, Apple's 13-inch MacBook Air starts at $999. The company previously also sold an 11-inch Air that started at $899, but that model was discontinued on Thursday. In spite of rumors to the contrary, Apple didn't update its MacBook Air line on Thursday. Moreover, Apple exec Phil Schiller took some time to actually talk down the Air's abilities relative to the new Pro models.
All of that raises questions about the future of the MacBook Air, which was last refreshed in March 2015. There's some speculation Apple will steer those in the market for cheaper computers towards the iPad Pro, whose productivity and content-creation abilities have often been talked up by Apple. The 9.7-inch iPad Pro starts at $599, and the 12.9-inch version at $799.
The problem is that the iPad Pro runs on an operating system built to be used with fingers rather than a keyboard and mouse, and most of the apps available were also built with such use in mind. The tablets also lack USB ports, and have relatively limited multitasking features.
Meanwhile, as its Wednesday event showed, Microsoft (MSFT) - Get Reportis betting big on getting customers to rethink what they could use a PC for. Through touchscreen Windows systems, 3-D content creation tools, the new Surface Dial peripheral and augmented and virtual reality headsets paired with Windows 10 PCs, the company is offering a new vision of the role PCs can play in the lives of consumers and professionals.
Apple, by contrast, is focusing on making Macs easier and more convenient to use through an interface overhaul, and on optimizing how well its hardware can support the activities its customers already use it for.
That's not necessarily a bad decision, at least not in the near-term. It remains to be seen how widely Microsoft's vision is embraced, and the innovations and improvements Apple revealed on Thursday should go over well with the corporate buyers, creative professionals and more affluent consumers who have been waiting for a big MacBook Pro refresh.
On the other hand, Apple does need to clarify how it plans to service those in the market for a $900 or $1,000 portable computer, but not a $1,500-plus system. And if its answer is to sell them on the iPad Pro, it will need to work hard to convince consumers iPads can fully replace their existing laptops, rather than just complement them.