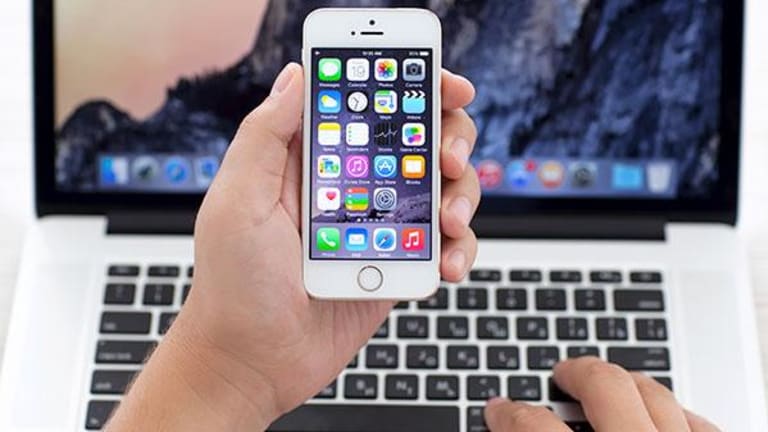 Apple's Latest Acquisition Could Give Its Health Platform an Edge on Alphabet's
Apple's purchase of startup Gliimpse could let iPhone users view medical data that was previously hard to access. Will Alphabet try to develop a rival solution?
Apple (AAPL) - Get Apple Inc. (AAPL) Report has long used bundled software and value-added services as ways to keep iPhone and iPad users loyal. As its latest acquisition shows, the company is gradually making healthcare software and services a big part of those efforts. Alphabet (GOOGL) - Get Alphabet Inc. Class A Report might want to step up its efforts to do something similar for Android users.
Fast Company reported this morning Apple has bought Gliimpse, a startup that collects and integrates patient health data from numerous sources and allows patients to securely view and share it through a private portal. Apple has confirmed the deal, but (as is its custom) declined to share details about its plans for Gliimpse.
Apple and Alphabet are holdings in Jim Cramer's Action Alerts PLUS Charitable Trust Portfolio. Want to be alerted before Cramer buys or sells AAPL or GOOGL? Learn more now.
"We've built a magical machine. It takes incomprehensible electronic medical records and turns them into understandable, standardized, coded elements," says Gliimpse on its web site. The company notes a lack of common standards and formats have prevented consumers from easily accessing their medical data online, even as Obamacare and other legislation mandates healthcare providers make this data available.
Gliimpse's approach to addressing this problem relies on machine learning, a popular branch of artificial intelligence that Apple and other tech giants have been making big investments in. Fast Company observes the startup's services are (for now, anyway) "intended for patients with diseases like cancer and diabetes."
One clear possibility: The integration of Gliimpse's offerings with Apple's Health app, which launched in 2014 and aims to provide a hub for viewing personal health data such as heart rate, sleep activity, blood sugar and calories burned. The app's ability to take in such data is enabled in part by Apple's HealthKit framework, which lets third-party developers create apps that can share data with the Health app.
Nike, Garmin and many smaller developers have built iOS apps that work with the Health app. In addition, the Apple Watch and various third-party smartwatches and fitness trackers are able to share health data recorded by their sensors with the app. The patient record data pulled up by Gliimpse's portals could be fused with data provided to the Health app from third-party hardware and software to give consumers a comprehensive view of their well-being, along with personalized health advice.
With healthcare making up over 17% of U.S. GDP and the number of Americans aged 65 or older closing in on 50 million, there are some obvious incentives for Apple to provide iPhone users with solutions that give them a better read on their health and could potentially lower their future medical bills. With Apple having made no attempt to monetize the Health app or HealthKit to date, the company's apparent goal with its healthcare efforts is to give potential iPhone owners another reason to buy, and existing owners another reason to stick with Apple.
Given Apple's efforts, the onus is arguably on Alphabet's Google to give Android users access to a greater swath of medical data via its Google Fit app. While Google Fit can -- both on its own and with the help of third-party hardware and software -- let users see fitness and activity data, it doesn't provide the kind of broader access to medical information the Health app tries to offer, and should become better at doing with Gliimpse's help.
The story could look different in a year or two. Google, it goes without saying, has plenty of experience taking in data from different sources and fusing it into an integrated whole. But for now, Apple has a lead in the race to make health data that has long been siloed and hard to obtain easily viewable by the smartphone-using masses.