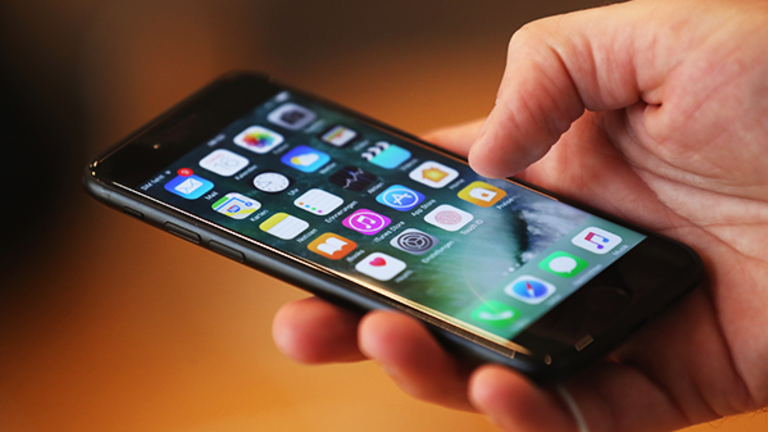 Apple's iPhone Now Impacts Almost Every Part of Its Business
From iPads to Apple Watches to the App Store, Apple's non-iPhone revenue streams owe a lot to its smartphone franchise.
As Apple prepares to report its fiscal third quarter earnings, it's hard not to focus on the iPhone's now-massive contribution to Apple Inc.'s (AAPL) - Get Apple Inc. Reporttop and bottom lines. iPhone sales accounted for 63% of the $215.6 billion in revenue that Apple produced in fiscal 2016 (ended in September 2016), and likely a larger portion of its gross profit. And the company's quarterly iPhone sales numbers and outlook typically play a very big role in how its shares move following an earnings report.
TheStreet will be hosting a live blog analyzing Apple's fiscal third quarter earnings report after the market close on Tuesday. Please check our home page for more details.
But not enough attention is arguably given to the role the iPhone plays in driving the revenue streams that make up the other 37% of Apple's sales. For some of these revenue streams, such as various accessories and services, the role is pretty obvious. For others, it's a little more indirect.
For starters, it's safe to assume that a solid majority of the more than $8 billion in net revenue that the App Store produced in 2016 was related to apps being used on iPhones. iPad, iPod and Mac app sales also contributed, but between device volumes and app buying habits, the iPhone was undoubtedly the prime contributor. And given the App Store's growth rates -- sales grew 40% in both 2016 and the March quarter -- it might just be a couple years before Apple's iPhone-related App Store cut tops $10 billion.
Apple Music revenue is also tightly linked to the iPhone: Though the service can also be used on various other Apple and non-Apple devices, the iPhone seems to be the primary listening device for most subscribers. With Apple Music now claiming 27 million paid subs and users signed up for either a $10 per month individual plan or (to a lesser extent) a $15 per month family plan, the service's annual revenue run rate is now likely above $3.5 billion. Considering 12 million paid subs have been added since June 2016, a $5 billion run rate seems achievable in time.
Other services businesses that the iPhone clearly has a big impact on include iCloud storage subscriptions, Apple Pay transactions, AppleCare protection plans and music and video downloads. Overall, a big chunk of the $24.3 billion in "iTunes, Software & Services" revenue that Apple posted in fiscal 2016 has the iPhone's imprints on it.
On the hardware side, products such as the Apple Watch and AirPods are generally bought to be paired with iPhones. As, of course, are iPhone cases and many third-party accessories sold via Apple's site and retail stores. There's also a link between the iPhone an Apple TV set-top sales; the set-top relies on the App Store and Siri, and its support for Apple's AirPlay service, which lets video and games be streamed to Apple TVs from iPhones and iPads, is a key selling point.
Between them, the Watch, AirPods, Apple TV and iPhone accessories make up a big portion of Apple's "Other product" revenue -- it also covers iPods and Beats headphones, and will soon include HomePod speakers -- which totaled $11.1 billion in fiscal 2016. Annual Watch sales appear to be on their way to topping $6 billion.
Once you get to hardware such as Macs and iPads, the story gets more complicated. These product lines would be successful even if the iPhone never existed. But it wouldn't be correct to say that the iPhone hasn't contributed to their success, particularly given the tremendous overlap that appears to exist between Mac/iPad ownership and iPhone ownership.
Jim Cramer and the AAP team hold a position in Apple for their Action Alerts PLUS Charitable Trust Portfolio. Want to be alerted before Cramer buys or sells AAPL? Learn more now.
More of What's Trending on TheStreet:
As many others have noted, the enormous boost the iPhone has delivered to Apple's brand and its base of loyal customers has created a "halo effect" that lifts sales of other Apple hardware. The iPhone has also brought tens of millions of consumers into Apple's retail stores, where they might also check out the Macs, iPads and other products on display.
In addition to all of that, the iPad and (to a lesser degree) the Mac's reliance on a lot of the same software and services used by the iPhone are important selling points for some buyers. Macs support Siri, iCloud, the Safari browser, iTunes and the iWork productivity suite. iPads do all of that while also providing the same operating system and user interface as the iPhone (with some tweaks), and relying on the same app store and developer ecosystem.
Apple's Mac revenue totaled $7.4 billion fiscal 2006, the last fiscal year to feature no iPhone sales. It totaled $22.8 billion in fiscal 2016, and is expected on average by analysts to hit $25.1 billion in fiscal 2017. And though iPad revenue has been declining in recent years, it's still expected to total $16.8 billion this fiscal year.
For both the Mac and iPad, the positive effects the iPhone has had on these businesses needs to be balanced by the negative impact that smartphones have had on industry-wide PC and tablet sales. Phablet sales have cannibalized tablet sales, particularly in the 7-inch segment. And though few consumers have stopped using their PCs on account of having a smartphone, the fact that such a large portion of computing activity now happens on mobile devices has stretched out PC upgrade cycles.
Still, the iPhone's positive impact on both of these businesses seems to easily outweigh the negative. Whereas research firm IDC estimates total PC shipments rose 14% from 2006 to 2016, Apple's Mac revenue roughly tripled during this time. And if the iPhone didn't exist, tablet cannibalization might still be happening, only with a greater mix of Android phablets involved. In addition, the iPad's competitiveness within the tablet market would be hurt by a weaker developer ecosystem
Plenty of debate exists about whether Apple is just an "iPhone company," or something more. On one level, it's clearly something more: Close to two-fifths of Apple's revenue comes from sources other than iPhone sales, and that number is likely to rise if businesses such as Macs, the App Store, Apple Music and Apple Watch keep seeing healthy growth.
On another level, Apple is truly an iPhone company. For the iPhone touches just about every other part of Apple's operations. It shapes how many other Apple products and services are developed, marketed, perceived and used. And ultimately, how successful they are in the marketplace.
Apple's shares rose 0.1% to $148.90 early Tuesday afternoon.
Watch More with TheStreet: