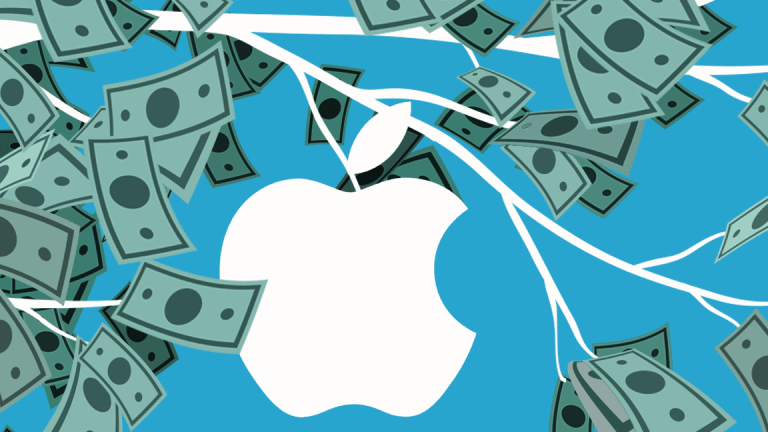 Apple's iPhone X Commentary and Offshore Cash Plans Are Getting a Thumbs-Up
Though markets were initially on edge about Apple's light guidance, its earnings call remarks about weekly sales growth and future cash plans helped shares move higher.
Deja vu: A day after Facebook (FB) - Get Meta Platforms Inc. Class A Report investors reacted cautiously to what the company shared in its earnings report only to bid shares higher after earnings call remarks calmed their fears, Apple  (AAPL) - Get Apple Inc. Report investors have done the same.
In Apple's case, it also helps that the earnings call featured comments suggesting giant stock buybacks and/or dividend payments are on the way.
Apple reported December quarter (fiscal first quarter) revenue of $88.29 billion (up 13% annually and GAAP EPS of $3.89, topping consensus analyst estimates of $87.5 billion and $3.85. At the same time, the company guided for March quarter revenue of $60 billion to $62 billion (up 13% to 17%), below a $65.4 billion consensus that itself had fallen by $3.5 billion in recent weeks.
With some bad news priced in over the last couple of weeks as Apple slumped in response to reports of iPhone X order cuts caused by soft early-2018 demand, shares initially see-sawed post-earnings, fluctuating between modest declines and modest gains. But they rallied as Tim Cook and CFO Luca Maestri talked shop on the earnings call, and finished after-hours trading up 3.4% to $173.49. On Friday morning, shares were trading up slightly to $168.21 in the pre-market.
What was said on the call that caused the change-of-heart? For starters, Maestri noted that annual revenue growth, as well as growth rates for individual businesses, was stronger when measured on a per-week basis rather than a quarterly basis. The reason: Whereas Apple's Dec. 2016 quarter starter on Sep. 25, its Dec. 2017 quarter didn't start until Oct. 1.
As a result, Apple claims it saw 21% revenue growth on a per-week basis, better than its 13% reported growth. Likewise, iPhone, iPad and Mac unit sales are respectively said to be up 6%, up 8% and up 2% on a per-week basis; on a quarterly basis, they were respectively down 1% to 77.3 million, up 1% to 13.2 million and down 5% to 5.1 million.

Apple's December quarter sales by region and product line. The company stresses per-week sales growth was stronger.
And Services revenue, which rose 18% on a quarterly basis to $8.5 billion, was up 27% on a per-week basis. The App Store, Apple Music, iClouds subscriptions and large search ad revenue-sharing payments from Alphabet/Google (GOOGL) - Get Alphabet Inc. Class A Report (see their Q4 numbers) all helped.
Jim Cramer and the AAP team hold positions in Apple, Alphabet and Facebook for their Action Alerts PLUS Charitable Trust Portfolio. Want to be alerted before Cramer buys or sells AAPL, GOOGL or FB? Learn more now.
Maestri also insisted that Apple's below-consensus guidance isn't a sign of weak iPhone demand. He stated Apple expects iPhone revenue -- up 13% last quarter to $61.6 billion -- will once more grow at a double-digit clip this quarter, and that the growth rate for iPhone sell-through (end-user sales) will actually be higher in the March quarter than the December quarter.
This will partly be due to the sale of iPhone X inventory by channel partners (carriers, resellers, etc.) that purchased the inventory during the December quarter. Since the iPhone X didn't ship until November, inventory purchases (channel fill) happened later than usual, and the same holds for depletion. This phenomenon boosted Apple's reported December quarter iPhone sales, and will also depress its reported March quarter sales.
Cook, for his part, tried to calm iPhone X worries by stating Apple's flagship phone was its most popular phone last quarter, and -- though it's worth noting here that Cook appears to count iPhone 8 and 8-Plus sales separately -- has remained its top-selling phone every week since its launch.
Then there's the matter of Apple's cash plans. A couple weeks after Apple disclosed it will pay $38 billion in taxes to repatriate much of its offshore cash -- this suggests the company will bring back $207 billion net of taxes -- Maestri said Apple aims to "become approximately net cash neutral over time."
That's a big deal, since Apple had $163 billion in net cash ($285 billion in cash minus $122 billion in debt) as of Dec. 30. Throw in the fact that the company's annual free cash flow is north of $50 billion and growing, and this sets the stage for some giant capital returns.
Maestri cautioned that Apple won't deploy all of this cash overnight, and promised to once more detail changes to Apple's capital allocation plans at the time of its March quarter report. "[W]hen you look at our track record of what we've done over the last several years, you've seen that effectively we were returning to our investors essentially about 100% of our free cash flow, and so that is the approach that we're going to be taking," he said.
Could a big acquisition also contribute to Apple bringing its net cash balance to $0? Maestri didn't rule it out, but also insisted that tax reform hasn't caused Apple's M&A strategy to change. "We look at [companies of] all sizes and we will continue to do so. We have plenty of financial flexibility, of course. We had that even prior to tax reform," he said.
One other benefit stemming from tax reform: Apple forecasts a March quarter tax rate of just 15%, well below the 25.8% rate paid in the December quarter. The company also expects its tax rate during the last two quarters of fiscal 2018 to be close to the March quarter's level.
In addition to the aforementioned remarks, there are a few details shared by Apple, either in its earnings report or on its call, that appear to be going over well with investors. The big ones:
iPhone X sales led Apple's iPhone average selling price (ASP) to come in at $796. That's $40 above consensus estimates and up sharply from last year's $695. ASP growth is the reason Apple saw 13% growth in its iPhone revenue (70% of total revenue) in spite of witnessing only 1% unit growth.
Cook disclosed Apple's total active device installed base is now above 1.3 billion - up 30% over the last two years. On the call, Maestri added that the Mac installed base rose by a double-digit clip, and that the iPad base also reached a new record. Such installed base growth increases the addressable markets for Apple's services businesses, and also gives developers more incentive to support Apple's platforms. At the same time, as some analysts pointed out, the fact the installed base is rising much faster than unit growth points to longer upgrade cycles. Cook admitted "it's accurate" to say that iPhone upgrade cycles have lengthened in markets (such as the U.S.) that have seen large phone subsidies vanish.
Apple's "Other Products" revenue, which covers Apple Watch, headphones, Apple TV set-tops, iPods and accessories, rose 36% to $5.49 billion, easily beating a $4.62 billion consensus. A 50%-plus increase in Apple Watch sales helped, as did strong AirPods demand. Apple says its total "wearables" revenue, which covers Apple Watch, AirPods and Beats headphones, rose almost 70%.
Chinese sales were fairly healthy. Greater China revenue (covers Mainland China, Hong Kong and Taiwan) rose 11% to $18 billion, and was up 19% on a per-week basis. Apple also reported seeing Chinese Mac and iPad sales to first-time PC/tablet buyers and consumers switching from rival platforms (read: Windows and Android). Also strong: Japan, where revenue rose 26% a quarter after dropping 11% (the iPhone X was apparently a hit over there), and emerging markets outside of China, which collectively grew 25%.
Apple's report certainly wasn't perfect. Even on a per-week basis, Mac sales were disappointing, given that units had risen 10% (and revenue 25%) in the September quarter. And while iPad sales weren't bad on a per-week basis, many were hoping for stronger growth following an 11% September quarter unit increase and the recent launch of iOS 11, which contains plenty of new iPad multitasking features.
Likewise, the December quarter's iPhone unit growth leaves a bit to be desired, particularly given the hype and early enthusiasm surrounding the iPhone X, as well as Maestri's remarks about channel fill. And while March quarter iPhone demand might not be as soft as Apple's guidance suggests at first glance, it does imply that Apple's combined December and March quarter revenue will be $2.6 billion to $4.6 billion less than the pre-earnings consensus.
At the same time, the report and earnings call commentary did put to rest doomsday fears about iPhone demand, while also providing encouraging ASP, services and wearables figures. With Apple still only trading for about 15 times its expected fiscal 2018 EPS, and with EPS potentially set to get a boost later this year from giant stock buybacks, it's hard to complain too much about what Apple just announced.
TheStreet's Eric Jhonsa previously covered Apple's earnings report and call through a live blog.
More of What's Trending on TheStreet: