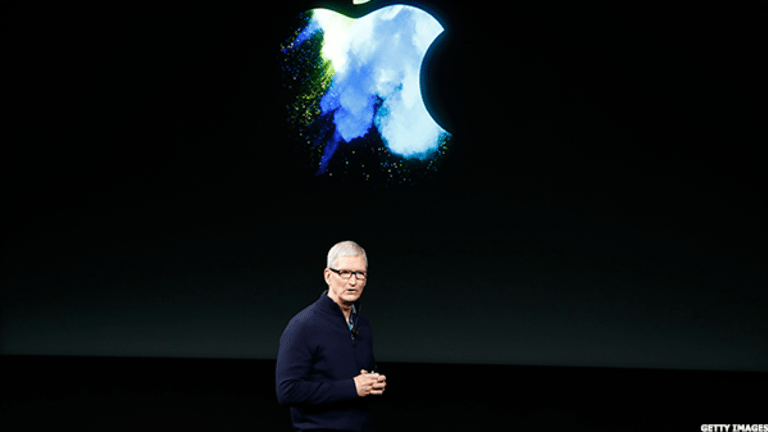 Apple's iPhone 8 Just Keeps Looking Better and Better
A new report indicates Apple's 2017 iPhones will have larger displays than this year's models. This, along with other rumored improvements, could make fiscal 2018 estimates look conservative.
Editors' pick: Originally published Nov. 11
Next year's iPhones were already expected to yield the kind of big hardware changes that -- the iPhone 7-Plus' dual-lens camera excepted -- were absent from this year's models. A new report suggests the changes could be even larger than previously expected.
All of that is going to make for an interesting iPhone sales cycle, given it will arrive in a year that (given Apple's history) wouldn't normally see big hardware changes.
Barclays analyst Blayne Curtis, who in 2015 was among the first to report the iPhone 6S would contain new haptic feedback technology (we now know it as 3D Touch), said checks indicate that next year's iPhones will feature "a bezel-less design," with larger displays and curved edges being placed on devices that have form factors similar to those of the iPhone 7 and 7-Plus.
Because of the new design, the phones, which he respectively calls the iPhone 8 and 8-Plus, will reportedly sport 5-inch and 5.8-inch displays, larger than the 4.7-inch and 5.5-inch displays found on the 7 and 7-Plus. Curtis also speculates the screen-size upgrades could lead to Apple's (AAPL) - Get Reportlow-end iPhones -- a role currently held by the 4-inch iPhone SE -- featuring 4.7-inch displays.
Like many others, Curtis reports Apple plans to launch iPhones sporting more versatile OLED displays for the first time next year, with Samsung (SSNLF) and LG Display acting as the suppliers. However, he adds OLEDs will only be used by the iPhone 8-Plus due to supply constraints.
Apple is a holding in Jim Cramer's Action Alerts PLUS Charitable Trust Portfolio. Want to be alerted before Cramer buys or sells AAPL? Learn more now.
With the iPhone 7-Plus sporting a more advanced camera than the 7, there's a clear precedent for Apple to restrict certain features to its largest and costliest devices. iPhone 7-Plus models cost $120 more than iPhone 7 models sporting the same amount of storage. But that hasn't stopped a larger portion of this year's iPhone sales going to Plus models, relative to 2015.
Quality OLED panels can deliver better color saturation, greater contrast (deeper blacks) and wider viewing angles than LCDs. And since they don't need backlighting, they can also be thinner and less power-hungry.
Universal Display (OLED) - Get Report, which sells materials and licenses intellectual property used in OLED production, is up 10.3% today. Industrial laser maker Coherent (COHR) - Get Report, which has seen a surge in orders from OLED manufacturers, is up 3.6%. Chip equipment giant Applied Materials (AMAT) - Get Report, whose display equipment business has gotten a big boost from OLED makers, is up 1.7%.
Display enhancements, of course, aren't the only major hardware changes rumored for next year's iPhones. The devices will also reportedly forego the aluminum cases used by recent iPhones in favor of front-and-back glass panels (currently used in high-end Samsung phones, and by the iPhone 4). They're also rumored to support over-the-air wireless charging -- there's speculation Energous (WATT) - Get Report is acting as a technology partner for this feature.
And with Apple believed to be going with an edge-to-edge display, next year's iPhones will reportedly do away with the traditional home button in favor of a digital version similar to the ones on many Android phones. The phones' front cameras and Touch ID fingerprint sensors might also be built into the display panel.
All of these improvements could fuel a very strong late 2017/early 2018 iPhone upgrade cycle, and make current estimates for that period look pretty conservative. On average, analysts expect Apple's sales to rise just 5.9% in fiscal 2018 (ends in September 2018) to $242.1 billion. EPS is expected to rise 11.6% to $10.04.
There's one catch, though: A healthy number of iPhone owners are still accustomed to buying phones at close to a 2-year pace, and -- thanks to the iPhone 6 -- the fall of 2014 saw a much stronger iPhone upgrade cycle arrive than the fall of 2015. This two-year pace appears to be a key reason iPhone 7 sales have been better than once feared in spite of relatively limited hardware changes, and why Apple's sales are now expected to rise 2% in the December quarter to $77.4 billion.
At the same time, the decline of traditional smartphone subsidies, and the growth of installment plans, smartphone upgrade plans and up-front phone purchases, makes the traditional two-year upgrade cycle less important than it used to be. Installment plans could still be a headwind next year, as those who bought an iPhone 7 this year will likely still have payments left to make. But with trade-up programs allowing users to get credit towards a new iPhone by handing in their existing model, the plans are not as much of a problem as subsidies that prevented users from getting any kind of new discount for two years.
Thus there are reasons to think that enough has changed about how iPhones are bought that the timing of next year's giant (reported) upgrades may not be a huge impediment to sales. If Apple can live up the swelling rumors and hype -- a big if, for sure -- next fall's iPhone launches could yield big annual sales jumps.
Those jumps may not be as strong as the ones that followed the iPhone 6's launch, but solid ones nonetheless.