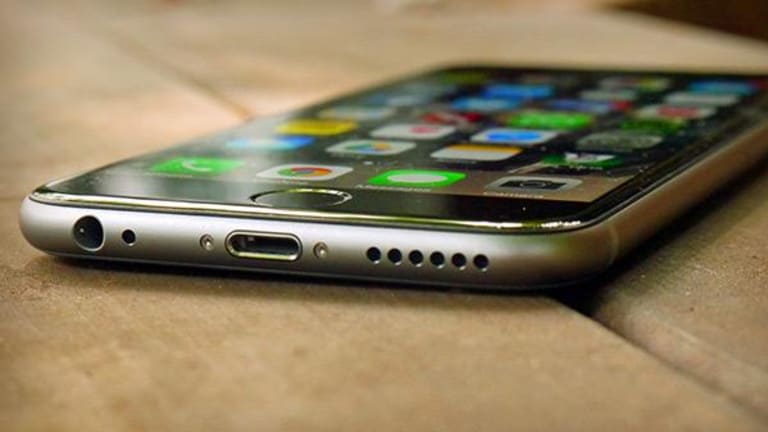 Editors' pick: Originally published March 9.
This column originally appeared on March 9 on Real Money, our premium site for active traders. Click here to get great columns like this.
Apple (AAPL) - Get Apple Inc. (AAPL) Reporthas long faced a tricky balancing act when it comes to selling cheaper iPhones. With manufacturing costs for older and/or less advanced models likely in the $200 range or below, the company can easily sell such iPhones at lower price points while still turning a profit, and in doing so take share from mid-range Android rivals. But when a company is selling over 200 million phones annually at an average selling price (ASP) well north of $600, it's hard to blame it for being cautious about how much it moves down-market, given the risk of potentially cannibalizing sales of pricier models.
A few trends, however, make it worth Apple's while to expand its mid-range lineup, at least in parts of the world where average incomes are lower. Particularly with the iPhone 8 on the way.
The 4.7-inch iPhone 6, which (along with its 5.5-inch sibling) was discontinued last September in tandem with the iPhone 7 launch, has been re-launched in Asia. For now, the phone has only been spotted in China, India and Taiwan, but it's not hard to imagine additional markets being added. Apple is only selling a 32GB iPhone 7 model -- those wanting a 4.7-inch or larger iPhone with more storage will have to pay up for a 6S or 7. It's also for now providing just one color for each country: Gold in China and Taiwan, and Space Grey in India.
Amazon's Indian site currently sells the 32GB iPhone 6 for just 30,000 rupees ($450). That's just slightly above the 27,679 rupees ($415) charged for a 16GB 4-inch iPhone SE, and much less than the 41,000 rupees ($615) charged for a 32GB 4.7-inch iPhone 6S.
As others have noted, Apple carried out similar revival acts for the iPhone 4 and 4S a few years ago. But both of those phones had tiny 3.5-inch displays; this is the first time that an iPhone with a decent-sized display has been re-launched in such a manner.
Apple's move arguably says something about the limits of what the iPhone SE can accomplish in emerging markets. Though having seen some uptake among mid-range phone buyers and those still partial to a smaller form factor, the fact that the smartphone is the sole computing device relied upon by many emerging market consumers makes a lot of them more partial to a larger display. And there's now no shortage of compelling mid-range Android phones with large displays -- see, for example, the ZTE Axon 7 or the OnePlus 3.
Apple is a holding in Jim Cramer's Action Alerts PLUS Charitable Trust Portfolio. Want to be alerted before Cramer buys or sells AAPL? Learn more now.
It looks as if the launching of such phones by a slew of Chinese Android OEMs has weighed on Chinese iPhone sales in recent quarters. IDC estimates Apple had 9.6% 2016 Chinese smartphone share via 44.9 million shipments, down from 13.6% in 2015. In spite of the iPhone 7 launch and strong MacBook, iPad and App Store sales growth, Apple's mainland Chinese revenue was up just 6% in constant currency in the December quarter, and flat on a reported basis.
A 4.7-inch mid-range iPhone should strengthen Apple's Chinese hand. It should also help out in India, where the nominal per capita income is about one-fifth of China's and Apple still isn't a top-5 smartphone vendor. And if Apple can have such an phone manufactured at the Indian iPhone plant contract manufacturer Wistron is reportedly looking to set up -- if not the 32GB iPhone 6, then a comparable iPhone 6S next year -- it would further improve its mid-range competitiveness, since locally-manufactured phones aren't subject to the tariffs (generally 10% to 12%) faced by imports.
Meanwhile, the fact that Apple has been able to keep growing iPhone ASPs has to give the company some confidence that most high-end phone buyers will continue opting for newer models. With strong demand for the 5.5-inch iPhone 7-Plus ($769 U.S. starting price) providing a boost, iPhone ASP rose by $4 annually in the December quarter to $695, in spite of the SE's launch earlier in 2016.
With the average consumer now spending several hours per day on his/her smartphone, it's easy to grasp why more affluent consumers (whether in developed or developing markets) remain willing to pay over $600 to get a flagship Apple, Samsung or (to some extent) Google phone, even though many quality mid-range devices are available. The ability of many of these consumers to pay via installment plans also doesn't hurt. And with regards to Apple in particular, it can hold high-end consumers over with the promise of (or rather, tons of rumors about) a 5.8-inch iPhone 8 with a curved OLED display and novel 3D-sensing technology launching in September.
iPhone 8 anticipation will, of course, likely depress high-end iPhone sales over the next few months. An expanded mid-range lineup might just pick up some of the slack.