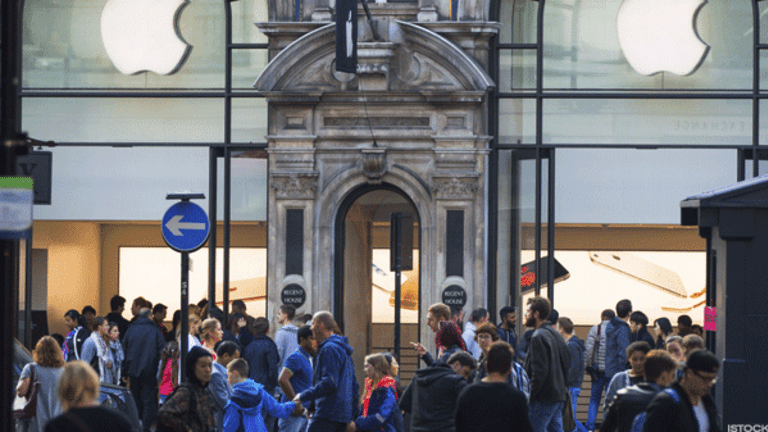 Apple's Expensive and Complex Battle With the EU: How U.S. Tax Reforms Could Help
Repatriating foreign profits could let Apple cut the size of the EU's $13.8 billion tax bill. And a push to exempt foreign profits from U.S. taxation would provide long-term clarity.
Apple's (AAPL) - Get Report appeal of a landmark EU decision calling on the company to pay billions in back taxes plus interest, together with the EU's response to Apple's move, paves the way for a long, drawn-out dispute. But a pair of U.S. tax reform proposals could give each side a face-saving way to resolve the matter.
In August, the EU ruled that a pair of tax rulings granted by the Irish government to Apple in 1991 and 2007 amounted to illegal state aid, since they allowed Apple to pay almost no tax on billions of profits earned in various foreign markets until 2014. Ireland was ordered to recover €13 billion ($13.8 billion) in back taxes plus interest on profits previously recorded by Irish subsidiaries.
Apple was quick to denounce the ruling, insisting it received no special treatment from Ireland and declaring the size of the back-tax order to be an arbitrary figure. The Irish government and the U.S. Treasury Department soon joined Apple in criticizing the verdict, with the Treasury Department warning it could "threaten to undermine foreign investment, the business climate in Europe, and the important spirit of economic partnership between the U.S. and the EU."
Now, in a statement following a (widely expected) appeal, Apple claims the EU retroactively changed its tax rules, "disregarding decades of Irish tax law, U.S. tax law, as well as global consensus on tax policy." The company also asserts it was singled out by the EU since it's "a convenient target because it generates lots of headlines."
The Irish government has once more chimed in: It claims Apple's local units shouldn't be taxed for profits earned elsewhere since Apple's products are designed and developed in the U.S. rather than Ireland. It also accuses Brussels of violating Ireland's tax sovereignty.
The EU defends itself in a new filing, claiming it examined Irish tax rulings covering nine other foreign companies and found no consistent set of rules applying to their local subsidiaries. It concludes Apple received "selective" treatment, and that its subsidiaries were used in a way that "did not correspond to economic reality."
Apple is a holding in Jim Cramer'sAction Alerts PLUS Charitable Trust Portfolio. Want to be alerted before Cramer buys or sells AAPL? Learn more now.
Apple has no choice but to pay the taxes demanded by the EU in the coming weeks. However, until the appeals process is over (it could be years), the cash will be held in escrow.
A few things are worth keeping in mind here. First, this battle is over Apple's past tax payments rather than what it's doing in Ireland right now. The company's foreign tax payments have risen substantially over the last two years.
Second, the EU is only looking for Apple to pay the standard Irish corporate tax rate (currently a modest 12.5%) on future profits funneled to its Irish units from various markets. Though observing other EU countries could make Apple pay more taxes on profits derived from local sales, it's not demanding that they do so.
Third, and perhaps most importantly, Apple's defense partly relies on the view that the profits recorded by its Irish units are ultimately American profits (since most of Apple's management and R&D teams are based in the U.S.) subject to U.S. taxation. Since Apple, like many other U.S. multinationals, has chosen not to repatriate profits obtained overseas in order to paying a 35% tax rate on them, those taxes remain deferred for now.
And while the EU hasn't bought into this view, it has admitted Apple could lower the size of its fine by sending back more of its Irish profits to the U.S. as payment for the R&D work Apple's American operations are providing.
With President-elect Trump pushing for a 10% one-time repatriation tax on offshore cash, the EU's suggestion creates an opening for Apple to substantially reduce its fine by making R&D "payments" to the U.S. that are proportional to the amount of revenue Apple has received from non-U.S. markets. Given that well over half of Apple's revenue has come from overseas locales in recent years, and that the company spent $6 billion on R&D in fiscal 2014 alone, those payments could go a long way towards cutting the fine.
In addition to Trump's repatriation tax plan, it's worth keeping an eye on the "Better Way" tax plan that has been floated by Congressional Republicans, and is looked upon favorably by some members of Trump's team. Among many other things, the plan calls for exempting foreign-derived profits from U.S. taxation.
This would end any chance Apple would have to claim future profits funneled to its Irish units are subject to U.S. taxes, but would provide some valuable clarity. Assuming such a reform went through, Apple's Irish units would likely pay the standard Irish corporate tax rate going forward, but wouldn't have to worry about the profits being taxed again when sent to the U.S.
There's no guarantee these tax reforms go through, of course. But if they do, Apple's battles tax with the EU may in a few years look much the way its patent battles with Samsung (SSNLF) currently do: As something that produced a lot of heat and noise, but ultimately had just a modest financial impact.