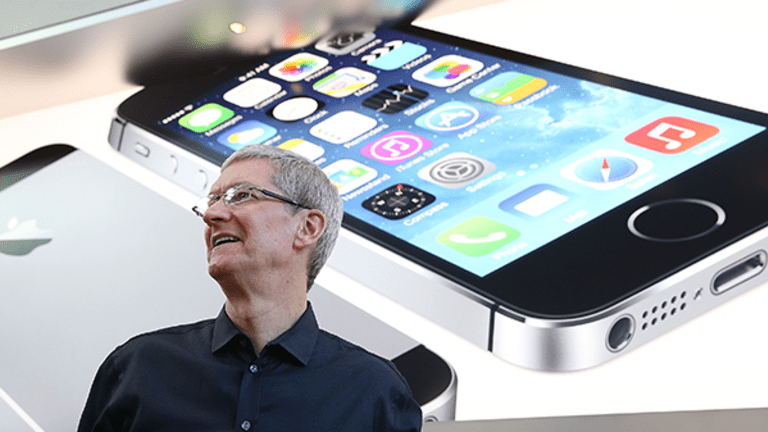 Publish date:
Apple's Ambitious Augmented Reality Plans Start to Come Into Focus
The tech giant is reportedly working on augmented reality-powered eyeglasses, in addition to adding some AR features to the iPhone 8.
The tech giant is reportedly working on augmented reality-powered eyeglasses, in addition to adding some AR features to the iPhone 8.
It's rare that Apple (AAPL) - Get Report CEO Tim Cook will divulge information about any secret projects the tech giant could be working on, so when he does, it's a pretty good sign that those plans will come to fruition. 
The latest invention being whispered among tech circles is that Apple's next 10th-anniversary iPhone model (referred to some as the iPhone X) will include some form of augmented reality technology, which superimposes images, video and games onto a user's real-world environment. In an interview last month, Cook said he was "excited" about augmented reality and considered it to be a "big idea" on par with the smartphone, which many analysts and investors took to mean that Apple probably has some kind of AR-inspired products in the works. 
"Overall it seems like Cook's been more enthusiastic about AR than any other kind of potential game-changing initiative that they've had out there," said CFRA analyst Angelo Zino.
A string of recent moves by Apple indicates that it could have more in store for AR, including "digital spectacles" that are wirelessly tethered to the upcoming iPhone and can have content beamed to them from the phone, according to  Bloomberg. Apple will have to put a great deal of thought into the glasses' power consumption, operating system and internal hardware in order to eventually bring the gadget to the masses, however, Bloomberg noted. 
According to Zino, it's likely that Apple will debut its first augmented reality technology inside the iPhone X, but consumers shouldn't expect the AR glasses to also come in 2017. The eyeglasses are more likely to arrive in late 2018, he noted, adding that he'd be "shocked" to see the glasses be released alongside the new iPhone. 
Zino said that some of Apple's suppliers have already ramped up production in order to meet the demands of producing components used for augmented reality technology. For one, optical laser manufacturer Lumentum Holdings (LITE) - Get Report indicated on a recent earnings call that it was working with a major smartphone supplier, which many analysts interpreted as Apple. It's unclear how Apple would incorporate Lumentum's products into its AR infrastructure.
Apple may decide to limit AR features to its high-end iPhone models depending on supply chain constraints, but could expand those features to all models in the future, Zino said. 
The tech giant is somewhat late to the AR game, as several other companies have already made headway on developing consumer-ready AR devices, including Microsoft (MSFT) - Get Report , Facebook's (FB) - Get Report Oculus, Alphabet's (GOOGL) - Get Report Google Glasses and, in some respects,  Snap (SNAP) - Get Report Spectacles. AR startup Magic Leap, which Cook met with last summer, is also developing a headset. 
But like the Apple Watch, which was released after Fitbit's (FIT) - Get Report range of smartwatches, Apple is often slow to roll out new technologies because it wants to launch the best possible product, Zino said. The Apple Watch wasn't exactly a success, but it's widely considered to be the best smartwatch on the market currently, Zino added. 
Apple now has a team of at least 100 employees led by Mike Rockwell, a former Dolby executive, that are developing AR features for the iPhone, camera and eyeglasses, Bloomberg reports.
Apple, Facebook and Alphabet are holdings in Jim Cramer'sAction Alerts PLUS Charitable Trust Portfolio. Want to be alerted before Cramer buys or sells AAPL, FB or GOOGL? Learn more now.
"The thing with Apple is they're never the first to roll out a new device," Zino explained. "What Apple is in the business of doing is making the best product possible."
There are several compelling reasons why Apple would want to enter the AR/virtual reality market, which could be worth as much as $108 billion by 2020. For one, any AR features would fuel Apple's more than $7 billion Services segment, which includes the App Store, as it looks to developers to create AR-enabled apps. 
More importantly, it might help reverse Apple's slowing iPhone sales: The company's unit sales fell 8% to 212 million in 2016, after increasing 37% to 231 million in 2015. Much of that deceleration is attributed to existing iPhone users who failed to upgrade from the iPhone 6 to newer models like the iPhone 7/7 Plus. But that trend might diminish if the iPhone X comes packed with impressive features such as AR technology, wireless charging and a sharper, organic LED display, all of which have been rumored. 
And such an improvement would certainly quiet investors' concerns -- including those of billionaire investor Peter Thiel -- that the iPhone is dead and the age of Apple is over.