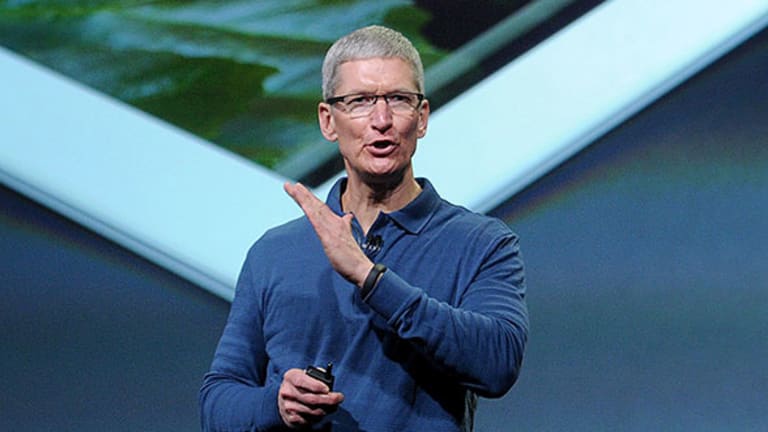 Apple's $14.5 Billion EU Tax Dispute Is a Sideshow
Political pressure and a low standard Irish tax rate should limit the damage done by the EU's crackdown. U.S. taxes on offshore profits are a bigger problem.
As of the time of this article, Apple's (AAPL) shares are down less than 1% following an EU ruling ordering the company to pay 13 billion euros ($14.5 billion) in back taxes plus interest for allegedly receiving "undue tax benefits" from the Irish government from 2003 to 2014. Apple's market cap has fallen by less than $6 billion...and that's partly due to the Nasdaq's 0.5% decline.
The fact that an adverse EU ruling had been expected for some time is likely capping the verdict's impact on shares, even if its magnitude has surprised many. But there are also other factors -- regarding both Apple's ability to challenge the ruling, and the potential long-term fallout -- that are leading markets to treat the decision as a modest negative, rather than any kind of a cataclysmic event.
The European Commission asserts that Apple received sweetheart tax rulings from Ireland that have allowed it to pay almost no taxes on the profits it has recorded within EU markets. This was done by recording all EU sales in Ireland rather than the countries in which they took place, and subsequently attributing most of the sales to a "head office" said to exist only on paper and "not subject to tax in any country under specific provisions of the Irish tax law." Notably, the EU says these provisions are no longer in force.
Apple quickly released a letter from Tim Cook blasting the EU ruling and stating that both Apple and Ireland plan to appeal it. Cook insists Apple never received special treatment from Ireland and accuses the Commission of trying to retroactively change Irish tax rules. He goes as far as to claim the EU's actions could "strike a devastating blow" to the tax sovereignty of member states, and threateningly, have a harmful effect on local investment and job creation.
Ireland's Finance Minister was also quick to denounce the ruling. As was the U.S. Treasury Department, which said the Commission's moves "could threaten to undermine foreign investment, the business climate in Europe, and the important spirit of economic partnership between the U.S. and the EU."
The political pressure the U.S. is likely to assert on this matter, together with the appeals, could ultimately result in Apple paying a lot less than $14.5 billion in back taxes. Here, it's worth noting the U.S. won't be going to bat just for Apple, but also forAlphabet (GOOGL) , Starbucks (SBUX) , Amazon (AMZN) and various other U.S. multinationals targeted by the EU over their tax payments.
Apple, Alphabet and Starbucks are holdings in Jim Cramer's Action Alerts PLUS Charitable Trust Portfolio. Want to be alerted before Cramer buys or sells AAPL, GOOGL or SBUX? Learn more now.
Also important: The EU is only demanding that Apple pay the standard Irish corporate tax rate on future European profits recorded by its local subsidiaries, something it now appears to be doing. At 12.5%, that tax rate is still far below the U.S. statutory corporate tax rate of 35%. The Commission did point out other EU countries could require Apple to pay more taxes on locally-created profits, but isn't demanding any such move.
Last but not least, Apple recorded only 22% of its fiscal 2015 revenue from Europe, with some of that coming from non-EU markets. Going forward, the percentage of sales Apple gets from the EU will likely drop due to the U.K.'s pending departure and growing emerging markets sales.
Ultimately, the EU's crackdown on Apple's Irish operations should leave the company paying a tax rate on European profits that's still much lower than the rate paid on American profits. Add to that a back-tax bill that, while possibly substantial, could be a lot less than $14.5 billion. That's hardly a crushing blow for a company that posted net income of $53.4 billion in its last fiscal year.
As far as taxes go, the real elephant in the drawing room for Apple remains the huge taxes the company would owe the U.S. Treasury if it tried to repatriate the $215 billion in overseas cash it holds, both in Ireland and other locales. A feud with the EU over Irish tax rules is a relative sideshow.