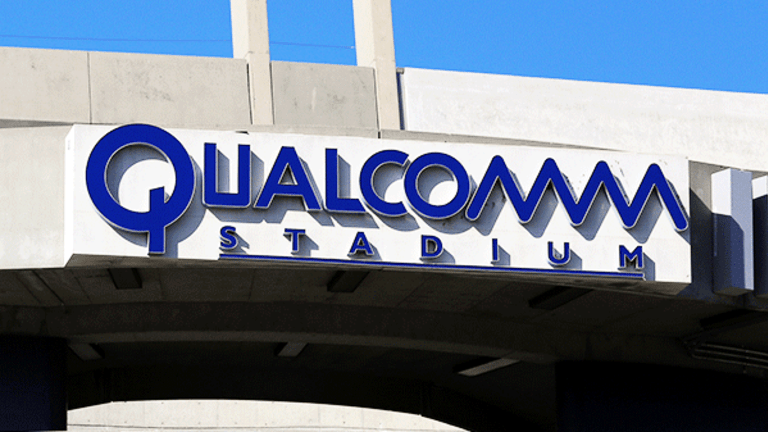 Apple's $1 Billion Lawsuit Against Qualcomm Must Be Music to Intel's Ears
Apple is already partly relying on Intel for its iPhone modem needs. The company's lawsuit against its other modem supplier could pave the way for a deeper Intel partnership.
This column has been updated from Jan. 21 to note the double-digit percentage drop in Qualcomm's shares on Monday morning.
Given the hardball approach it has often taken toward patent negotiations, it's perhaps not too surprising that Apple (AAPL) - Get Apple Inc. Report has kicked off a major dispute with Qualcomm (QCOM) - Get Qualcomm Inc Report, the company with the largest mobile patent-licensing business of them all.
But the fact Qualcomm is also the world's largest mobile chip supplier, and still counts Apple as one of its largest customers, throws a unique wrinkle into this battle--one that, depending on how the dispute unfolds, could work greatly to Intel's (INTC) - Get Intel Corporation Report advantage.
Just three days after the U.S. FTC filed an antitrust suit against Qualcomm that (among other things) alleged the company had a 5-year modem exclusivity deal with Apple that featured patent royalty rebates, Apple has announced it's suing Qualcomm for allegedly withholding close to $1 billion in rebates as retaliation for cooperating with South Korean regulators in their own Qualcomm probe.
Qualcomm's shares closed down 2.4% on Friday thanks to the news, and fell 6% on the week. On Monday, they were plunging 13%, as analysts fully digest the potential implications of Apple's suit on Qualcomm's chip sales and licensing model.
Last month, South Korea's Fair Trade Commission (the KFTC) fined Qualcomm $853 million for several alleged practices. These included refusing to give chipmakers full access to its standards-essential patents (SEPs), refusing to sell chips to phonemakers who didn't accept its licensing/royalty terms, requiring them to license patents they don't need and insisting they make their own patents available for free. It's not hard to see how Apple might've had a thought or two to share about some of these issues.
Qualcomm might counter Apple's accusation by claiming it's not withholding rebate payments because Apple talked with the KFTC, but because Apple is no longer exclusively using Qualcomm modems. Certain iPhone 7 models use Intel modems.
The company might also bring up a loophole Apple is using to keep down its royalty payments: Since Apple outsources all iPhone manufacturing, royalties to Qualcomm are officially paid by contract manufacturers such as Foxconn, who base them on the price at which they supply a manufactured phone to Apple. Thus, an iPhone sold for $650 to a carrier or consumer might feature a royalty payment based on a sub-$300 manufacturing price. Samsung, Lenovo and most other big Qualcomm licensees can only wish they were so lucky.
Apple is a holding in Jim Cramer'sAction Alerts PLUS Charitable Trust Portfolio. Want to be alerted before Cramer buys or sells AAPL? Learn more now.
But Apple's allegations go well beyond the rebate claim. In its full legal complaint, Apple also alleges Qualcomm "demands that third parties pay Qualcomm a royalty much greater than the value of Qualcomm's contribution" to a cellular standard in order to gain access to Qualcomm chips and SEPs.
In addition, Apple claims certain patents declared by Qualcomm to be essential to 3G and 4G standards in legal disputes aren't essential to them, and that the company "illegally enhances and strengthens" mobile chip and patent monopoly positions by linking the businesses. And Apple takes issue with the fact that--since Qualcomm's royalties are based on a percentage of a phone's selling price--it has to pay higher royalties if it charges more for an iPhone on account of features or innovations that have nothing to do with Qualcomm's patents (for example, additional storage or a better camera).
Some, though not all, of Apple's claims are echoed by U.S., Korean and/or EU regulators in their respective Qualcomm probes. The timing of Apple's suit clearly isn't coincidental: The company seems to be hoping regulatory rulings against Qualcomm will aid its own ambitious case against a company whose licensing division produced $7.7 billion in revenue (nearly all gross profit) during its last fiscal year.
Barring a change of heart by regulators, or a sudden wish to appease by Qualcomm, some of these disputes will likely take years to play out. And thus it's not far-fetched to imagine the Qualcomm-Apple dispute taking a while to play out as well.
A prolonged patent battle with Qualcomm could easily put a wedge into the companies' chip partnership, assuming it hasn't already done so. That, in turn, would give Intel an opportunity to perhaps become Apple's sole iPhone modem supplier. And in time, the opportunities could go further still.
Back in 2015, VentureBeat reported Apple eventually wants to develop system-on-chips (SoCs) for iPhones that feature both a 4G modem and an A-series app processor. Intel could conceivably manufacture such a chip, while also providing its modem technology. The recent license Intel took out with CPU core giant ARM Holdings, which provides the underlying instruction set used by Apple's A-series processors, could help enable such an effort.
At the same time, Qualcomm's 4G modems are still considered best-in-class. Intel hasn't yet announced anything on par with Qualcomm's recently launched Snapdragon X16, which supports 1 gbps peak download speeds and should be available in time for this year's iPhone launches. And even with the iPhone 7, Apple has been throttling Qualcomm modems to keep their speeds from exceeding those of the Intel modems found in other iPhones.
But then again, the fact Apple is using an apparently inferior Intel modem in some of its flagship phones shows it's willing to make modem-buying decisions based on factors other than raw performance. And that it was before it launched a billion-dollar lawsuit against one of its modem suppliers.