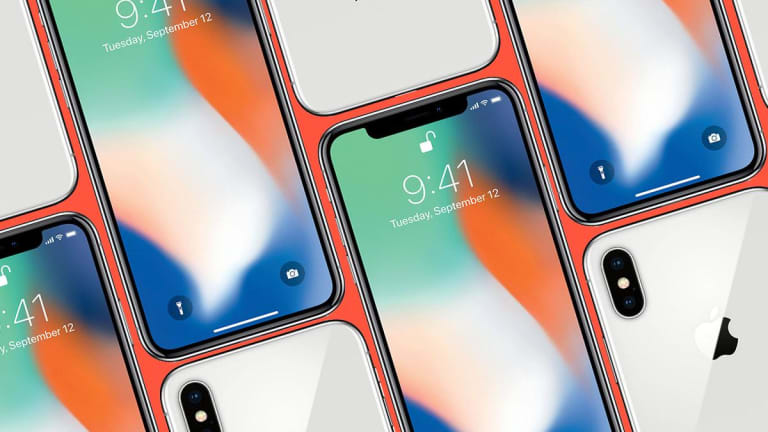 Publish date:
Apple Edges Lower as Goldman Sours on iPhone Forecasts, Cuts Price Target
Analysts at Goldman Sachs cut their estimate for iPhone sales and group sales for the tech giant's 2019 fiscal year.
Analysts at Goldman Sachs cut their estimate for iPhone sales and group sales for the tech giant's 2019 fiscal year.
Apple Inc.  (AAPL) - Get Report shares edged lower Tuesday after analysts at Goldman Sachs cut their estimate for iPhone sales and group sales for the tech giant's 2019 fiscal year.
Goldman slashed its full-year total iPhone unit sale forecast by 6%, and trimmed its revenue estimate by 3.5%, after one of Apple's key suppliers, Lumentum Holdings (LITE) - Get Report , issued a profit warning Monday that lopped nearly a third of the component maker's market value and triggered a 5% decline for Apple that led the Dow Jones Industrial Average into a 500-point tailspin. Goldman also cut its price target on Apple to $209 from $222 per share.
"We are concerned that end demand for new iPhone models is deteriorating," Goldman analysts wrote. "While Apple may have already contemplated some weakness in its guidance, we feel the timing and magnitude of the LITE reduction suggests ... incrementally worse demand data."
Apple shares fell 0.2% to $193.77 in trading on Tuesday. The stock had traded modestly higher earlier in the session.
Lumentum which supplies 3D chips for Apple iPhone's facial recognition system, said its current quarter sales would come in at $335 million to $355 million and non-GAAP EPS would hit a range of $1.15 to $1.34, well below initial guidance of $405 million to $430 million and $1.60 to $1.70 respectively, which had been issued just 11 days earlier.
"We recently received a request from one of our largest Industrial and Consumer customers for laser diodes for 3D sensing to materially reduce shipments to them during our fiscal second quarter for previously placed orders that were originally scheduled for delivery during the quarter," said CEO Alan Lowe. "With our proven ability to deliver high volumes, years of experience, hundreds of millions of devices in the field, and new product and customer funnel, we remain confident in our leadership position in the nascent market for laser diodes for 3D sensing."
Earlier Monday, another Apple supplier, Japan Display, which makes LCD screens, cuts its full-year sales growth and margin forecasts after posting its sixth consecutive quarterly operating loss of 4.7 billion yen ($413 million) for the three months ending in September.
Last week, Apple shares were hit by a report from the Nikkei business daily which said key Taiwan-based suppliers said Foxconn and Pegatron were asked to halt the new production capacity until they get more clarity on iPhone XR demand from Apple.
The reports followed a decision by Apple to no longer provide detailed numbers for the sale of it individual products, such as iPhones and mac computers, meaning investors will no longer be able to calculate their average selling price, a key metric used to gauge the company's profitability.
The decision to scrap that guidance, as well as forecasts for December quarter sales of around $91 billion over the three months ending in December, overshadowed a stronger-than-expected September quarter which saw better-than-expected earnings of $2.91 per share and group revenues of $62.9 billion, and sent shares tumbling more than 6.3% Friday, the biggest single-day decline since 2014.
"The lack of transparency is disappointing, and will likely limit investor's visibility into the company," said BMO Capital Markets's Tim Long. "Our view remains that units may not grow at all going forward, and while (Average Selling Prices) are still increasing, at some point they will plateau."
Apple launched the 6.1 inch LCD version of its iPhone, the XR, at around $750 in early September as a lower-priced alternative to the more expensive iPhone XS, the XS Max, which start at $1,000 and $1,100 respectively.
"While we don't expect the new lineup to drive unit volume growth to the levels seen during the iPhone 6 cycle, due to a mature smartphone market, revenues should still see a very healthy jump due to a continued uptick in average selling prices, with mid-range iPhone customers likely to upgrade to the XR and premium buyers likely opting for the new iPhone XS Max (top models cost $1,450)," said analysts at Trefis.
Apple said it shifted 46.9 million iPhones over the three months ending in September, a figure that was largely in-line with analysts' forecasts but was flattered by a much stronger-than-expected average selling price of $793, which topped the $751 consensus and rose 28.3% from the same period last year.
Services revenue, which includes App Store, Apple Music, iCloud Storage and Apple Pay sales, rose 27% to $10 billion but slowed from the 31% recorded in the June quarter, an easing that may have been affected by the slower pace of iPhones sales that reduces the so-called installed base.