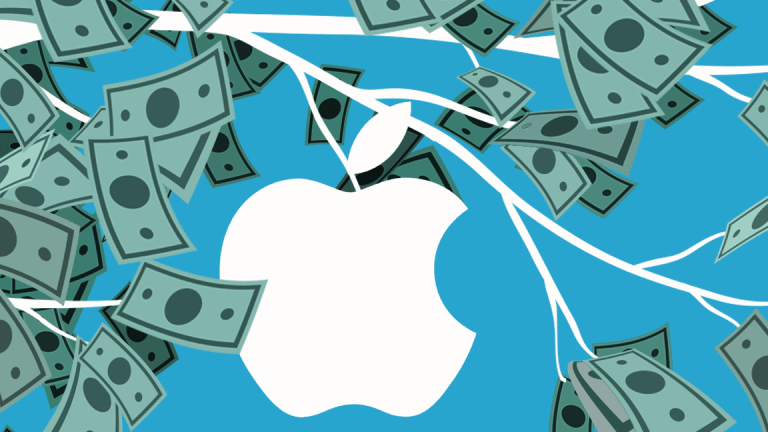 Publish date:
Apple Readies Likely Huge Capital Return Program, and Rivals May Soon Follow
The iPhone maker plans to repatriate nearly all of its offshore cash, and much of it will likely go towards dividends and buybacks. It might not be long before other tech giants make similar announcements.
The iPhone maker plans to repatriate nearly all of its offshore cash, and much of it will likely go towards dividends and buybacks. It might not be long before other tech giants make similar announcements.
Over the last couple of years, Apple (AAPL) - Get Apple Inc. (AAPL) Report has gotten pretty PR-savvy about how it frames its U.S. investments. When you're based out of the U.S., produce about $50 billion in annual profits and have most of your products manufactured elsewhere, being mindful of public relations just makes good business sense.
Which is why, in the company's official announcement regarding its plans to repatriate the lion's share of its massive offshore cash balance, Apple never used the words "dividend" or "repurchase." That's true even though from the looks of things, quite a lot of the estimated $207 billion in cash Apple is repatriating ($245 billion pre-tax) will likely be used on capital returns.
That said, there were a couple of noteworthy spending promises made in Apple's announcement. Namely, that the company is upping the size of its U.S. manufacturing fund (launched last year) to $5 billion from $1 billion, and that it plans to spend $30 billion on U.S. capital expenditures over the next five years, with $10 billion of the sum directed towards data centers.
Thus far, Apple has made two big spending commitments through its manufacturing fund: A $200 million investment in iPhone/iPad Gorilla Glass supplier Corning (GLW) - Get Corning Inc Report , and a $390 million deal with Finisar (FNSR) - Get Finisar Corporation Report , a supplier of lasers used in the iPhone X's TrueDepth camera system, to help Finisar "exponentially increase" its R&D spend and laser production. The Finisar deal doesn't involve an equity or debt investment; instead, it's said to represent "anticipated future business between the companies over a period of time."
With an extra $4 billion inside the fund, who else might Apple invest in or make a spending commitment with? An RF chip manufacturer such as Broadcom  (AVGO) - Get Broadcom Inc. Report or Skyworks (SWKS) - Get Skyworks Solutions, Inc. Report is a possibility. In Broadcom's case, a deal could help guarantee adequate supplies of FBAR (film bulk acoustic resonator) filters. FBARs have often been supply-constrained, and Apple's need for them has grown with each new iPhone model.
A deal with top iPhone contract manufacturer Foxconn is also plausible, if Foxconn's recent deal to build a large LCD-panel plant in Wisconsin paves the way for additional U.S. plant openings. A more remote possibility: A deal with Intel (INTC) - Get Intel Corporation (INTC) Report to help the chip giant manufacture system-on-chips (SoCs) containing Apple's A-series app processors and Intel's modem IP. VentureBeat reported in 2015 that Intel could produce such SoCs for Apple in time.
As for the U.S. capex commitment, it's worth keeping in mind that Apple spent $14.9 billion on capex globally in fiscal 2017 (it ended in September), and expects to spend $16 billion in fiscal 2018. This spending covered Apple's manufacturing investments, data centers, retail stores and "spaceship" HQ, among other things. At an average of $6 billion per year over the next five years, the U.S. commitment is substantial, but doesn't necessarily spell a major increase in Apple's total capex.
Either way, between the $207 billion in repatriated offshore cash and a shift to a territorial tax system that should pave the way for Apple to repatriate a large portion of its future offshore profits, it should be just a matter of time before Apple unveils giant capital returns.
And assuming buybacks account for a large percentage of those returns, there could be a pretty big impact on Apple's EPS, particularly since its trailing P/E remains below 20. If the company was to repurchase, say, $100 billion in stock at a current price of $179, it would result in about 560 million shares being taken out of circulation. Based on a September quarter diluted share count of 5.18 billion, such a share reduction would've boosted Apple's fiscal 2017 GAAP EPS by $1.25 to $10.46.
Of course, chances are that Apple won't be using all of its offshore cash on capital returns. The company will probably try to pare a debt load (created to pay for buybacks) that stood at $115 billion as of September. Apple's cash-flow profile and blue-chip credit rating mean that the company doesn't need to be too aggressive in retiring debt, but it might nonetheless be more comfortable with a lower debt load.
It's also possible that Apple will reserve some cash for M&A. The company was once rumored to have shown preliminary interest in Time Warner (TWX) before AT&T (T) - Get AT&T Inc. Report  agreed to buy the company; is a deal with some other media firm possible? When it comes to larger tech companies, Apple's product philosophy, with its emphasis on an integrated hardware/software/services experiences, limits what it's willing to do. But there could be a smaller consumer hardware player (GoPro (GPRO) - Get GoPro, Inc. Class A Report ) or Internet services firm that draws its interest.
Apple, which delivers its December quarter earnings report on Feb. 1, usually discloses changes to its capital return program at the time of its March quarter report. But given that its offshore repatriation represents a pretty unique situation, an earlier announcement wouldn't be shocking.
It also wouldn't be surprising if other tech giants with large offshore cash balances announce new repatriation and capital-return plans of their own soon. For example, Microsoft (MSFT) - Get Microsoft Corporation (MSFT) Report , which had $138.5 billion in offshore cash as of September, or Alphabet (GOOGL) - Get Alphabet Inc. Class A Report , which had $61 billion.
Investors certainly wouldn't mind.
Jim Cramer and the AAP team hold positions in Apple, Broadcom, Microsoft and Alphabet for their Action Alerts PLUS Charitable Trust Portfolio. Want to be alerted before Cramer buys or sells AAPL or GOOGL? Learn more now.
More of What's Trending on TheStreet: