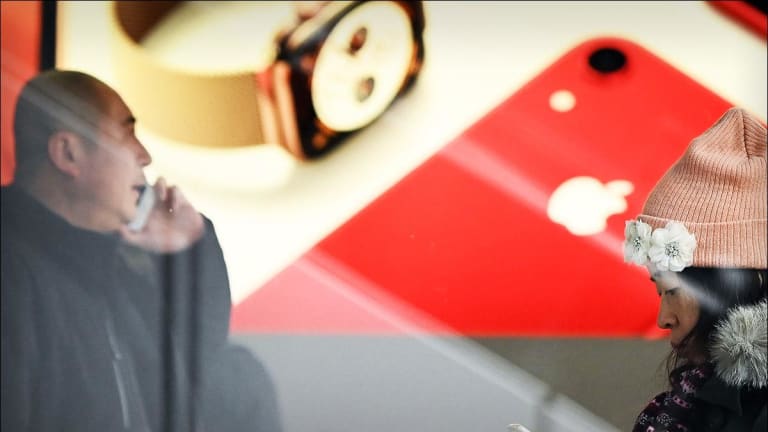 Apple Price Target Lowered by Morgan Stanley; Key China Questions Answered
Analyst Katy Huberty gave her take on what she views as the top investor questions about Apple, all of them having to do with China.
Top Apple (AAPL) analyst Katy Huberty and her team at Morgan Stanley lowered their price target on Apple shares on Thursday, citing multiple compression among the stocks of Apple's peers. The group did not change their earnings estimates, but now have a sum-of-the-parts price target on the stock of $231, down from $240.
Apple shares were flat at $177.28 on Thursday and are up 12% year to date. 
In her note, Huberty also answered what she considers to be the top five investor questions about Apple currently. They include questions about iPhone demand in China, whether Apple can gain smartphone share as a result of the Huawei blacklist, whether the company will be able to get an exclusion from the proposed final round of tariffs on Chinese imports to the U.S., could China impose retaliatory import tariffs on iPhones and what's the near-term floor for the stock.
On the question of iPhone demand in China, Huberty wrote that the improvement in Chinese iPhone demand seen earlier in the year was at risk because of rising trade tensions. "If we assume Chinese demand significantly weakens in the last six weeks of the quarter and iPhone shipments instead fall 50% [year-over-year] (a 10 point further deceleration from March Q declines), then we'd expect 2.3 million lower iPhone units (-6% vs. our current model), $1.6 billion lower revenue (-2.9%) and a $0.05 hit to EPS (-2.3%), all else equal."
On the tariff exclusion question, Huberty wrote that as the list of new products subject to tariffs is considered, Apple would need to argue to the Office of US Trade Representation (USTR) why its products should be excluded, something which it's done successfully in the past. It's unclear, however, how the USTR would view those arguments in this case, according to Huberty.
As for the opportunity provided by the U.S. blacklist of Huawei, Huberty wrote that because the blacklist might not last long-term and the fact that Huawei's primary market is in China, "we don't believe Apple can make sizable share gains at Huawei's expense in the near term, although the situation remains fluid and more carriers removing Huawei devices from their offerings would make us more bullish on this opportunity."
Regarding whether China could impose tariffs on iPhones, Huberty cited China's plan to raise tariffs on $60 billion worth of U.S. imports but said she didn't see that as a meaningful risk to Apple because tariffs are levied at the port where products enter China and iPhones are produced within Chinese borders. She wrote that it was more likely that China could place an informal ban on purchasing iPhones, as it has in the past.
Finally, Huberty's near-term bear scenario envisions the U.S. placing a 25% on all Chinese imports to the U.S. without exception, and Apple passing on some, but not all, of this additional cost to consumers and suppliers. In this most likely scenario, Huberty estimates Apple would raise the prices of U.S. devices by 15% and see Apple's devices sales in China take a hit as consumers there switch to local Chinese brands. The net effect would be a 10% reduction to Morgan Stanley's current 2020 fiscal year revenue, a 110-basis-point hit to gross margins, a 200-basis-point hit to operating margins and a 19% hit to 2020 fiscal year earnings per share (if Apple were to absorb all tariff costs itself, Huberty expects 2020 fiscal year earnings per share to fall by 23%).
Applying Apple's current price multiple of 15.6x on a tariff-adjusted 2020 fiscal year EPS of $10.25, which represents the most likely scenario, leads to a $160 near-term floor on shares.
Apple is a holding in Jim Cramer'sAction Alerts PLUS Charitable Trust Portfolio. Want to be alerted before Cramer buys or sells AAPL? Learn more now.