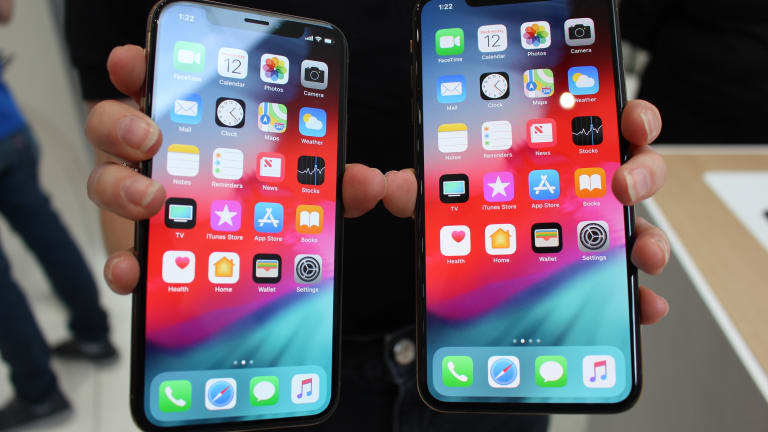 Apple's Expensive New iPhones Will Help Lead the Charge to $2 Trillion Valuation
Wall Street weighs in on Apple's newest products. UPS has a big day on Thursday. Retailers are poised for strong holiday seasons.
Only $932 billion in market cap to go before Apple (AAPL) - Get Free Report reaches a $2 trillion valuation.
Imagine what Apple will look like by then (10 years from now, maybe?). Perhaps another spaceship campus somewhere in a tax-friendly state. Tim Cook as chairman. Hundreds of more retail stores. Apple software being the dominant force in the driverless car movement. Apple TVs installed in gazillions of homes. Even more insane amounts of cash on the balance sheet. The iPhone has a wraparound screen, and it also bends.
Speculation aside, what Apple unveiled on Wednesday is likely to help set the course to a $2 trillion valuation. For one, the new iPhones show a company dead-set on pushing up prices to expand profit margins. How isn't that market-cap friendly, especially as consumers are unlikely to balk at the high prices given the extra utility? The new suite of iPhones reaffirmed Apple's leadership in design and engineering, and the Apple Watch is the first step in Apple truly becoming a healthcare play. That's a great place to be ahead of the retiring Baby Boomer movement.
All in all, Apple did enough to make bullish investors imagine what could be in store for their holdings over time.   
Data Dump
Retailers (except Sears Holdings (SHLD) ) should be prepared for a bumper holiday season thanks to a healthy U.S. labor market. Quarterly earnings from the likes of Walmart (WMT) - Get Free Report and Target (TGT) - Get Free Report were the first indication, and now new data add some support.
Millennials reported the greatest optimism in the labor market, according to a new survey from Bank of America Merril Lynch. About 25% stated in August that it is easier now to find or switch jobs. Meanwhile, Baby Boomers showed the biggest improvement in labor market sentiments, with 24% saying it is easier to find or switch jobs compared to 21% in May. "All told, a strong labor market and broadly favorable view on the economy, in particular in the South and the top income bracket (those with annual income more than $125k), should support better consumer demand in the near term," said BofA's chief U.S. economist, Michelle Meyer.
In anticipation of that aforementioned strong holiday season, the VanEck Vectors Retail ETF (RTH) - Get Free Report has surged 16% over the last six months. 
Around TheStreet
The scion. Yours truly and @KatherineRoss had a fascinating chat Wednesday afternoon with Adolphus A. Busch V, the great-great-grandson of the late founder of Anheuser Busch. The 26-year old Busch has decided to start his own cannabis company after spending several years working in the industry. Story by Ross to come Thursday, but it was interesting to hear why Busch isn't working at Budweiser, which is owned by Anheuser-Busch InBev (BUD) - Get Free Report .
FYI.Reminder that Thursday at 11:30 a.m. ET TheStreet's founder Jim Cramer will hold his latest Action Alerts PLUS member call. Be on this one -- Cramer will, of course, talk markets but also share his thoughts on key holding Apple (AAPL) - Get Free Report after the tech giant's newest product releases.
Analysis. Speaking of Apple, the mood on Wall Street is upbeat on Apple's new product range. Most sources I have connected with said Apple's push into higher-priced products should bode well for profits (so no steep drop in units). "We are sticking with our outperform rating and $240 target as Apple is positioned to sustain mid-single digit sales and low-to-mid teens EPS growth in a flattish iPhone volume growth environment. Near-term, we see upside from gross margins trending higher, buybacks and services strength," said RBC Capital Markets analyst Amit Daryanani after the event. TheStreet's tech columnist @EricJhonsa shared his top seven takeaways from Apple's big day.
Watch out. Give TheStreet's @Anderskeitz a follow on Twitter - she will be reporting live from UPS' (UPS) - Get Free Report pivotal investor day in New York. UPS shares have lagged the S&P 500 undefined for most of 2018 amid concerns about investments needed to support rapid e-commerce growth. The company is expected to try hard Thursday to temper those worries and chart a path to earnings re-acceleration.