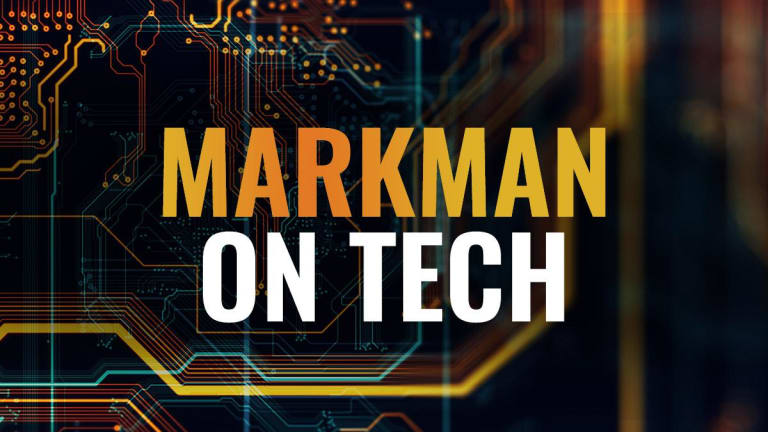 Apple Has No One to Blame but Itself for Its Current Troubles
I hate to beat a dead horse, but it makes me cringe to hear Apple blaming Chinese consumers for its woes.
I hate to beat a dead horse, but it makes me cringe to hear Apple (AAPL) - Get Report blaming Chinese consumers and global trade wars for its woes. As Chris Berman at ESPN used to say, "C'mon man!" Apple has no one to blame for its troubles but itself.
Several years ago, the iPhone maker began a suicidal business strategy. Managers cozied up to China, raised product prices across the board and started a public relations war with the companies that make the most-popular smartphone applications.
More than virtually any other major U.S. company I could name, Apple is especially tied to the fortunes of China. The company began slowing the spread of its flagship Apple stores in Europe in 2017, according to reporting from Business Insider, to focus on expansion in China. At the time, Apple stores in the land of the dragon had reached 40, second only to U.S.-based locations.
And the company pursued this strategy despite deteriorating market share. Canalys, an independent Singapore-based analysis firm, noted Apple fell out of the top four vendors in China during 2018 as Huawei, Oppo, Vivo and Xiaomi ramped up innovation and offered devices at multiple price points.
In contrast, Apple went upmarket with higher average selling prices and boring, iterative devices. I explained this losing strategy back in mid-November in this column, entitled "Apple Raising Prices to Offset Unit Sales Growth Decline Is a Red Flag."
This strategy was repeated in India, the fastest-growing smartphone market in the world. The cheapest iPhone in the latest series, the XR model, sells for $1,058 there. To put that price tag into context, consider that the country's per-capita annual income is about $1,670. Not surprisingly, Apple's market share is now less than 1% there -- and falling. C'mon, man!
In October, chief executive Tim Cook traveled to Brussels, where he lambasted Facebook (FB) - Get Report and Alphabet  (GOOGL) - Get Report for their advertising-centric business models and data-collection policies.
Cook's bashing came despite lengthy partnerships with these two Silicon Valley neighbors. And it ignored the popularity of Facebook, WhatsApp, YouTube and Instagram on iPhones.
Apptopia, an smartphone application analysis company, found that WhatsApp, a Facebook property, was downloaded 779 million times in 2018. In the same study, Netflix  (NFLX) - Get Report , the global media network, was the leading entertainment application on iPhones.
Starting this year, Netflix will no longer share subscription revenues with the Apple App store. The company is directing Netflix users away from in-app purchases. According to a TechCrunchreport, that relationship was worth $256 million to Apple in 2018.
These data points reveal the true Achilles' heel of Apple's business: For a long time, investors placed the power of brand above all else. They assumed consumers would pay higher average selling prices, and that software developers and content providers would fall in line with any guidelines Cupertino dictated.
But customers are not buying.And Netflix is cutting Apple out of its subscription business.
Cook's letter to shareholders is a stinging rebuke of the idea that the Apple brand is bulletproof. He revised first-quarter fiscal 2019 guidance to $84 billion -- down from a range of $89 billion to $93 billion -- as weakness in China contributed 100% of the year-over-year worldwide revenue decline.
Many of the tech companies Cook recently singled out have little or no exposure to China. Facebook, Google and Netflix have no discernible footprint there, although they are each exploring opportunities there. Ironically, corporate managers have balked at the idea about giving an authoritarian central government unfettered access to customer data.
Bears could push Apple as low as $120 in coming weeks, as the sting and stain of a severe estimates cut haunts investors' dreams. Veteran traders adhere to the old cockroach theory when it comes to such events: There's rarely just one.
To learn more about my recommendations at the crossroads of culture and technology, check out my daily newsletter Strategic Advantage.
To learn about my practical research in the short-term timing of market indexes and commodities, check out my daily newsletter Invariant Futures.
Apple, Amazon and Alphabet are holdings in Jim Cramer'sAction Alerts PLUS Charitable Trust Portfolio. Want to be alerted before Cramer buys or sells AAPL, AMZN or GOOGL? Learn more now.
The author does not own shares of companies mentioned in this column.