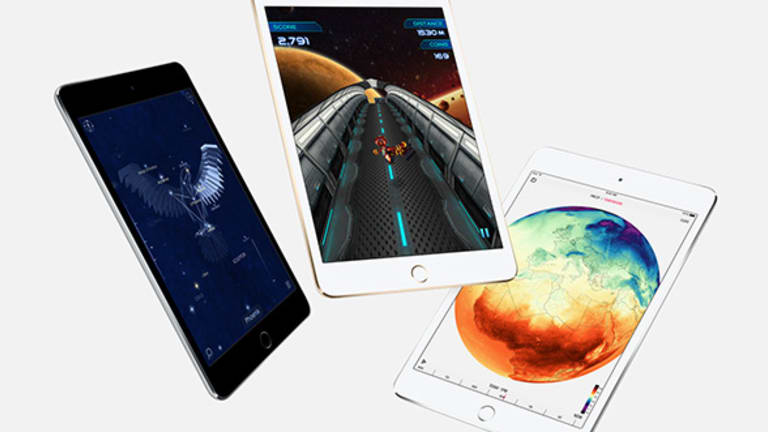 The latest scoop from a well-respected Apple (AAPL) - Get Apple Inc. (AAPL) Report analyst is that iPads featuring revolutionary hardware designs are in the works. The report meshes well with what has been reported regarding supplier and rival Samsung's (SSNLF)  own hardware plans, and if true, the plans could help revive Apple's stagnant tablet sales -- and even eventually those of its iPhones.
KGI Securities' Ming-Chi Kuo, who has a pretty good track record when it comes to reporting on Apple's product plans -- his track record for predicting exactly when new products will launch is a little shakier, however -- reports Apple is prepping an iPad with "radical changes in form factor design & user behavior" that will be enabled by its use of a flexible OLED display. He cautions, though, that the device will arrive in Apple's fiscal 2018, which runs from October 2017 to September 2018, "at the earliest."
Apple is a holding in Jim Cramer's Action Alerts PLUS Charitable Trust Portfolio. Want to be alerted before Cramer buys or sells AAPL? Learn more now.
According to Kuo, Apple is also expected to launch three new iPads in fiscal 2017: A 12.9-inch iPad Pro 2 and a 10.5-inch iPad Pro, both of which would run on a powerful A10X processor, and a "low-cost" 9.7-inch iPad featuring a less powerful A9X processor. There's speculation the last product is meant to displace the iPad Mini line, whose value proposition has arguably diminished with the launch of 5.5-inch iPhones. But it's also possible that Apple simply plans to have the cheaper tablet succeed the iPad Air 2, which runs on an older A8X processor.
As far as Kuo's fiscal 2018 iPad forecast goes, it's worth noting there have already been many reports stating Apple plans to launch iPhones sporting OLEDs in 2017, with some of them adding that the phones will use curved OLEDs that wrap around their edges.
But that's not the same as having bendable screens that enable new form factors, as Kuo seems to imply iPads will eventually have. Samsung's Galaxy S6 and S7 Edge phones use curved OLEDs, as does its just-launched Note 7. But the devices are still rigid.
On the other hand, Bloomberg reported in June that Samsung, which continues to supply displays and chips to Apple despite its fierce rivalry with the company, is thinking of launching two phones with bendable OLEDs in 2017. One of them is said to "[fold] in half like a cosmetic compact," providing a 5-inch display when folded and an 8-inch display when opened.
Moreover, Samsung has been teasing consumers with YouTube videos showing foldable phones/tablets for years, and -- though cautioning the devices aren't ready to launch yet -- Lenovo demoed a folding tablet and a bendable "wrist phone" in June.
OLED materials and technology developer Universal Display (OLED) - Get Universal Display Corporation Reporthas been promising such products will arrive as well. Given all of this, and Apple's penchant for pushing the envelope when it comes to hardware technologies, the launch of iPads with bendable screens in Apple's fiscal 2018 seems plausible.
By enabling iPads and rival tablets that take up much less space than current tablets and which users might even be able to put in their pockets, bendable OLEDs could give a needed boost to a moribund tablet market. Research firm IDC estimates global tablet shipments fell 10.1% in 2015 to 230.1 million, and 12.3% in Q2 of this year to 38.7 million, as many consumers decide smartphones with 5-inch-plus screens can fully handle their mobile computing needs.
Apple's iPad revenue rose 7% annually in fiscal Q3 (calendar Q2) to $4.9 billion thanks to strong iPad Pro demand, ending many quarters of declines. But shipments still fell 9% to 10 million, and were sharply below a fiscal Q3 peak (set in 2012) of 17 million. Kuo, for his part, sees iPad shipments dropping another 10% to 20% in fiscal 2017.
Kuo's report leaves one big question unanswered: Is Apple also planning to launch flexible-OLED iPhones that deliver "radical" form factor changes? One has to think Apple eventually wants to do it, but there are also reasons to think such iPhones could take longer to arrive than similar iPads.
The first mobile devices with foldable screens will likely be thicker than today's iPhones -- the iPhone 6S is just 6.9mm thick -- and probably to an extent that's unacceptable to Apple. In addition, with Apple having sold 4.7 times as many iPhones in 2015 as iPads, securing enough foldable screens for iPhone use would be a big near-term challenge -- especially if Samsung needs some of the screens it's producing for its own hardware.
But such challenges should be addressed over the long haul. And as they are, foldable screens could fuel a fresh upgrade cycle for smartphones as well as tablets. The technology is still very young and won't mature overnight, but it's no longer just fodder for futuristic YouTube videos.