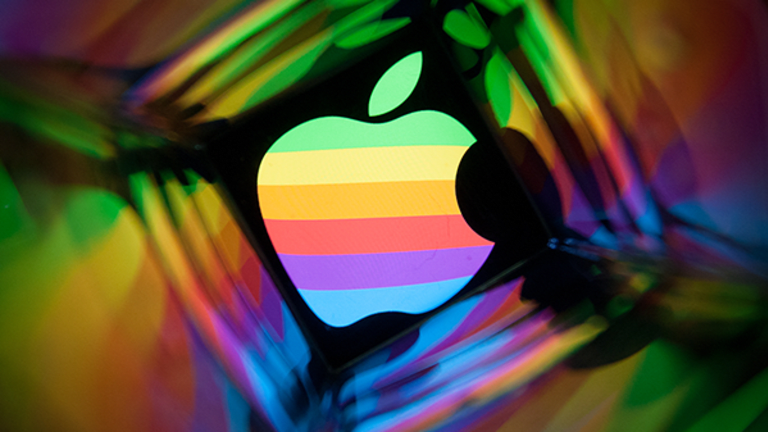 Apple May Have Structured Its Nokia Settlement With Its Qualcomm Lawsuit In Mind
Unlike its 2011 patent deal with Nokia, Apple's latest settlement with the company makes no mention of royalties. That likely has a lot to do with its battle with Qualcomm.
When it comes to press releases announcing major patent licensing deals, the slightest change in the description of the terms of one deal relative to another can mean a lot. That's definitely the case for Apple's (AAPL) new settlement with Nokia (NOK) .
Whereas the press release announcing Apple's 2011 patent-licensing deal with Nokia, as well as the one announcing Apple's 2015 patent deal with Ericsson (ERIC) , mentioned that Apple would pay "on-going royalties," Tuesday morning's release about Apple and Nokia's latest settlement only talks of ""additional revenues during the term of the agreement." The change in phrasing probably has much to do with Apple's wish to prevent the Nokia settlement from hurting its prospects in its increasingly bitter dispute with Qualcomm (QCOM) , a dispute that has featured lawsuits on both sides and strikes at the heart of Qualcomm's licensing model.
Nokia and Apple had sued each other in December 2016, shortly before the expiration of their deal reached in 2011. Nokia alleged infringement of dozens of patents -- including those separate from the ones covered by the 2011 deal -- covering display, software, UI, chip and video encoding technologies, among other things. Apple, perhaps recognizing a Nokia suit was on the way, accused Nokia of violating antitrust law by handing off some patents to "patent assertion entities" (less charitably referred to as patent trolls), who would then use the assets to sue Apple and others for infringement, with Nokia getting a cut of the proceeds.
Likely contributing to the tensions: Nokia has gotten more aggressive about trying to monetize its massive mobile patent portfolio since wisely selling its hard-luck phone business to Microsoft (MSFT) for $7.2 billion in 2014. That sale significantly reduced Nokia's patent cross-licensing needs, and gave it more leeway to strike harder bargains with phone makers. Two licensing deals were struck with Samsung last year, with Nokia stating the second deal would lift the revenue run rate for its licensing business by €150 million to €950 million ($168 million to $1.07 billion).
Nokia had cut its run-rate forecast back to €800 million ($895 million) due to the dispute with Apple. But an upwards revision should be on the way soon: Nokia and Apple say they've "settled all litigation" and reached a new multi-year IP deal. Nokia's shares were up 6% on the news, while Apple's shares were down 0.3% on Tuesday.
Nokia will get an unspecified up-front cash payment -- the 2011 deal reportedly featured a $720 million up-front payment -- and will sell "certain network infrastructure products and services to Apple," which has built a giant global data center infrastructure over the last several years. Apple will also resume selling Nokia's digital health hardware (a product of the 2016 Withings acquisition), and the companies will explore potential digital health collaborations.
But it's the lack of any indication that the deal will feature royalty payments that's the most head-turning part of the announcement. Nokia, like Qualcomm and Ericsson, has typically received royalties from mobile licensees that are based on a percentage of a phone's selling price. From the looks of things, Apple could be replacing the iPhone royalty payments that were part of the 2011 deal with fixed licensing fees.
Apple is a holding in Jim Cramer'sAction Alerts PLUS Charitable Trust Portfolio. Want to be alerted before Cramer buys or sells AAPL? Learn more now.
Apple's motivation for insisting on such a change? In its lawsuit against Qualcomm, Apple argued that Qualcomm is unjustified in charging royalties on iPhone sales based on their sale price -- or rather, the sale price at which iPhone contract manufacturers sell devices to Apple, since Qualcomm's licensing deals are with the manufacturers. Instead, Apple, declaring that the traditional arrangement lets Qualcomm collect royalties on many innovations it had nothing to do with, has argued royalties should be based on a percentage of the selling price for the 3G/4G modem chips used by iPhones, which of course is much lower.
Qualcomm, which is also facing charges from U.S. and Korean regulators over its licensing practices, has argued that charging royalties based on a device's selling price has been an industry norm, both for itself and others. It also notes that many of its mobile patents cover parts of a phone other than its modem chip. And the company could also point out that Apple's contract manufacturer-based licensing arrangement is more favorable than the direct agreements Qualcomm has with most other top smartphone OEMs, since the price manufacturers charge Apple to supply an iPhone is inevitably much lower than the price Apple itself sells the iPhone at.
Regardless, Apple is intent on putting an end to royalties based on device selling prices, at least unless the courts force it to backtrack. And the reason it made Qualcomm the focal point of its attack is easy to see: By frequently charging a royalty rate (subject to a dollar cap) of around 5% of the selling price of a device containing a 3G modem, and 3.25% of the selling price of a device only containing a 4G modem, Qualcomm's licensing business is easily the mobile industry's biggest.
Though it seems unlikely that Apple will achieve its goal of merely paying royalties based on a modem's selling price, even a compromise that results in Apple paying fixed recurring licensing fees that are less than the per-device royalties that it has been indirectly paying -- and that opens the door for other Qualcomm licensees to demand similar concessions -- would have significant consequences. Per-device royalties were responsible for the lion's share of the $7.6 billion in revenue and $6.5 billion in operating profit delivered by Qualcomm's licensing unit in fiscal 2016.
With billions on the line, the Apple/Qualcomm dispute has gotten ugly in a hurry. Apple initially instructed its contract manufacturers to withhold $1 billion in royalty payments to Qualcomm, on account of Qualcomm withholding a similar amount of rebate payments on modem sales. It later told the contract manufacturers to withhold all royalty payments, something that led Qualcomm to cut its June quarter sales guidance range (already cautious due to Apple uncertainty) by $500 million.
Qualcomm recently responded by suing Apple's contract manufacturers (it had already sued Apple) for breaching their licensing agreements. And Bloomberg has reported that Qualcomm plans to ask the ITC to ban iPhone imports, a move that could easily lead Congress and/or the White House to get involved in the dispute.
With everything that Apple is putting on the line here, it had good reason to make sure that Qualcomm won't be able to use the contractual details of Apple's settlement with Nokia against Apple in court. And it looks like Nokia, whose royalty rates have been lower than Qualcomm's, was eager to oblige.
Read More Trending Articles:
11 Countries to Visit With Caution