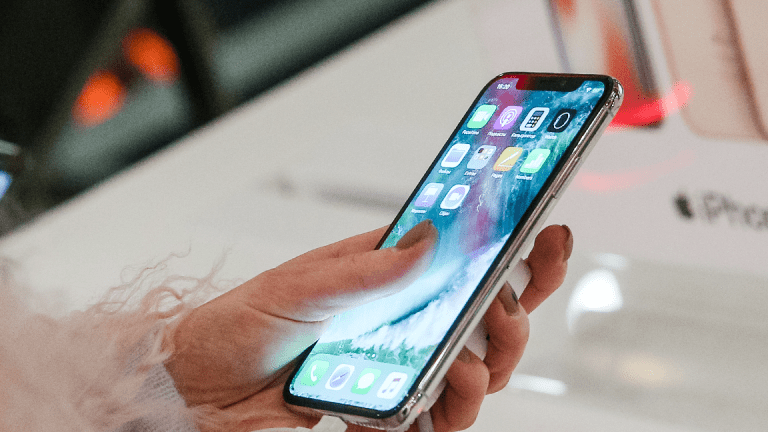 Why Apple Investors Shouldn't Panic Over the Latest iPhone Sales Data
A close analysis of all the recent reports and data shows some encouraging trends, although the iPhone X's high starting price may be dampening demand some.
Over the last few days, there have been several different reports -- some of them contradicting each other -- about iPhone X sales and order trends.
After piecing together all of this data with what has been reported before, as well as what's known about Apple's (AAPL) - Get Report sales expectations and iPhone X shipping times, the situation doesn't look half as bad as some headlines and reported figures might suggest. But there is a possibility that the X's high starting price -- particularly in foreign locales where taxes and/or tariffs make the phone much more costlier than in the U.S., where it starts at $999 -- is pressuring demand some.
Apple shares fell nearly 3 percent on Dec. 26 after a report from Taiwan's Economic Daily News (citing unnamed sources) said the company will cut its March quarter iPhone X sales forecast by 20 million to 30 million. The stocks of chip suppliers such as Cirrus Logic (CRUS) - Get Report , Broadcom  (AVGO) - Get Report and Skyworks  (SWKS) - Get Report also got hit.
Jim Cramer and the AAP team hold positions in Apple and Broadcom for their Action Alerts PLUS Charitable Trust Portfolio. Want to be alerted before Cramer buys or sells AAPL or AVGO? Learn more now.
The report came shortly after one from Taiwan's Digitimes, citing sources in the chip packaging and testing industry, stated iPhone X shipments are forecast to reach 30 million to 35 million this quarter and "stay flat or drop slightly" in the March quarter. The site added that Apple has been "rumored" to be planning iPhone price adjustments in early 2018.
Separately, research firm CIRP disclosed that a survey of 300 recent U.S. iPhone buyers found that 30% of them bought the X during the phone's first month of availability, while 39% bought the iPhone 8 or 8-Plus and 31% bought older iPhones.
In addition, mobile analytics firm Flurry reported the X accounted for just 14.7% of iPhones activated globally during the week leading up to Christmas; the 8 and 8-Plus accounted for 16.8%, and older iPhones the rest. On the bright side, Apple devices accounted for 44% of Flurry's tracked phone and tablet activations, even with the percentage a year ago.
Amid all these reports, analyst commentary about iPhone X demand has been mixed. Sinolink Securities and JL Warren Capital each cut their March quarter iPhone X shipment forecasts, though it's worth noting Sinolink's new estimate (35 million) is much higher than JL Warren's (25 million). Meanwhile, B. Riley FBR, Rosenblatt Securities and Loup Ventures' Gene Munster defended Apple.
Rosenblatt speculated that the Economic Daily News might be confusing iPhone 8 order cuts with iPhone X cuts, and said their supply chain checks pointed to healthy demand and no OLED panel or 3D sensor order cuts. On the other hand, JL Warren reported that some Apple suppliers have seen reduced orders.
What to make of all this? First of all, it's unlikely that Apple ever expected to sell 50 million iPhone X units in the March quarter, especially considering the consensus analyst estimate for the quarter's total iPhone sales is only at 62 million. As Munster notes, Apple has a history of initially placing outsized orders with iPhone suppliers to make sure it can meet demand, and later paring them back. It could be that the Economic Daily News was provided info from a supplier that had seen this phenomenon play out.
Second, December quarter shipments of 30 million to 35 million -- the range suggested by Digitimes' report -- would still be pretty healthy, given that iPhone X pre-orders only started on Oct. 27 and the phone was supply-constrained during the first few weeks of sales. On Nov. 11, plugged-in KGI Securities analyst Ming-Chi Kuo had only forecast December quarter X sales of 22 million to 24 million. A couple weeks later, Kuo, citing improved production, said shipments could be 10% to 20% higher than his prior forecast, but that would still leave them short of 30 million.
One strong possibility is that Apple has been able to meet a larger portion of iPhone X demand in the December quarter than it once expected. This fits not only with Digitimes and Kuo's commentary, but with the fact that X shipping times fell rapidly in November. After starting out at 4-to-6 weeks during the pre-order period, shipping times were down to 2-to-3 weeks by mid-November, and just one week by early December. Thus some of the sales Apple was expecting next quarter may have been "pulled in" to this one.
CIRP's U.S. survey data, meanwhile, is a little disappointing but not terrible, particularly since the iPhone X was supply-constrained for much of the period covered by CIRP's survey. It's also not as concerning because Apple broke with tradition and decided not to discontinue the iPhone 6S and 6S-Plus, instead keeping the 2015 models around (along with the iPhone 7 and 7-Plus) at $100 discounts.
Flurry's global data is a little more worrisome, although it's worth noting that used iPhone sales could be affecting the iPhone X's share of total device activation. Together with some of the other muted commentary recently seen about iPhone X demand, the numbers raise some questions about what impact the X's steep overseas prices have had on sales.
Whereas the 64GB iPhone X costs $999 in the U.S., with the cost often rising by $60 to $80 thanks to sales taxes, it costs over $1,250 in China and over $1,300 in India and big European markets. In some locales such as Italy and Denmark, the price tops $1,400. Japan is the only major market for which the X's starting price is comparable to that of the United States.
While a decent percentage of high-end smartphone buyers might be willing to pay $1,000 for the iPhone X -- especially if they can pay for it through an installment plan -- the percentage willing to pay over $1,200 or $1,300 for it could be markedly lower. And that could be yielding a slowdown in sales following an initial surge, particularly in more cost-sensitive regions.
That makes Digitimes' remark about Apple being "rumored" to be planning iPhone price adjustments in early 2018 all the more intriguing. But it's worth noting that Digitimes' track record is better when it comes to reporting on supply chain activity than on things like product names and prices.
Either way, it's worth keeping in mind that while the iPhone X numbers are getting more attention, CIRP and Flurry's data suggests Apple is gaining ground in the mid-range smartphone market. By keeping around/discounting the 6S and cutting the 4-inch iPhone SE's starting price by $50 to $349, Apple got more aggressive in September about taking mid-range share. And it looks as if the gambit is paying off.
Overall, the latest iPhone sales reports and data provide good reasons to keep a close eye on iPhone X demand trends in the weeks leading up to Apple's December quarter earnings report. But they provide few reasons to panic. In terms of looks, features and consumer interest, Apple's latest flagship has easily lived up to the hype. The only question is whether Apple got too ambitious with its pricing.
More of What's Trending on TheStreet: