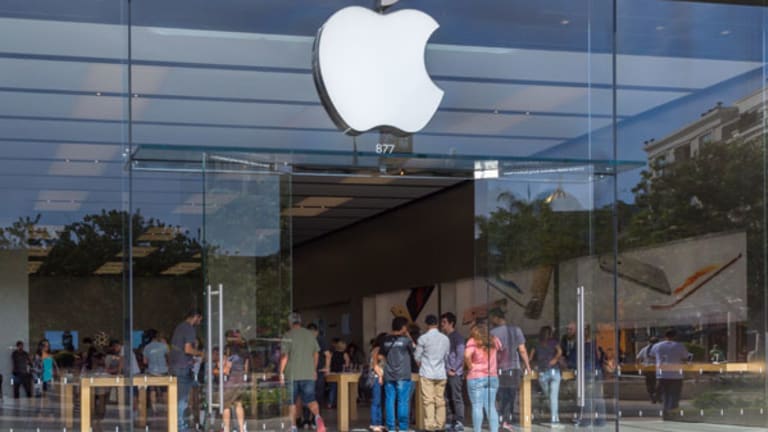 Apple Is Marching into the Original Content Field
Original content, available exclusively through Apple, will help to compensate for slowing technology sales.
Apple (AAPL) - Get Report has always been an entertaining company to follow, with its oft-dramatized leadership changes and product innovations, but can it start creating its own entertainment value through high-quality original content? The Cupertino, Calif.-based tech juggeranut will soon take on Netflix (NFLX) - Get Report and Amazon (AMZN) - Get Report  in this arena.
Apple has already begun working on projects that will be exclusive to subscribers of the company's services. There's a video series currently in development, entitled "Planet of the Apps," that will be unscripted and follow how apps are created and sold. Apple also has a high-profile series in the works called "Vital Signs," which Dr. Dre is both executive producing and starring in, and which will be released via Apple Music. The project is shrouded in secrecy but will reportedly be a semi-autographical, dark music drama. Apple surely hopes that the project will be a boon to its struggling Apple Music service.
However, despite the development of these projects, Apple remains insistent that it is not trying to compete with streaming services like Netflix. Eddy Cue, Apple's senior vice-president, recently told The Hollywood Reporter that Apple is "not in the business of trying to create TV shows" and is focusing exclusively on projects tied to Apple products.
However, given the buzz that Apple was recently looking to acquire an entertainment and media company, the veracity of Cue's statements seems a bit dubious. If the Dr. Dre series is a smash for the company, will Apple really resist following it up with more original series? Given Apple's ability to broadcast its content widely, the potential audience for these original series stands to be large.
"Apple's real advantage is their platforms," says John Traynor, CIO of People's United Wealth Management, a Bridgeport, Ct. financial services company that owns Apple stock. "If they produce a series that everybody is talking about, they're going to be able to leverage it better than anybody else."
Indeed, Apple has a wealth of different distribution options for any potential series. The company could use iTunes to release a new show, or, as is the strategy for the Dr. Dre series, release exclusively on Apple Music. It would also be easy enough to develop an app where users could subscribe to and access original content that could potentially be rolled into the Apple TV.
And original content may just be the innovation that the company needs to restore investor confidence. Apple stock is down nearly 25% year-over-year, as interest in the Apple Watch faded quickly and sales for iPhones and iPads have slowed as well. The stock opened at $99.56 on Tuesday morning.
The production of original series would help to expand assessment of the company beyond technology sales. "It's being priced like a product company," says Traynor. "So the more it can get into the media arena, the better."
Additionally, original content would be beneficial in annuitizing Apple's revenue stream, adds Traynor. The company currently relies on the transactional revenue that comes with the cyclical business of software sales. If Apple were to charge subscribers a monthly fee for access to premium content, it would help to make earnings more consistent.
What that premium content would look like is still unknown, outside of the two Apple projects in development. However, producer Cassian Elwes, who has backed such movies as "Dallas Buyers Club" and "Lee Daniels' The Butler," believes that Apple would begin producing content on a small scale. "They'll stay away from financing huge studio movies," he says. "The easiest way to do that is to dip your toe in the pool, to start with independent movies and television shows."
However, an inclination toward smaller entertainment does not mean that Apple would be producing content that is unappealing to subscribers. Apple has a huge database of consumer preferences at its disposal in the form of iTunes, that could potentially help to shape the library of premium content that the company produces. However, Ewles notes, Apple will need to make good films and television, and not just cookie-cutter genre content, if it hopes to be successful.
Enlisting the requisite talent to do that should not be too much of a problem for Apple. Producer Drew Houpt, who has worked on such movies like 2014's "Birdman," notes that Apple has been artist-forward when it comes to sharing iTunes profits. "If that would also be the case when it comes to 'Apple Studios,' or whatever it may be, that would be enticing to producers," he says.
And Apple, of course, will hope the content produced will be enticing to consumers as well. There is arguably no company that has more brand loyalty than Apple, and any show produced through the company would likely attract considerable interest. Investors should therefore keep a close eye on Apple original content, as it has the potential to complement in a significant fashion the popularity of the company's software.
"Apple is a tremendous franchise," Traynor says. "Most of Wall Street is going to be listening for cell phones on Apple's earning call. The smart move is to listen for all of Apple's other media."