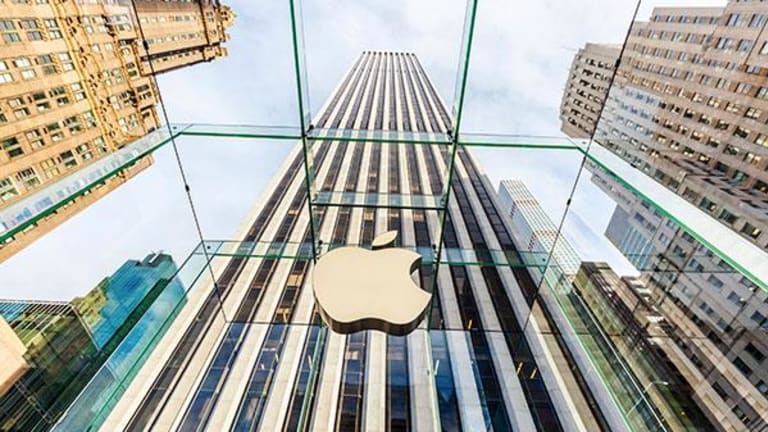 Apple Is Going After Artificial Intelligence and Social, but Not in an Optimal Way
The tech giant's rivals have to be pleased with how Apple is embracing two big mobile trends.
A pair of recent columns show that Apple (AAPL) - Get Free Reportis paying close attention to two of the largest consumer mobile software trends: The use of artificial intelligence to make apps and cloud services smarter and more powerful, and an explosion in social content-sharing, much of it via messaging apps.
But the articles also show that Apple is addressing these trends in a way that accounts for other company interests, both for better and for worse.
Tech site Backchannel has published an in-depth column that looks at Apple's growing investments in AI, and features remarks from software chief Craig Federighi, Internet software/services chief Eddy Cue and marketing/App Store chief Phil Schiller. It follows announcements at Apple's June developer's conference regarding the use of AI by iOS 10 (due to launch in September), and the company's recent purchase of Turi, a provider of software that developers can use to create AI-powered apps and services.
Backchannel observes the Siri voice assistant has been using AI since 2014 to better understand user requests, and that Apple has also used machine learning -- a type of AI in which algorithms are trained to detect patterns, and get better at it as they take in more data -- to provide many other features and services.
Examples include providing a list of apps a user is likely to open, identifying a caller who isn't in a user's contact book by analyzing e-mail data, selecting news stories, finding faces and locations in photos and figuring out whether an Apple Watch user is exercising.
Such details are likely to go over well with those worried that Apple has fallen far behind Alphabet's (GOOGL) - Get Free Report Google in AI. Google has been making huge investments in machine learning for years, and disclosed on its recent earnings call that it now has over 100 teams using machine learning. The list of Google mobile apps and services relying on the technology include search, Google Now, Gmail, Google Photos and the upcoming Allo messaging app.
But as Backchannel notes, there's a big difference between Apple's AI efforts and Google's: For the sake of protecting privacy, all AI-related processing for iOS apps and services is done locally on the device itself, and no personally identifiable user data or behavior is shared with Apple. However, this runs the risk of both limiting the processing power available to run machine learning algorithms, and hurting the ability of Apple's algorithms to improve as quickly as ones that have more access to user data.
Apple is trying to address the latter issue via differential privacy, a technology that crowd-sources the collection of certain types of data so that none of it can be linked to a particular user.
Separately, Bloomberg reports Apple is working on a video sharing/editing app meant to take on fast-growing Snapchat and Facebook-owned Instagram. The app will reportedly let users "record video, apply filters and drawings to the media...and send it to contacts or via existing social networks," all in less than a minute. Apple is said to be aiming for a 2017 release.
New iOS social features are also reportedly being prepped, including one that would let two friends "see all text messages, e-mails, and social network interactions between each other in a single window." And (as announced at WWDC) next month will see the launch of a revamped iMessage app that supports animated images, tools for drawing on photos/videos and a built-in app store.
But as one would expect, all of these apps and features will only be available on iOS devices. This can be problematic when it comes to social media, since the value of a social platforms has much to do with the number of people using it. Facebook (FB) - Get Free Report, Snapchat, Instagram, WeChat and most of the world's other popular social networks and messaging apps are naturally available on both iOS and Android.
By making its content-sharing solutions iOS-only, Apple is prioritizing hardware sales over growing its social footprint. That's a completely understandable position, given how profitable the iPhone and iPad have been for the company.
But all the same, Facebook and Snapchat have to be pleased with Apple's messaging and video-sharing strategy. Just as Google has to be pleased with Apple's privacy-obsessed approach to AI. In each case, staying faithful to the company's broader strategic vision comes at a price.
Apple, Alphabet and Facebook are holdings in Jim Cramer's Action Alerts PLUS Charitable Trust Portfolio. Want to be alerted before Cramer buys or sells AAPL, GOOGL or FB? Learn more now.