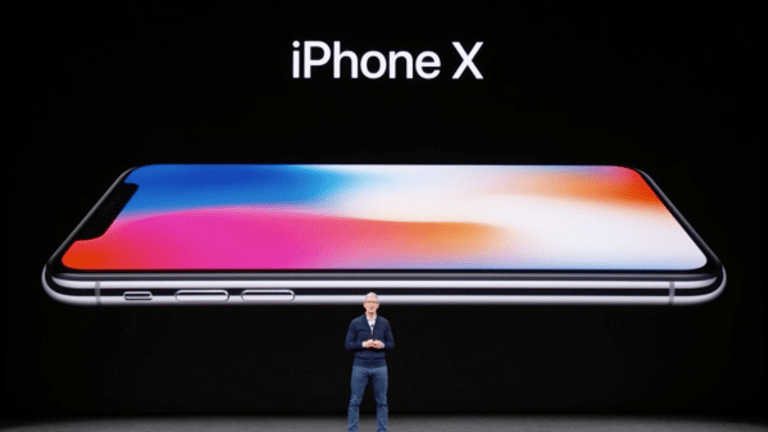 Why Apple Is Investing in Toshiba's Chip Unit
The company now appears ready to plough billions into its memory and display suppliers to guarantee supplies and keep its costs down.
Updated on Sept. 28 with news that an agreement has been finalized
When a hardware maker consumes such huge volumes of certain commodities that shortages and price hikes inevitably follow when it launches big new products, the company has good motivation to invest in parts suppliers -- if not own them outright -- to guarantee adequate supplies at reasonable prices. Especially if it can do so by dipping into a giant offshore cash balance that still can't be repatriated without incurring a huge tax bill.
That's where Apple Inc. (AAPL)  stands now as it pushes ahead with what's the biggest iPhone refresh in at least three years. Though no stranger to helping suppliers foot the bill for new production lines, the company now also seems willing to take stakes in suppliers to further strategic goals.
On Thursday morning, Toshiba announced it had agreed to sell its coveted semiconductor business to a consortium led by private equity firm Bain Capital, but including Apple, Dell Technologies Capital, Seagate Technology PLC (STX)  , Hoya Corp. (HOCPY) and Korean memory maker SK Hynix Inc., (HXSCL) for ¥2 trillion ($17.7 billion). According to Toshiba, its U.S. investors, including Apple, plan to commit ¥415.5 billion ($3.7 billion) but will not acquire any common stock or voting rights in the new unit, dubbed Pangea. In addition, SK Hynix will be firewalled from accessing any proprietary information from the chip unit and will not be permitted to own more than 15% of the voting rights in Pangea, for 10 years.
A deal is still not certain, however, given staunch opposition from Toshiba's flash memory joint venture partner Western Digital Corp. (WDC) . Western, which was part of a separate bid for the Toshiba unit and doesn't want rivals such as Hynix and Seagate owning stakes in the business, insists that Toshiba can't transfer its stakes in the companies' large flash manufacturing and R&D joint ventures without its consent, and has filed an arbitration claim to prevent this from happening. The company has also said it will seek an injunction looking to block the sale of Toshiba's flash unit.
The terms of the joint venture agreements appear to back Western's case, and an arbitration court's decision on the matter might not arrive until mid-2018. Bloomberg reports that Japan's Ministry of Economy, Trade and Industry, wanting a deal to happen sooner rather than later, previously urged Toshiba to accept Western's offer, and that two Japanese government-backed funds that had supported both offers "decided to pull back from the Bain bid in the face of litigation from Western Digital."
Apple's money will reportedly help fill the gap caused by the absence of the Japanese funds. The company was previously reported by Reuters to have threatened Western that it would no longer buy its products if it takes a majority stake in Toshiba's flash unit, out of a fear of the combined firm's pricing power. However, Reuters added that Apple was willing to provide about $460 million in financing for Western's bid if the firm remained a minority investor.
Jim Cramer and the AAP team hold a position in Apple for their Action Alerts PLUS Charitable Trust Portfolio. Want to be alerted before Cramer buys or sells AAPL? Learn more now.
Watch: Get your Look at the Futuristic Apple iPhone X
More of What's Trending on TheStreet:
Editors' pick: Originally published Sept. 15.
If the deal eventually goes through, it would help Apple secure favorable supplies and pricing from a company estimated to have a near-20% global NAND flash memory share (not counting Western's JV-related share, which is nearly as large). Thanks to rising iPhone and iPad average storage capacities, and to a lesser extent growing purchases of solid-state drives (SSDs) going into Macs and Apple's cloud data centers, Apple's NAND consumption has been steadily rising.
The company doubled iPhone storage capacities across all price tiers last year (the iPhone 7 had 32GB, 128GB and 256GB tiers), and this year is offering just 64GB and 256GB tiers for the iPhone X and 8/8-Plus. And earlier this year, the company launched iPad Pros with 64GB, 256GB and 512GB capacities -- twice what it offered in March 2016 when launching a 9.7-inch iPad Pro.
With Apple having sold 215 million iPhones and 43 million iPads last year, the company might be the world's biggest flash memory and DRAM consumer; Samsung, which as the world's biggest memory maker gets its flash and DRAM at cost, is the other contender for the title. Therefore, it's not hard to see why securing adequate memory supplies is an Apple priority. The memory shortages and price hikes seen this year -- the company recently hiked prices for 256GB and 512GB iPad Pros by $50 -- may have increased the urgency Apple feels to use its checkbook to guarantee supplies and protect its margins.
But Apple also seems ready to make big supplier investments in other fields. In May, the company invested $200 million in iPhone/iPad Gorilla Glass supplier Corning Inc. (GLW) , via its new $1 billion U.S. manufacturing fund. The funds may have been used to help Corning ramp production of the front-and-back glass panels found on the iPhone X and 8/8-Plus -- glass that Apple claims is the toughest ever used by a smartphone.
And in July, The Korea Herald reported that Apple is in talks to invest 2-to-3 trillion won ($1.75 billion to $2.62 billion) in LG Display Co.  (LPL) production lines at a new plant that would supply OLED panels for future iPhones. Apple is believed to be relying solely on arch-rival Samsung for the iPhone X's OLED panels, and wants to change that state of affairs. As with a Toshiba investment, Apple could pay for an LG Display investment using offshore cash.
Given all of this, one has to wonder if Apple will also consider making an investment in a DRAM supplier. DRAM prices have soared this year, and the iPhone X and 8-Plus each ship with 3GB of RAM (the iPhone 8 has 2GB). The latest iPad Pros have 4GB. With the DRAM industry largely consolidated around Samsung, Hynix and Micron Technology Inc. (MU) , Hynix and Micron are the most plausible targets. A deal for Hynix would allow Apple to use offshore cash, while one for Micron would probably earn Apple some political goodwill.
In some respects, it's surprising that Apple hasn't moved more aggressively in the past to invest in suppliers as its consumption of memory chips, display panels and other parts reached mind-boggling levels. For all its love of vertical integration when it comes to tying together chip designs, hardware, software and services, the company has shown a very different mindset when it comes to manufacturing expensive commodity parts. A wholesale change in this strategy probably isn't in Apple's interests, but a partial change could do a lot of good.
Don't miss these top stories on TheStreet:
Mom Was a Harley Rider ('70's), I Ride Today ('17), Will my Girls Ride Tomorrow?