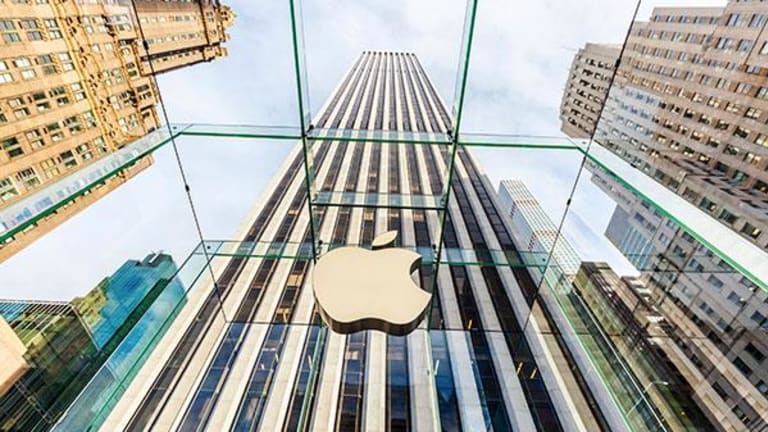 Apple Is Finding It Harder Than Expected to Come Up With the Next Big Thing
Recent reports suggest the company's car, TV service and smartwatch efforts aren't going as planned.
It's not easy for a firm whose annual sales have surpassed $200 billion to remain a growth company. Not only do the businesses responsible for the company's past growth often start hitting the law of large numbers, conjuring new ones that can significantly move the needle can be easier said than done.
Recent reports about the challenges faced by Apple's (AAPL) - Get Report car, TV service and smartwatch efforts provide fresh evidence of the latter issue.
Sources tell Bloomberg Apple's widely-reported electric-car initiative is now "prioritizing the development of an autonomous driving system," and that Apple's goal of launching an EV by 2020 -- The Wall Street Journalpreviously reported of a 2019 target date -- "has been affected by multiple departures, technical delays and confusion regarding the direction of the project." It adds Apple isn't abandoning its efforts to design an EV, but is also leaving its options open should it "eventually decide to partner with or acquire an established car maker."
Apple is a holding in Jim Cramer's Action Alerts PLUS Charitable Trust Portfolio. Want to be alerted before Cramer buys or sells AAPL? Learn more now.
Bloomberg's column follows a January report from AppleInsider stating Apple implemented a hiring freeze for its car project, codenamed Project Titan, following disappointment with the effort's progress. Around the same time, Steve Zadesky, the Apple vet and former Ford engineer who was in charge of Titan, was reported to be leaving Apple.
WSJreported this week former hardware engineering chief Bob Mansfield -- he's overseen hardware development for many Apple products, but never a car -- is now in charge of Titan. Echoing Bloomberg, the paper said Apple "has struggled to define a differentiated vision for its vehicle," and that auto industry vets hired by the company have clashed with long-time Apple employees assigned to the project.
Apple's auto ambitions are quite understandable. Cars are easily the biggest market left to the company that it could plausibly enter and become an important player in, and -- as Tesla can vouch -- the fact electric cars and autonomous (or at least semi-autonomous) driving have gone from being pipe dreams to commercial realities provides an opening for innovative upstarts to take share.
But becoming a major auto manufacturer requires not only considerable resources, but also engineering skills and a kind of manufacturing/logistics expertise very different from the kind needed to produce smartphones and laptops with the help of contract manufacturers. Given that, it's not surprising that Apple is apparently finding a car project more challenging than it originally expected.
Separately, the WSJ reports Apple's efforts to launch a web-based TV service stalled last year after Disney and other TV network owners balked at Apple's insistence that the per-viewer monthly rates it pays for TV channels remain fixed for several years -- they typically get annual increases from pay-TV providers -- and that the company "worked backward from its desired $30-a-month retail price" to try and wring concessions. Bloomberg reported last December Apple's TV service plans were on hold following price disagreements with media firms.
Pay-TV, like cars, is a huge untapped market. It's also a very competitive one -- competition is provided both by traditional cable, telco and satellite services, and by the online TV services launched by the likes of Dish, Sony and (soon) Verizon. An Apple TV service that doesn't undercut traditional pay-TV bundles might still be successful, but would have a hard time being a needle-mover.
Then there's Apple Watch. Research firm IDC estimated last week shipments of the Watch, which launched to much fanfare in second-quarter 2015, fell 55% last quarter to just 1.6 million. Apple doesn't break out Watch shipments, but lower sales of the device are believed to be a key reason the company's "Other Products" revenue, which covers Apple Watch, Apple TV set-tops, iPods, Beats products and Apple accessories, fell 16% to $2.2 billion last quarter.
To be fair, it's not as if Apple's smartwatch rivals are faring any better. IDC estimates total smartwatch shipments fell 32% in the second quarter to just 3.5 million, leaving Apple with a 47% shipment share and likely a 60%-plus revenue share. For now, consumers simply aren't embracing smartwatches the way they've embraced smartphones or even tablets.
Perhaps things will look very different a few years from now. Perhaps new features, battery life improvements and improved hardware and software will let the Watch become a hit. Perhaps Mansfield will help put Project Titan on better footing, and a mass-market Apple EV will launch to critical acclaim in 2020. And perhaps additional cord-cutting losses will make TV network owners give in to Apple's price demands, allowing Apple to launch a low-cost TV service that racks up tens of millions of subscribers.
But it's all up in the air for the time being. Coming up with The Next Big Thing can be tough. Especially when your annual sales are higher than the GDPs of about 150 countries.