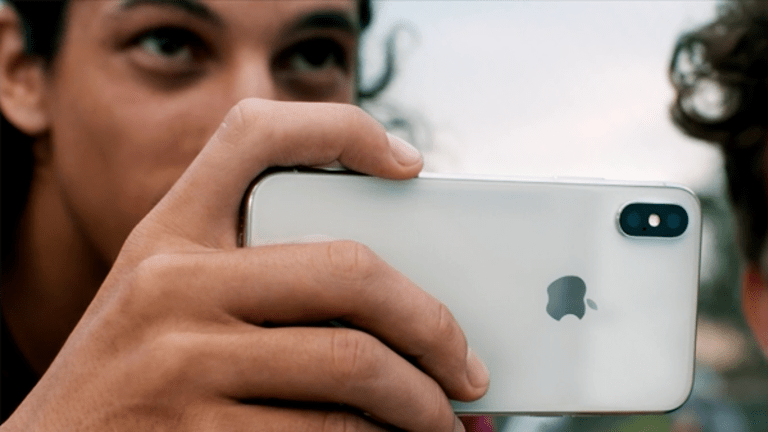 Consumers Want Apple's iPhone X More Than the iPhone 8, Analyst Says
It looks like consumers aren't deterred by the iPhone X's $999 price tag.
Apple Inc.'s (AAPL) - Get Apple Inc. Report iPhone X appears to be winning over more consumers than the iPhone 8 and iPhone 8 Plus. 
That's according to new data from RBC Capital Markets, which surveyed more than 4,000 people interested in buying an iPhone and found that 28% of respondents said they plan on purchasing the iPhone X. By comparison, about 17% said they want to buy an iPhone 8, while 20% intend on purchasing an iPhone 8 Plus. 
"Our survey helps confirm our thesis that the rich feature set and differentiated design of the iPhone X will enable a mix shift toward it despite its significant price premium," RBC analyst Amit Daryanani wrote in a note to clients on Monday. "It is the most popular iPhone among our survey respondents with 28% planning to buy it." 
Wall Street has been growing increasingly concerned that consumers aren't buying the iPhone 8, in favor of waiting for the iPhone X. Reports suggested that there was substantially lower demand for the cheaper iPhone 8/8 Plus, due to only incremental changes to the phone's form factor and features, compared to the iPhone X, which may represent the biggest overhaul in the iPhone's design and functionality in several years.
This, coupled with anxiety about the iPhone X's later-than-expected ship date, has caused Apple's stock to come under pressure since the Sept. 12 event. Apple shares were down 0.3% to $153.66 on Monday morning, after sliding 6.2% in the month of September. But the stock is still up 32.7% so far this year. 
Consumers in the survey said that they're most excited about the iPhone X's wireless charging features. This is somewhat perplexing because the iPhone 8/8 Plus also have wireless charging, Daryanani noted. Other iPhone X features that responded said they were interested in were facial recognition, the phone's edge-to-edge screen design and its augmented reality/virtual reality capabilities. 
Apple is a holding in Jim Cramer'sAction Alerts PLUS Charitable Trust Portfolio. Want to be alerted before Cramer buys or sells AAPL? Learn more now.
Twitter Users Are Not Happy With Apple's iOS 11 Update
Don't miss these top stories on TheStreet:
The survey also showed that people increasingly prefer devices with higher storage capacity. For the first time, a majority of likely iPhone X buyers have said they plan to buy something other than the base amount of memory in the new iPhone -- in this case, the 256 GB model instead of the 64 GB base one.
"We think that this indicates that a portion of iPhone X buyers want to buy the 'best' iPhone available despite significantly higher pricing than any other iPhone in the past," Daryanani explained. "We think that given increasingly greater storage requirements, most of mid-tier storage users will move towards the higher tier. And those that don't are more likely to use iCloud services."
Additionally, RBC noted that consumers seem to be upgrading more frequently than in the past, thanks to more carrier and manufacturer subsidies and programs, even though other analysts have reported that existing iPhone users haven't been upgrading their devices as frequently in recent years. This could be due to a variety of factors, including rising smartphones prices or the lackluster design upgrade of the iPhone 7. 
Daryanani said 70% of people interested in buying an iPhone have owned their current device for less than two years, suggesting that people are refreshing their devices more often than in the past. About 23% of respondents indicated they plan to replace their device every year, up from 20% last year, while 31% of respondents plan to replace their iPhone every two years vs. 37% last year. 
"These results indicate that the users might increasingly be segregating into two groups -- those that replace phone annually (aided by iPhone upgrade programs) and those that hold on for longer, waiting for a significantly better iPhone," Daryanani added. 
Don't miss these top stories on TheStreet: