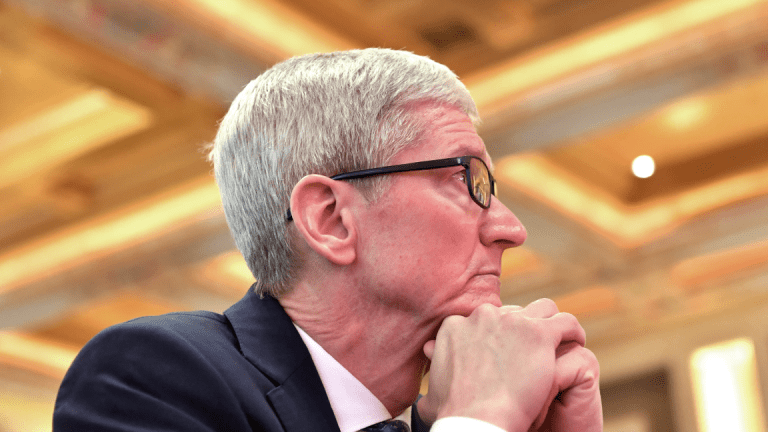 Can Apple Avoid Tariffs Again? What to Know About the December iPhone Tariffs
Apple has managed to avoid tariffs on iPhones so far, but it might not be able to do so forever. Here's what it would mean if a proposed round of tariffs on consumer electronics take effect on Dec. 15.
Apple (AAPL) - Get Apple Inc. Report will soon face another big test in the Trump administration's continuing trade war.
With sales of its latest device lineup in full swing, the tech giant is on a collision course with a Dec. 15 tariff deadline that would impose levies on Apple's meal ticket: iPhones. Apple shares were trading 0.4% higher on Monday and are up 43% so far this year.
The December tariffs would slap a 15% levy on iPhones, tablets, laptops and range of consumer tech products made in China -- and if enacted, they could mean higher costs for iPhone buyers, if indirectly. U.S. and Chinese officials are scheduled to hold trade talks in Washington DC this week.
"Tariffs are unlikely to increase iPhone price tags, but they could still impact the discounts consumers see at the point of sale," said Vincent Thielke, analyst at research firm Canalys. Apple is unlikely to raise iPhone prices because of tariffs -- it's expected to largely absorb costs -- but U.S. operators may scale back discounts and promotions that normally help to move units.
"After December 15, operators will have to find a way to offset import tariffs, and as a result their promotions on iPhones may start appearing less generous," Thielke added. For the time being, early sales results for the iPhone appear solid.
It's unknown what precise impact tariffs would have on iPhone 11 sales into 2020, but if the December tariff goes into effect Apple's margins would almost certainly take a hit, even if Apple effectively makes adjustments to lower manufacturing costs. An August report from JP Morgan estimated that Apple cut iPhone component costs by between $30 and $50, which would help to partially mitigate tariff impacts. It's also sought to shift its manufacturing base out of China as aggressively as possible, among other potential offsets.
It's also possible that Apple will manage to stave off the December tariffs, at least temporarily. The Trump administration's approach to trade has proven to be a highly unpredictable situation, with President Trump apparently receptive to personal appeals by Apple CEO Tim Cook. Cook has met with Trump and members of his family several times since November 2016 , and has shown some success in persuading Trump that tariffs are a negative for Apple and other U.S. companies.
"My belief is that [the tariffs] will go forward, whether it goes forward on the current schedule or whether there will be another delay," said Greg Autry, a professor at the University of Southern California's Marshall School of Business, and who specializes in China and trade policy. "Just about every company has seen the writing on the wall and tried to remove themselves from being entirely dependent on China."
Another postponement would buy Apple more time to adjust its production regime out of China -- an effort that will take years -- and could also allow the White House to introduce a version of tariffs that don't appear to disproportionately punish a leading U.S. firm. In a recent note, longtime Apple analyst and Loup Ventures partner Gene Munster suggested that the U.S. doesn't want to be the first to impose tariffs on one of its own companies. 
"The optics of a U.S.-protectionist-first approach penalizing a U.S. global leading company while China doesn't penalize Apple would seem to surrender the moral high ground," Munster said.
Still, no matter what happens between now and Dec. 15, Apple is likely to work aggressively to distance itself from trade whiplash as much as it can. With the possibility of a new administration come November 2020, no one should assume that tariff threats will simply evaporate if Trump leaves office. Autry pointed out that rising Democratic candidate Sen. Elizabeth Warren has also signaled a tough posture on China, and isn't likely to abandon trade negotiations if she were elected. 
"Elizabeth Warren is aggressive on labor rights and on trade issues, and there's every reason to believe that she would continue to negotiate aggressively with the Chinese," he added. 
Apple is a holding in Jim Cramer'sAction Alerts PLUS Charitable Trust Portfolio. Want to be alerted before Cramer buys or sells these stocks? Learn more now.