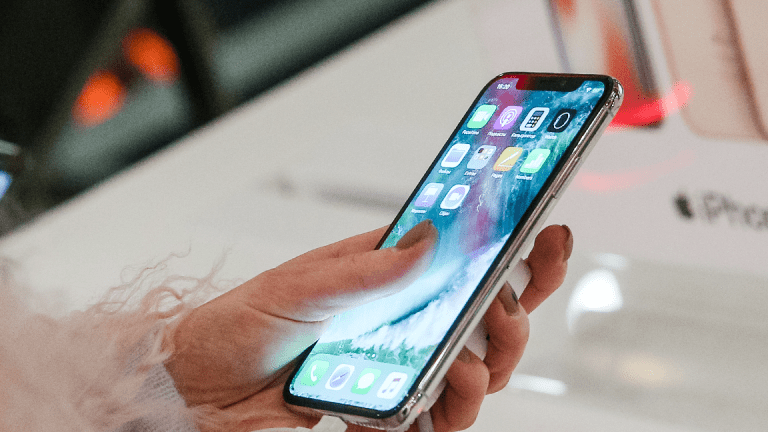 Apple's iPhone Addiction Issue Unlikely to Impact Shares Anytime Soon: Analysts
Major Apple shareholders Jana Partners and Calstrs warned that Apple's stock could come under pressure if it doesn't address iPhone addiction among children and teens.
Two big Apple (AAPL) - Get Report shareholders are urging the tech giant to address iPhone addiction among young people, lest it start to take a toll on Apple's stock. 
Jana Partners and public pension fund California State Teachers' Retirement System, which together control about $2 billion worth of Apple shares, wrote a letter to the company on Saturday asking it to create new iPhone features tailored to younger users, so as to prevent smartphone addiction. The shareholders maintain that parents shouldn't be able to hand a child or teenager "the same phone as a 40-year-old"; instead, Apple should change iOS to allow for age-appropriate setup options, like putting restrictions on screen time, parental controls on social media sites and other features. 
The investors go on to describe how consumers, the original designers of the iPhone and Apple's chief design officer, Jony Ive, have expressed concerns about people overusing their iPhones. If Apple doesn't address the issue now, the stock could come under pressure in the future, as the problem may end up snowballing out of control, Jana and Calstrs continued. Shares of Apple slid 0.3% to $174.35 on Monday.
"We believe addressing this issue now by offering parents more tools and choices could enhance Apple's business and increase demand for its products," the shareholders said in the letter. "...In the case of Apple, we believe the long-term health of its youngest customers and the health of society, our economy, and the Company itself, are inextricably linked, and thus the only difference between the changes we are advocating at Apple now and the type of change shareholders are better known for advocating is the time period over which they will enhance and protect value."
Jana and Calstrs also suggested that Apple form an expert committee to study the issue or hire a high-level executive to compile annual progress reports on iPhone addiction, just like the company does for environmental and supply chain issues. 
While it may be socially responsible for Apple to tackle issues of iPhone addiction, it's probably not risking much financially if it doesn't address the investors' concerns, according to several analysts. Bob O'Donnell, an analyst at tech research firm Technalysis Research, said he doesn't think it will dramatically impact Apple in the long-term. 
"Arguably this is more of a parenting issue than a technology issue and I can't see how Apple would have to be responsible for something like this," O'Donnell said. "The only reason it's getting this much attention is that these people own a lot of shares. They have influence because of that." 
Longtime Apple analyst Gene Munster said the issue of tech addiction is more of an industry problem. 
"It won't affect the stock," Munster, who is an analyst at Loup Ventures, explained. "[It's] unlikely that Apple is going to change how they do business because people can't put their products down." 
He added that Apple could put parental controls in future iOS versions that limit screen time. 
Apple isn't the only tech juggernaut facing increased scrutiny about the abuse of their products. Facebook (FB) - Get Report has been in near constant focus over the past year for the spread of fake news on its platform, as well as concerns about harassment and the dissemination of hateful content. Last month, Facebook even admitted that constant use of the social media network could be bad for consumers' health. 
Twitter (TWTR) - Get Report has faced heavy scrutiny over its inability to take action after swaths of users complained of harassment and the presence of extremist groups on the platform. 
Still, Jana and Calstrs letter to Apple is somewhat out of the ordinary. Activist investors typically urge firms to make strategic changes or explore financial restructuring, rather than pursue social issues; instead, they've become impact investors that are seeking to bring about social change, with earning a profit being secondary. 
O'Donnell said he expects to see more investors pressure companies to focus on social issues this year. 
"It is clearly a social issue but it could have financial implications," O'Donnell noted. "Right now, the whole environment around tech is changing. It went from a pollyannaish view to suddenly it may not always be the best case. This is an example of that."
Jim Cramer and the AAP team hold positions in Apple and Facebook for their Action Alerts PLUS Charitable Trust Portfolio. Want to be alerted before Cramer buys or sells AAPL or FB? Learn more now.
More of What's Trending on TheStreet: