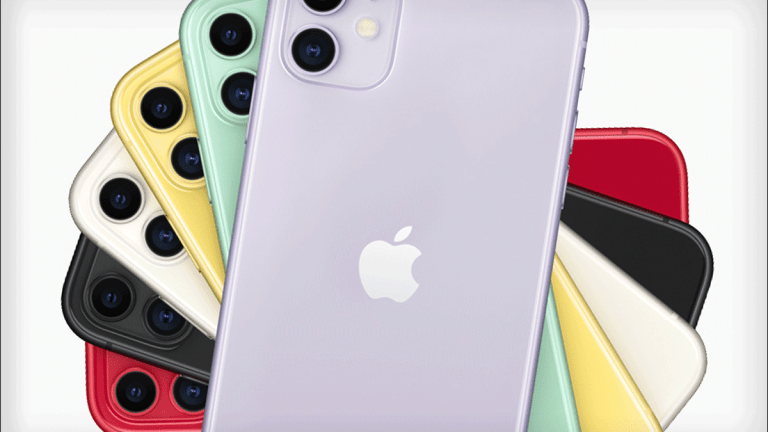 Apple iPhone 11 Hits Shelves Around The World, Pre-Orders Suggest Solid Demand
Apple offered its latest smartphone for general sale around the world Friday, with analysts betting the new iPhone 11 will be a key sales driver for the tech giant heading into the key holiday season.
Apple Inc. (AAPL) - Get Apple Inc. (AAPL) Report offered it latest smartphone for general sale around the world Friday, with analysts betting the new iPhone 11 will be a key sales driver for the tech giant heading into the key holiday season.
Apple CEO Tim Cook officially opened the company's newly-revamped flagship store in mid-town Manhattan, kicking off what Apple would describe as a week of celebrations for the 12-year old location. 
Apple's flagship store on Regent Street, in central London, had small lines of customers prior to opening at 8:00 am local time, although shoppers appeared to be outnumbered by store employees as the doors opened shortly after. The U.K. pound's long decline against the dollar since the 2016 Brexit referendum has made this year's iPhone price base the most expensive on record for British buyers.
In Japan, where Apple has a near 50% share of the smartphone market, larger crowds gathered at stores in Tokyo, where the lowest-price version of the new iPhone starts at ¥106,800 ($989.50). In China, where Apple gets around a fifth of it revenues, lines at stores in major cities such as Shanghai and Beijing were said to be small, although on-line retailers said demand was far more robust.
Apple shares were marked 0.5% higher at the start of trading Friday to change hands at $222.13 each, a move that would extend the stock's six-month gain to around 18%.
Apple unveiled the new suite of iPhones at a gala event at its Cupertino, California campus earlier this month, with product experts focused on the phones' new camera technology and longer batter life.
Apple also indicated a drive towards more competitive pricing with a $4.99 base cost (as well as trials and discounts for new hardware buyers) for its Apple TV+ streaming service, a similar tag for its gaming offering -- Apple Arcade -- and a reduced $199 price for its retained AppleWatch 3, announced alongside a new fifth generation unveiled by Cook.
Apple also offered its Series 5 of the Apple Watch Friday as the company continues to suggest that wearable technology will be a major component of sales growth in the coming years, as global smartphone demand wanes amid longer-than-expected upgrade cycles and slowing economic growth.
Financial analysts, however, keyed on the smartphone's aggressive pricing in U.S. dollars, which was discounted to previous roll-outs, and the impact it would have on the group's overall profit margins.
JPMorgan said Friday that it expects the iPhone 11, iPhone 11 Pro and iPhone 11 Pro Max to be the largest driver of Apple smartphone shipments over the next 12 months, and maintained its calendar 2019 forecast of 184 million units in sales of its entire iPhone suite. The bank sees that number improving to 195 million units in the 2020 calendar year. 
Apple's gross margins have been narrowing for the past few quarters, falling 700 basis points from the same period last year to 37.6% over the group's fiscal third quarter.
Apple no longer provides a breakdown of iPhone unit sales, making average selling price estimates nearly impossible to calculate, but indicated a 12% year-on-year contraction last quarter as customers -- particularly outside of the United States -- balked at the $1,099 price point for last year's iPhone XS Max.
"Apple's new iPhones were largely in line with our expectations and seem unlikely to drive a material increase in unit volume. Pricing for the iPhone 11, which we expect to be the highest selling model by volume, was $50 below the iPhone XR that it replaced," KeyBanc Capital analyst Andy Hargreaves said last week. "While we are not changing our estimates at this point, this could create modest risk to our hardware gross margin estimates through the FY20 cycle."