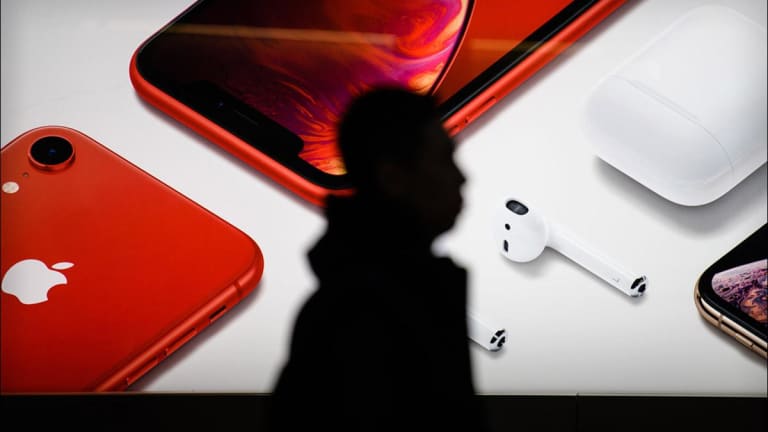 Apple Investors' Concerns About a China-U.S. Trade War Are Overblown
The tech giant has strong growth prospects, a super-efficient supply chain and continues to trade cheaply.
Investors are once again fearful over Apple's (AAPL) near-term prospects, given concerns over tariffs and what impact they will ultimately have on Apple's margins. But presently, investors are being irrationally fearful, leaving the stock with a large margin of safety.
Uncertainty Over Apple
Apple's share price has been incredibly volatile during the past twelve months. In fact, it seems astonishing that the most followed company on the planet would see the volatility Apple's shares have suffered over the past six months.
One would have thought, that given its following, its shares would be efficiently priced without much room for solid returns. However, this is certainly not the case. What's more is that simply by being a contrarian, investors have right now yet another great opportunity to build an inexpensive position in the company.
Today, investors are concerned about what the lasting effect of China-related tariffs might have on Apple's operating margins. However, I suspect that these fears are overblown for two distinct reasons:
A Diversifying Portfolio
It's no secret that Apple's iPhone sales have been slowing. In fact, it was not even all that shocking that last quarter, iPhone sales were down 17% year-over-year. To deal with this eventuality, Apple's management team has spent the last few years investing heavily into its Service platform. The game for Apple now will be to keep users stuck into the convenience of its ecosystem.
Let's not forget that Apple's active installed base is already at 1.4 billion. Thus, the focus now is less on selling new iPhones, but more on monetizing its huge user base with monthly recurring services.
Services include streaming video content on Apple TV Plus, news and magazine subscriptions and Apple Arcade (exclusive premium games). Note, Apple services only accounts for approximately 20% of Apple at present. But services continues to grow at solid double digits. And best of all, Services are unlikely to be affected by tariffs.
A Super-Efficient Supply Chain
The second reason why I believe that Apple's management team will succeed in dealing with these tariffs is that either the U.S. and China will make a trade deal. And even without a positive deal, Apple continues to scour the globe seeking reliable alternative suppliers.
That's what this plus $800-billion market cap tech giant does. Investors can rest assured that Apple's management will do everything in their power to protect Apple's business model. Apple is no longer a start-up company. On the contrary, Apple is a mature business, and as such, it can truly be focused on its manufacturing and distribution chain. Moreover, it is not by accident that this predominantly hardware company has for years succeeded in having its operating margins hovering slightly above 25%.
To drive home the point of Apple's hardware efficiency, let's compare Apple's operating margins with Alphabet's (GOOGL)  over their three most recent fiscal years. Alphabet, with its asset-light business model, has an operating margin over that time which have averaged 25.1%.  But Apple, despite having to physically transport its hardware all over the planet, has had an even higher operating margins of 27.1%.
This fact reinforces the idea that despite Apple being a hardware business, it has always sought the cheapest suppliers and will continue to do so going forward.
Valuation - Large Margin Of Safety
I have included Netflix (NFLX) as a peer to Apple, which on the surface, it is not. But given Apple's continued drive to rely on services, Netflix becomes an appropriate comparison. Also, from time to time, there have been different rumors about Apple's "failure" to have acquired Netflix a few years back when Netflix was trading more cheaply.
I believe that if Apple had indeed acquired Netflix, it would have been a massive blunder and very capital destructive. Nevertheless, the fact remains that both companies are attempting to go after consumer's hunger for content through subscription-based models.
Next, as you can see above, investors are happy to pay substantially more for Apple's peers' cash flows, with Alphabet and Microsoft (MSFT) being valued at 17.6x and 20.6x their respective cash flows, compared with just 12x in Apple's case.
Lastly, Apple has a balance sheet with a net cash position of more than $113 billion. This means that approximately 14% of Apple's market cap is made up of cash, offering investors a large margin of safety.
The Bottom Line
One of the most-followed companies on the planet is once again on sale as investors become fearful of the unknown. In time, positive investor sentiment will return to the company, and we can expect to look back to today's valuation and view it as having been very cheap.
Apple, Amazon and Alphabet are holdings in Jim Cramer'sAction Alerts PLUS Charitable Trust Portfolio. Want to be alerted before Cramer buys or sells these stocks? Learn more now.