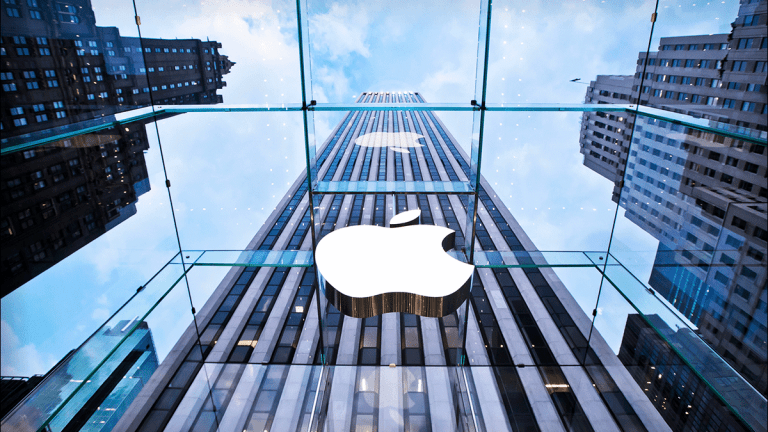 Apple's Controversial Moves in Hong Kong Could Carry Investment Risks, Too
The tech giant's removal of an app geared at pro-democracy demonstrators in Hong Kong highlighted its longstanding cooperation with Chinese authorities. And it's not the only company facing challenges like these.
The furor over Apple's (AAPL) removal of an app used by protesters in Hong Kong is still simmering, raising concerns that Apple's standing as an investment could be tarnished. 
A group of lawmakers recently sent Apple CEO Tim Cook a letter decrying Apple's "censorship" of the app, HKmap.live, which was used by protestors to track police activity and other obstacles. And the app removal has become a lightning rod for broader debates about censorship and corporate capitulation to Chinese government demands. 
The letter, which was signed by a bipartisan group of representatives and cited "strong concern" over the app's removal, capped off weeks of scrutiny of Apple's stance on the ongoing protests in Hong Kong. The iPhone giant, which has plenty at stake in China as both a manufacturing base and end user market, waded into a human rights debate and criticisms that it's placing its business interests over the rights of Hong Kong demonstrators.
"It's a good example of policies like freedom of speech not staying within a country's own borders," said Perth Tolle, founder of Life + Liberty indexes, which runs an emerging markets ETF weighted on political, economic and civil liberties. "When you have to censor in one country, you're going to get blowback from another -- it's one of the pitfalls of operating both in the U.S. and China."
Apple isn't the only organization facing a stiff backlash over dealings in China or Hong Kong. The NBA sparked a furor after Houston Rockets manager Daryl Morey tweeted, then deleted, a message supporting pro-democracy demonstrators in Hong Kong. Alphabet (GOOGL) stepped into the controversy when it opted to pull a role-playing mobile game mimicking the protests, citing Google Play policies. And global index provider MSCI (MSCI) , which recently boosted the number of homegrown Chinese stocks in its indexes, recently drew a rebuke from Sen. Marco Rubio for purportedly funneling U.S. investment dollars in "support China's systemic and egregious human rights abuses," among other concerns.
In Apple's case, the protest app removal followed a couple of other recent moves interpreted by critics as too deferential to the Chinese government: Weeks ago, Apple removed a Taiwanese flag emoji for Hong Kong users; it also yanked an app from news site Quartz, which covers the protests in detail, reportedly at the request of Chinese officials. The removals served to highlight Apple's deep relationships in China, and the concerns that can arise both for investors and human rights watchdogs.
In a statement earlier this month, Apple said that the HKmap.live app was removed after "many concerned customers in Hong Kong" said it was being used to target law enforcement. But given Apple's long history of cooperating with Chinese authorities, the explanation struck some critics as specious. China is Apple's third-largest regional market by revenue, accounting for roughly 20% of Apple's overall sales.  
"I don't see Apple trying to ruffle feathers in China -- this is neither the right time nor the right place. They don't have the bargaining chip right now to do so," said Stanley Chao, a consultant who advises U.S. companies on doing business in China. He pointed out that Apple has lost market share in greater China to Huawei, Xiaomi and other local competitors, and can ill afford to anger the Chinese government. 
No matter what may have happened behind the scenes in removing the protest app, it's possible the incident will die down without causing any lasting reputational damage to Apple. Chao noted that Apple will likely emerge unscathed if they consistently frame it as a safety and security issue.
"Apple would not allow such an app, even in the U.S.; if there were riots and unrest in the U.S., would they allow an app that tracks law enforcement in real time?" Chao said, suggesting the message ought to be: "What applies in Hong Kong also applies in the U.S." 
Still, investors have been showing more sensitivity to how corporations conduct themselves at home and abroad. So-called ESG (environmental, social and governance) investing has been on the rise in recent years, with more investment products organized around responsible corporate behavior. Beyond seeking to encourage good corporate behavior, research shows that over time, high scores on ESG factors correlate positively with financial performance -- i.e., that public companies that exhibit good citizenship are more likely to avoid reputational damage that can hurt shares.
However, there's no widely-used set of metrics for human rights questions that occur on a country level, making it more challenging to divest from companies that cooperate with repressive regimes if an investor chooses to do so.
Unlike a typical index, Tolle's Life + Liberty Indexes specifically weighs indicators such as free speech and freedom of assembly on a country level -- rather than at a company level -- as a better measure of risk and potential overall growth. Based on its freedom criteria, the index currently allocates investments to 10 emerging markets, with the most holdings based in Taiwan (25%), South Korea (18%), Poland (14%) and Chile (13%).
Meanwhile, other ESG-oriented indices may assign a risk score based on general newsmaking controversies that could include coziness with authoritarian regimes.
"[Ours is] not the traditional or standard ESG metric, but you can see by what's happening with Apple and Google...why we are using these country level freedom metrics, especially in emerging markets," Tolle added.
One of the rationales behind taking political, economic or civil liberties into account when making investments: Freer markets, as opposed to those controlled by a state, are more resilient and stable.
"In China, it's hard to get away from government involvement in companies. It's a less efficient market to be investing in because of that," Tolle added.
Given Apple's entanglements in the country -- and the uproar it's caused in this case  -- that may be a factor worth considering. 
Save 57% during our Halloween Sale. Don't let this market haunt you; join Jim Cramer's Investment Club, Action Alerts PLUS. Click here to sign up!
Apple and Alphabet are holdings in Jim Cramer's Action Alerts PLUS member club. Want to be alerted before Jim Cramer buys or sells AAPL? Learn more now.