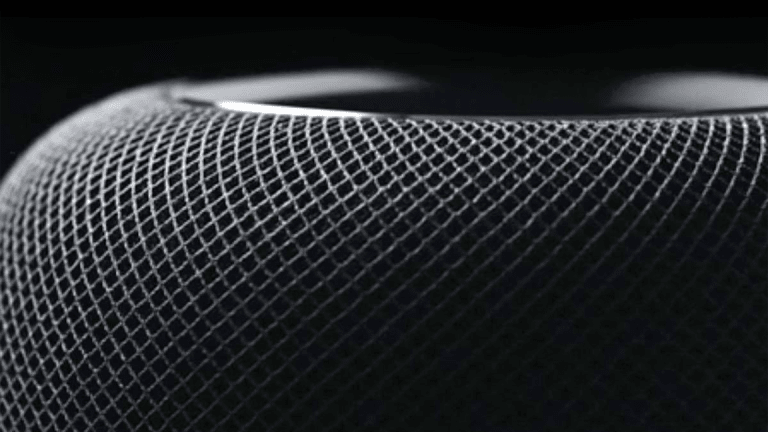 Apple's HomePod Is No Amazon Echo-Killer, But It Doesn't Need to Be
Although its reliance on Siri and limited ecosystem are handicaps, the HomePod should appeal to many Apple Music subscribers -- and keep them tied in to the company's ecosystem.
Apple's (AAPL) - Get Apple Inc. Report $349 HomePod isn't a direct rival to sub-$150 home speakers powered by Amazon.com's (AMZN) - Get Amazon.com, Inc. Report Alexa or Alphabet's (GOOGL) - Get Alphabet Inc. Class A Report Google Assistant. That's both its biggest weakness and its biggest strength.
When the dust settles, the HomePod probably won't do a ton of damage to sales of Amazon and Google-powered home speakers, other than perhaps to pressure their average selling prices (ASPs) a bit. But it could nonetheless provide Apple with another $1 billion-plus hardware business that strengthens its broader ecosystem.
Reviews for the HomePod, which launched on Feb. 9 after seeing pre-orders start two weeks earlier, have been largely positive as far as its audio quality goes. Superb hardware plays a role here -- the HomePod contains 7 audio beamforming tweeters and a powerful woofer with a custom amplifier. And so do software functions such as spatial awareness tech that can detect a room's size and where a HomePod is located within it, and bass-adjustment tech that relies on sound reflections picked up by one of the HomePods 6 microphones.
Jim Cramer and the AAP team hold positions in Apple, Amazon and Alphabet for their Action Alerts PLUS Charitable Trust Portfolio. Want to be alerted before Cramer buys or sells AAPL or GOOGL? Learn more now.
"[The Apple HomePod] delivers rich, clear sound that will impress anyone who listens to it, and every facet of the way it's designed and delivers audio has been well thought through," wrote TechRadar's Gareth Beavis. The Verge's Nilay Patel declared the HomePod provides "best-in-class sound for [its] price and most prices above it;" like others, he especially had good things to say about its bass performance. Audio site What Hi-Fi did call the HomePod's mid-range performance "a bit muddled," but otherwise gushed about its sound quality.
But reviewers are more critical when it comes to the HomePod's smart speaker abilities -- both due to the limitations of Apple's Siri assistant relative to Alexa and Google Assistant, as well as the handicaps Siri has on the HomePod in particular. "You can't ask Siri to look up a recipe. You can't ask Siri to make a phone call...Siri also can't compete with the huge array of Alexa skills, or Google Assistant's ability to answer a vast variety of questions," wrote Patel. He also noted that on the HomePod, Siri can't differentiate between multiple voices or be programmed to set more than one timer.
Engadget's Chris Velazco, deeming the HomePod "a great speaker that's not so smart," registered similar complaints. "In a way, the HomePod is a remarkably pure machine: it's meant to make your music sound great, and that's about it," he wrote.
And nearly all reviewers were quick to point out that only Apple's music services can be directly controlled via HomePod voice commands. Music from other services can be streamed to HomePods from Apple devices if their apps support AirPlay, with basic play/pause and volume voice commands supported. On the other hand, unlike many other smart speakers, there's no ability to stream via Bluetooth (say, from an Android or Windows device), and there's no auxiliary input jack to take in a signal from an external device. In addition, support for third-party apps is for now pretty limited, particularly relative to Alexa devices.
For all these reasons, it's unlikely that HomePod is going to put a serious dent into the adoption of Alexa and Google Assistant-powered speakers -- particularly cheaper speakers such as the Amazon Echo Dot or Google Home Mini. With their sub-$50 price points, these devices are cheap enough to serve as impulse buys. And one can easily imagine many HomePod buyers still keeping Alexa and/or Google Assistant devices in their homes to have access to their superior voice assistant and much richer ecosystems.
Moreover, for anyone relying on Spotify or some other non-Apple music streaming service, the HomePod is going to be a tough sell. Rival services can often be directly controlled via Alexa and/or Google Assistant speakers -- it's worth noting here that connected audio pioneer Sonos has launched a $199 Alexa-powered speaker -- and if a consumer decides that the audio quality from an Alexa or Google Assistant-powered speaker isn't good enough, he or she can use Bluetooth or a stereo cable to stream audio to a third-party speaker.
For an Apple Music subscriber, however, HomePod's value proposition is much stronger. It's the only smart speaker to directly support Apple Music, which now has over 36 million paid subscribers, and while reviewers were critical of Siri in other respects, they mostly liked its Apple Music integration. This integration covers not just basic music-playback functions, but also things like the ability to play songs from a particular genre and to learn what a subscriber likes and doesn't like to hear.
Given its growth trajectory, Apple Music is likely on its way to topping 50 million paid subs. It's not too far-fetched to imagine Apple, aided by its brand and HomePod's stellar audio quality, eventually selling one or more HomePods to more than a fifth of that base. Throw in modest sales to non-Apple Music subs content with streaming via AirPlay, and a foundation exists for a sizable speaker business.
Just how sizable is tough to gauge at this point. In a recent note, Rosenblatt Securities' Jun Zhang (citing internal research) forecast 2018 production of six million units. Even if that proves high and Apple only sells, say, four million HomePods, that still translates into $1.4 billion worth of retail sales.
And provided those buyers are satisfied with their purchases, they now have one more reason to stay loyal to Apple's hardware/software/services ecosystem. Apple can't complain much about that end result, even if it doesn't have an Amazon Echo-killer on its hands.