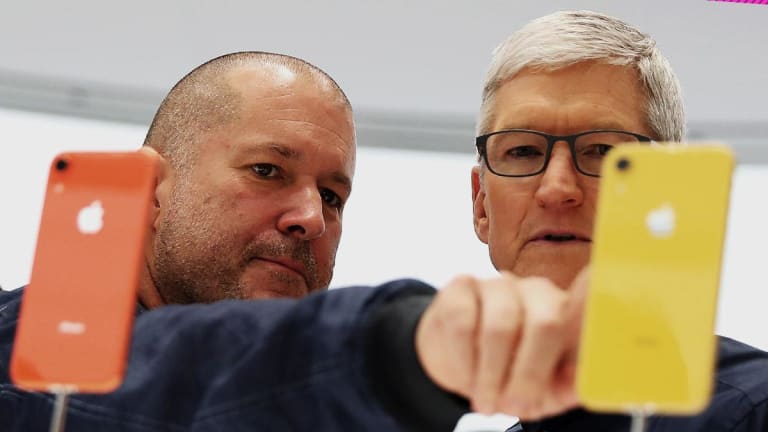 Apple Gains as Raymond James Is Bullish on 5G iPhone Cycle
Raymond James upgraded the tech giant to outperform as it concluded that Apple intends to bring 5G to a wider array of iPhone models than previously expected.
Apple (AAPL) shares rose Thursday after the company was upgraded to outperform at Raymond James as the firm turned bullish on the company's 5G wireless roll out plan.
Raymond James said its channel checks suggest that Apple plans to bring 5G capabilities to a wider range of iPhone models than previously thought. 
"We feel that offering 5G at lower price points will drive a stronger product cycle, and early production plans tend to confirm that view," analyst Chris Caso said. "Our call may well be early -- we expect this year's iPhone cycle to be the weakest in years, and today may not be the right time to buy ahead of that weakness."
Apple shares added some 1.1% to close at $205.66. Shares are up roughly 30% year to date.
The firm said that Apple's iPhone line faces a less attractive sales mix with the company selling a much larger percentage of legacy iPhones that it did in the past. The reason for this is that Apple has been increasing prices for flagship phones at the same time that innovation between the different models is slowing. 
"We think the higher bandwidth and improved connectivity of 5G will provide a more compelling upgrade. While there's some question about the customer utility for 5G, we think there's enough sweat and money being spent by the carriers on this technology that they will convince customers of the utility," Caso said. 
Raymond James' upgrade follows a Deutsche Bank note showing that Apple Store revenue grew 18% year over year in the second quarter, according to a Sensor Tower estimate. 
Apple is a key holding in Jim Cramer's Action Alerts PLUS charitable trusts.
Related.It's Time to Stop Comparing Tim Cook to Steve Jobs. Says Jim Cramer
(This article has been updated.)