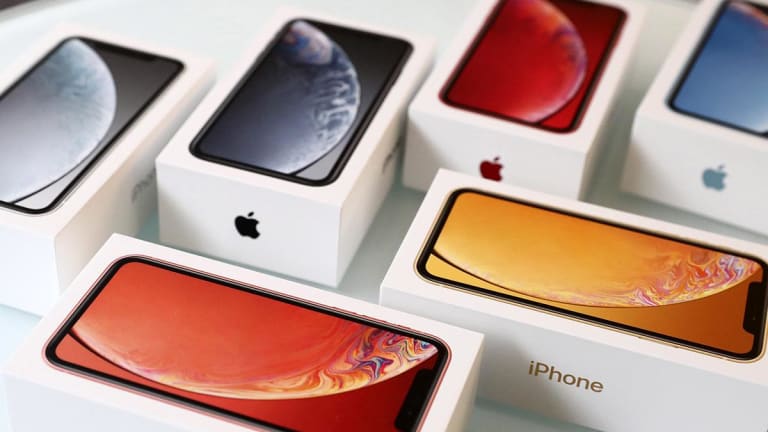 Apple Stock Falls Some 4% on Reports of iPhone Production Cuts
AAPL is down roughly 20% from its October peak.
Apple Inc (AAPL) - Get Free Report shares fell nearly 4% Monday following a report from The Wall Street Journal that suggested yet more iPhone production cuts as waning demand and an increase in available models disrupts the tech giant's global supply chain.
The Journal reported that Apple has notably reduced orders for the three new iPhones it unveiled in September -- the XS, XS Max and the XR -- from suppliers, and slashed planned production for the iPhone XR by around 33% from the 70 million units it originally had anticipated from launch through the holiday season. AAPL fell 3.96% on the news to close at $185.86. All told, the stock has lost some 20% since peaking on Oct. 3 at $233.47 intraday.
The latest Journal piece follows on from a series of analyst downgrades and reports of waning iPhone demand and production cuts, as well as a troubling profit warning from Lumentum Holdings (LITE) - Get Free Report , a key supplier of 3D chips for Apple iPhone's facial recognition system.
"We are concerned that end demand for new iPhone models is deteriorating," Goldman analysts wrote in a client note last week that cut its price target on Apple to $209 from $222 per share. "While Apple may have already contemplated some weakness in its guidance, we feel the timing and magnitude of the LITE reduction suggests ... incrementally worse demand data."
Earlier this month, another Apple supplier, Japan Display, which makes LCD screens, cuts its full-year sales growth and margin forecasts after posting its sixth consecutive quarterly operating loss of 4.7 billion yen ($413 million) for the three months ending in September. That was followed by a report from the Nikkei business daily which said key Taiwan-based suppliers said Foxconn and Pegatron were asked to halt the new production capacity until they get more clarity on iPhone XR demand from Apple.
The reports came in the wake of a decision by Apple to no longer provide detailed numbers for the sale of it individual products, such as iPhones and mac computers, meaning investors will no longer be able to calculate their average selling price, a key metric used to gauge the company's profitability.
The decision to scrap that guidance, as well as forecasts for December quarter sales of around $91 billion over the three months ending in December, overshadowed a stronger-than-expected September quarter which saw better-than-expected earnings of $2.91 per share and group revenues of $62.9 billion, and sent shares tumbling more than 6.3% Friday, the biggest single-day decline since 2014.
(This article has been updated with closing stock prices.)