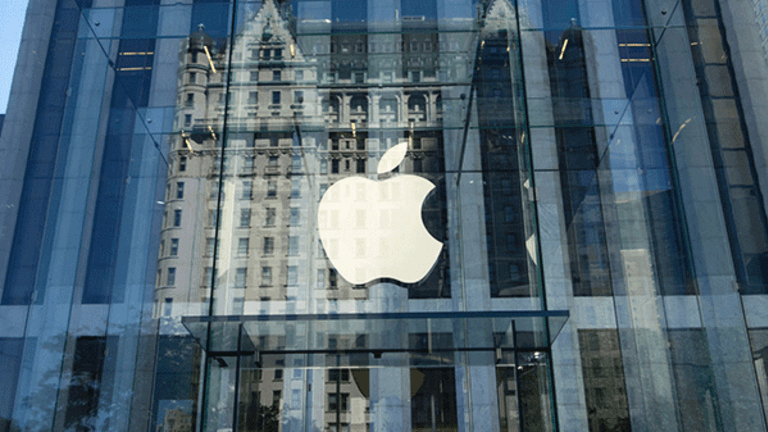 Publish date:
Apple Disappoints Investors in the Fourth Quarter: What Wall Street's Saying
Analysts highlighted growth in Apple's services sector, but some worry that supply constraints prevented the company from taking advantage of the Samsung Galaxy Note 7 debacle.
Analysts highlighted growth in Apple's services sector, but some worry that supply constraints prevented the company from taking advantage of the Samsung Galaxy Note 7 debacle.
Apple (AAPL) - Get Report  reported annual results Tuesday, Oct. 25, roughly in line with expectations, but the company reported its first annual revenue decline since 2001 and its third consecutive quarterly revenue decline.
For the quarter ending Sept. 24, Apple earned $1.67 per share on revenues of $46.9 billion. EPS topped analysts' expectations by one cent, while revenues fell just shy of the consensus estimate of $46.94 billion. iPhone sales fell 5% year-over-year to 45.5 million, ahead of the expected 44.8 million.
Apple is a holding in Jim Cramer's Action Alerts PLUS Charitable Trust Portfolio. Want to be alerted before Cramer buys or sells AAPL? Learn more now.
Apple also declared a cash dividend of 57 cents per share, payable on Nov. 10 to shareholders of record as of Nov. 7. 
In a statement, CEO Tim Cook highlighted "the incredible momentum of our Services business, where revenue grew 24 percent to set another all-time record."
For the first quarter of fiscal 2017, Apple expects revenues of $76 billion to $78 billion.
Here's a look at what some Wall Street analysts had to say about the quarter. 
Brian J. White, Drexel Hamilton (Buy, $185 PT)
"In our view, the 'gloom and doom' around Apple is starting to fade and believe last night's earnings call will provide investors with even more optimism...Similar to the summer of 2013, we believe this summer will prove to be a bottoming process for Apple's stock with our estimates reflecting that the sales and profit cycle troughed in 3Q:FY16. During our recent China/Taiwan Tech Tour, we walked away pleased with the iPhone 7/7 Plus launch with a bias toward the iPhone 7 Plus...We believe the mix of iPhone 7 Plus is more favorable relative to the iPhone 6s Plus, a positive for ASP...The unit sales cycle of iPad remained in negative territory for the eleventh consecutive quarter during the September quarter... In the long run, we believe Apple has legs in China as the company is planning a bigger push into Tier 3-5 cities (80-90% of China's households) across Mainland China over the next 12-24 months and the country's 4G network ended 2015 at just 32% penetrated (e.g., based on 4G subscribers as a percentage of total mobile subscribers) but we estimate this percentage will reach 54% by the end of 2016. We anticipate China Mobile will expand its network into these Tier 3-5 cities over the next couple of years and benefit iPhone sales at Apple...We believe Apple has already started investing for the ramp of the mobile Internet in India and we view the country at a similar stage as China was for Apple in 2010."
Andy Hargreaves, Pacific Crest (Overweight, $129 PT)
"Gross-margin guidance of 38.0%-38.5% was slightly below our and consensus expectations. Consensus estimates entering the quarter were incorrectly modeling services revenue in FQ1 by including $584 million in patent lawsuit revenue that Apple was awarded in the prior year. Not only does this incorrectly inform the consensus iPhone unit estimates in FQ1, but it also inflated the consensus gross-margin expectation by ~40 basis points. This, combined with the fact that gross-margin guidance is usually approached conservatively, gives us comfort that gross margin throughout the cycle is likely to be largely in line with our expectations, and see no impact from competitive threats...The dramatic step up in expected research and development costs is likely to diminish operating leverage on higher iPhone units. Apple indicated that the step up was going to products in the pipeline. Apple is obviously not in a position in which it can talk to plans on automobiles, which are likely a key driver to this spending. However, the higher spending in the context of slower innovation in iPhone and iPad, combined with a relatively weak launch to Apple Watch, and lack of meaningful progress in television, could imply that Apple is struggling to find a material profit driver outside of iPhone."

Kulbinder Garcha, Credit Suisse (Outperform, $150 PT)
"While there may be some near-term weakness after the recent strength, we believe the lack of upside to estimates is more reflective of supply constraints. Fundamentally we believe our thesis remains intact with the iPhone 7 driving the business back to growth followed by an iPhone 8 super cycle. LT, given high retention rates, a superior ecosystem, and a multi-product compute advantage, we believe FCF of ~$67bn should be sustainable...Our installed base analysis suggests strong growth in 2018 driven by an iPhone 8 super cycle, SE strength, and an aging installed base...We see material potential for Apple's Services, as evidenced by the accelerated growth services revenue of +24% yoy this quarter. Growth was driven by the App Store (+43% yoy) and an inflection in Apple Music revenues, supporting our view that Services can grow from 15% of GP today to 30% LT."
Tim Long, BMO (Outperform, $140 PT)
"We are impressed by the strong iPhone ASP outlook, which helps amplify the impact of units returning to growth in the December quarter...Management typically does not guide iPhone units, but we now model December units at 78 million, above our/consensus prior estimate of 76 million. Additionally, management commentary suggests ASP strength, and our new estimate of $684 is well above our prior $655 estimate...Revenues and opex are both impacted by an extra week in the quarter...Services continue to be an important part of the story, as 43% y/y App Store revenue growth helped drive 24% Services growth. We expect strength for the line item to persist into 2017 and beyond, owing to the growing installed base."
T. Michael Walkley, Canaccord Genuity (Buy, $140 PT)
"Given the Galaxy Note 7 issues and strong demand for the iPhone 7 Plus models, we believe Apple will extend its leading market share of the premium tier smartphone market installed base. We believe these trends should enable the iPhone installed base to exceed 570M exiting C2016, and this impressive installed base should drive strong future iPhone replacement sales and earnings, as well as cash flow generation to fund strong long-term capital returns. While we anticipate a stronger upgrade cycle in C2018 with the 10-year anniversary iPhone 8, initial iPhone 7 demand is encouraging and greater than expected likely bridging the gap until a new form factor iPhone is likely released in C2017...We anticipate Apple demand will outstrip supply until the March quarter. We anticipate Apple will sell in 77.5M iPhones during the December quarter with significantly higher ASPs due to the continued strong demand for iPhone 7 and 7 Plus including the jet black model and greater mix of the 7 Plus...We believe the growing, loyal, and sticky iPhone installed base provides Apple with long-term opportunities to drive further top-line growth through additional products, services, and software sales."
Jeffrey Kvaal, Nomura (Buy, $135 PT)
"Apple has been supply constrained - more so than this time last year - and channel inventory, which rose 2.5mn in F4Q, remains well below the target range of 5-7 weeks. We do, however, believe constraints to be easing. Our supply chain checks indicate upward order revisions over the past two weeks, telco checks indicate volumes of the iPhone 7 are more available, and our lead time tracker illustrates a dramatic improvement in iPhone 7 availability. We do not believe this improvement applies to the 7 Plus. The constraints do mean Apple has not benefited materially from the challenges of the Note 7...Guidance includes 14 weeks of iPhone shipments, although this does not help as much as one might think because Apple began selling the iPhone 7 a week earlier in F4Q than in 2015. Conversely, Apple does bear the full brunt of the extra opex in F1Q, which explains its high opex guidance...Apple has been in need of growth drivers beyond the iPhone. The company offered evidence that its Services and enterprise businesses are likely candidates. Growth in the App Store and Music lifted Services growth to 24% (we modeled 22%), or 13% of total sales. Management was clear that not only was the iOS subscriber base growing healthily (we estimate 15% growth aided by record Android switchers), individual consumers were also spending more. Apple offered a great deal of anecdotal support for its enterprise efforts. We believe enterprise is now comfortably above 10% of sales...With the AT&T Time Warner deal in the air, investors are interested in Apple's appetite for content ownership and larger acquisitions than their typical tuck ins. Apple reiterated on the call that TV is of 'intense interest' and that it is interested in creating its own content."
Amit Daryanani, RBC (Outperform, $125 PT)
"We think the sell-off creates an attractive entry point for investors given fundamentals are largely intact and AAPL left room for upside in Dec-qtr... We believe the gross margins on the iPhone are the highest relative to its other product categories, which should help the company maintain a near 40% gross margin profile if sales continue to represent 50%+ of Apple's total revenue. If a superior smartphone arrives that emulates the iPhone experience at a lower price point and begins taking share away from Apple, our positive view on the company would likely come under scrutiny...Consumers are becoming aware of the product cycle and we believe this should cause increased seasonality in the product as consumers await updated and fully remade iPhones...We believe iPhone sales will be skewed more toward the December and March quarters in the future if Apple continues to announce updates to its product toward the end of each calendar year...In our view, the iPad can continue penetrating the government, consumer, and enterprise sectors by adding some useful features and functionalities such as: 1) Microsoft Office; 2) improved textbooks for the education sector; 3) seamless mobile payment processing; 4) larger flash memory storage; and 5) improved battery life...We believe that the entire Mac line-up should continue growing at single digit growth rates on a Y/Y basis with the majority of the growth coming from the portable product line...We estimate that the penetration rate of the iPhone internationally is roughly one-fifth the penetration rate in the Americas."
Simona Jankowski, Goldman Sachs (Buy, $124 PT)
"While Apple has made numerous small tuck-in acquisitions, it has yet to make a transformative acquisition; note it has a significant net cash balance of over $150bn. In fact, the largest acquisition the company has made in its history was Beats for $3bn in 2014. On the F4Q earnings call, CEO Tim Cook noted that the company is 'open to acquisitions of any size"' In addition, Mr. Cook highlighted content creation and content ownership as a 'great opportunity.' We view this stance toward M&A and content as more open ended relative to commentary from prior quarters, which largely focused on technology IP and talent...Interestingly, Apple does not believe they are meaningfully benefitting from the issues with Samsung's Note 7 due to supply constraints; this could become more of a tailwind as the constraints ease. Putting it all together, we believe that supply, rather than demand, will likely be the determining factor on upside in the December quarter...CEO Tim Cook believes that Apple is just beginning to scratch the surface of the opportunity in India, citing that almost 50% of the population is currently under 25...We believe that Apple should leverage its current leadership in smartphones into future leadership in content by launching a subscription bundle including the iPhone, Apple Music, Apple TV, access to the iTunes library of TV shows and movies, Apple original content, and potentially live sports."
Mark Moskowitz, Barclays (Overweight, $119 PT)
"Apple's loyal customer base and a record number of Android conversions benefited iPhone results and implied guidance. We take the company's multiple references to iPhone 7 plus demand likely outstripping supply in Dec-Q as affirmation of the nearterm lift to the iPhone business. An extra week in Dec-Q also helps... Overall, the lift from Android conversions (some likely due to the Samsung Note 7 fall-out) and extra week overcome our near-term cautious stance...Given the investor push-back we encountered with our recent near-term cautiousness, we think investors were expecting a little more goodness, especially on the Dec-Q outlook... A big help, however, comes from the extra week in the Dec-Q and Android conversions. We estimate these factors could be responsible for 500-700 bps of growth. The Samsung fall-out could be bigger than expected; we are giving Apple credit for the flow-through effects of this near-term lift in our revised near-to-mid-term estimates...We recommend that investors wait for the dust to settle in coming days. There could be some momentum-focused investors that decide to trim or exit positions on the notion that the Dec-Q goodness is not enough."
Anil Doradla, William Blair (Outperform, no PT)
"From our point of view, there were three key conclusions from Apple's fiscal fourth-quarter results. First, commentary and demand trends on the iPhone were solid, and over the next couple of quarters we expect Apple to benefit from improvements in component supply as well as Samsung's competitive issues...Second, we were impressed by the strong growth in the services segment (up 24.4% year-over-year), which came in well above our and Street estimates (of 12.0% and 20% annual growth, respectively). We expect this segment to continue to experience strong growth...Third, while gross margin guidance came in slightly below our expectations (38.0% to 38.5% expected versus our estimate of 38.7%), we believe this is due in part to foreign exchange headwinds (management highlighted that there was roughly 340 bps of headwinds related to a stronger U.S. dollar), and we believe that the company's ability to charge premium prices for best-in-class devices remains intact. We are not concerned about the company's ability to sustain gross margins at these levels and we believe that over time higher-margin revenues (in the services segment) will increasingly support the company's margin structure."
Maynard Um, Wells Fargo (Market Perform, $105-$120 PT)
"While bulls may cite mgmt conservatism, fx impacts and upward pricing adjustments to counterbalance some of the fx are weighing on gross mgns and unit demand. With regard to cycles, CEO Tim Cook indicated he suspects carriers may be more promotional when subscribers come off two-yr contracts, which is congruous with our analysis that shows units per carrier are higher in non-S cycles (this year) and lower in S-cycles (next year). We believe this may create some headwinds in next year's cycle, which, along with pressures from higher iPhone content, could weigh on gross mgns, particularly if AAPL has to support more promotional activity...Benefit of the extra week is being offset by earlier iPhone launch this yr, fx impact, supply constraints and lack of 1x IP revs and channel inventory build...iPhone supply constraint limiting any potential benefit from Samsung's recall...Apple reiterated that it expects its Services business to be the size of a Fortune 100 company by next year, implying revenues of at least $28.0B and growth of 15% yr/yr...
Sherri Scribner, Deutsche Bank (Hold, $108 PT)
"We believe the muted GM guidance was the primary disappointment, but OpEx was also higher than expected, leading to a more muted EPS outlook. Bulls will point to the strong services growth and easier compares as we head into FY-17, however we remain concerned about slowing smartphone growth and elongating refresh cycles in mature markets. Given the stock's recent move higher, we see current valuations as fully reflecting positive expectations...On the negative side, unit shipments declined across all of AAPL's hardware segments for the third consecutive Q, including iPhone (-5% Y/Y), iPad (-6% Y/Y) and Mac (-14% Y/Y). Despite a strong contribution from iPhone 7 and 7 Plus, ASPs were only up $23 Q/Q and fell $53 Y/Y or 8%. China had another weak quarter, with sales down 30% Y/Y, falling to just 19% of sales."
Andrew Uerkwitz, Oppenheimer (Perform, no PT)
"It is hard to prove that the iPhone 7 cycle is stronger or weaker than 6s, since Apple no longer reports first weekend sales and new models are supply-constrained, which is typical for this time of the year. We believe that positive surprise for F1Q17 revenue guidance is mostly due to higher iPhone ASP...Tim Cook reiterated that AAPL is intensely interested in TV and is focused on original content. We believe Apple's approach to media and content will be a contentious topic for years as its ecosystem fights to maintain differentiation and more important, to fend off competition from internet and media companies...With Mac, iPads, and Watches down despite multiple enterprise initiatives, services remains the last reliable growth segment, up 5% sequentially and 22% y/y. The second biggest contributor, some argue this is the future. We need more proof as less than 5% of iPhone users are using the music service after 15 months and one major overhaul."