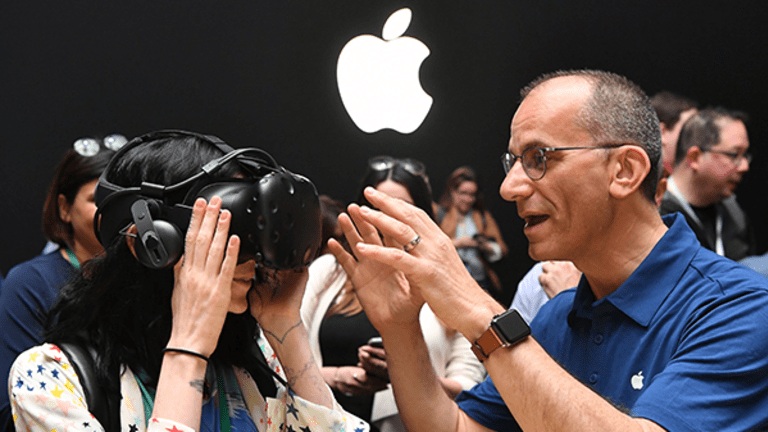 Apple Didn't Have the Biggest Story in Tech Today -- Here's Who Did
Tech always top of mind for TheStreet.
What, you think Apple (AAPL) - Get Apple Inc. Report is the only tech story in town? Think again.
Here are some top reads from TheStreet's tech team today. Without question, IBM takes the cake.
IBM Could Use Some Change At The Top
Reporter:Anders Keitz
For the last five years, Virginia Rometty has been chairman and chief executive of International Business Machines Corp. (IBM) - Get International Business Machines Corporation Report , which just reported that year-over-year revenue fell for the 21st straight quarter. Now, with shareholder frustration mounting and some analysts saying the stock is poised to drop another 18%, Rometty, 59, remains at Big Blue's helm, surrounded by an entrenched board of directors that may compromise the company's ability to innovate and act independently.
IBM's board has five directors that are considered over-tenured because their length of service exceeds the average tenure of other S&P 500 company boards, as well as four directors with whom Rometty works outside of the company, according to BoardEx, a relationship mapping service of TheStreet Inc. The average tenure on S&P 500 boards is 8.3 years, according to leadership consulting firm Spencer Stuart.
Read the full story on TheStreet's sister publication The Dealhere.
Wow, T-Mobile
Reporters: Sarah Solomon, Tony Owusu
T-Mobile (TMUS) - Get T-Mobile US, Inc. Report is crushing it.
Shares of the telecom giant popped as much as 3% on Wednesday in after-market trading after it reported earnings of 67 cents a share, easily topping analysts' expected second quarter financial results of 38 cents a share.
For the quarter T-Mobile reported revenue of $10.2 billion. Analysts polled by FactSet were projecting revenue of $9.8 billion.
Meanwhile, T-Mobile CEO John Legere is by and far one of the most interesting CEOs on Twitter (TWTR) - Get Twitter, Inc. Report not only for his personal content, but how he often goes after wireless carrier rivals Verizon (VZ) - Get Verizon Communications Inc. Report and AT&T (T) - Get AT&T Inc. Report .
In the battle for more phone subscribers, Legere will never pass over the chance to poke fun at the competition. With over 4 million followers and counting, he certainly knows how to elicit a reaction. For example, that time he went after Verizon during their April earnings miss.
Show These Microsoft Businesses Some Love
Jim Cramer, TheStreet's Founder and Action Alerts PLUS charitable trust portfolio manager
Reporter:Bret Kenwell
So much focus is put on the FANG stocks -- Facebook Inc (FB) - Get Meta Platforms Inc. Class A Report , Amazon.com, Inc. (AMZN) - Get Amazon.com, Inc. Report , Netflix, Inc. (NFLX) - Get Netflix, Inc. Report and Alphabet Inc (GOOGL) - Get Alphabet Inc. Class A Report . But for some reason, Microsoft Corporation (MSFT) - Get Microsoft Corporation Report seems to get swept under the rug, despite its stock already climbing nearly 20% on the year.
Investors hope that momentum continues when Microsoft reports earnings on Thursday after the close. "I think that Microsoft is advancing," Cramersaid from the floor of the New York Stock Exchange Wednesday.
International Business Machines Corp. (IBM) - Get International Business Machines Corporation Report is trying to boost its cloud business, but it's more of a proprietary cloud, Cramer reasoned, adding that he likes the open cloud format more. Microsoft's Azure cloud business fits that scheme and is giving Amazon and Alphabet a run for its money.
Cramer said he expects Azure and Microsoft's Xbox division to report with an upside surprise on Thursday.
Here Is Your Apple Story
Reporter: Amanda Schiavo
Apple's upcoming iPhone, the iPhone Pro a.k.a the iPhone 8, isn't going to be delayed but it will cost more due to higher production expenses, JPMorgan said in a note to clients on Wednesday.
The firm increased its expected average selling price for the 10th anniversary version of the smart phone to $1,100, a $100 increase from its previous estimate.
JPMorgan expects the device to launch on time, despite reports to the contrary citing all kinds of technical problems.
Facebook Monopoly?
Reporter:Lisa Botter
Facebook snagged an upgrade from Needham & Co. LLC ahead of the company's second quarter earnings next week.
Needham raised its target price to $185 from $165, with analyst Laura Martin striking a bullish tone on user growth.
"Our channel checks indicate more robust advertising revenue growth than we previously projected owing to more video ads (i.e., higher CPMs), faster Instagram revenue growth, and lower competition from SNAP than we had previously projected," Martin wrote.
Facebook is now "becoming the de facto near-monopoly mobile choice for brands and direct response (i.e., lead-gen) advertisers," she added.
Needham also raised its second quarter revenue estimate to $9.18 billion, up 43% year on year and 2% ahead of its prior estimates. It also expects earnings per share to come in at $1.09, up 55% compared with last year.
Needham expects advertising revenue to reach approximately $9 billion, up 44% year on year and 2% above their prior estimates, and it expects mobile advertising revenue to represent 85% of total ad revenue in the second quarter, implying mobile revenue of approximately $7.65 billion.
The investment bank has kept a buy rating on the stock. "We are buyers of FB based on our belief that digital markets are "winner-take-most" markets, and FB is a key winner when advertisers are trying to reach consumers on their mobile devices because 1.2B consumers spend about 50 minutes each day on one of FB's 4 apps," Martin wrote.
OK, More Apple
Reporter: Natalie Walters
Apple changed the world in 2007 when former CEO Steve Jobs introduced the iPhone in a now-famous keynote in his signature black turtleneck.
While the device created the smartphone category, some analysts are wondering how much longer the company can boast about the device. It's been 10 years and the company is still reliant on the iPhone for over half of its revenue.
For a number of critics, the company lost its innovative gene when Jobs died in October 2011 and handed the reigns to his Tim Cook, his second-in-command. The only revolutionary product it has introduced since his death is the Apple Watch in April 2015, but it certainly wasn't the first smartwatch to hit the market, and it hasn't become a mainstream success like the iPhone.
"Steve is gone and so the creative direction is gone," former Apple creative director Hugh Dubberly told TheStreet.
Read the full interview here.
Apple, Facebook and Alphabet are holdings in Jim Cramer's Action Alerts PLUS Charitable Trust Portfolio. Want to be alerted before Cramer buys or sells AAPL, FB and GOOGL? Learn more now.
Watch More with TheStreet: