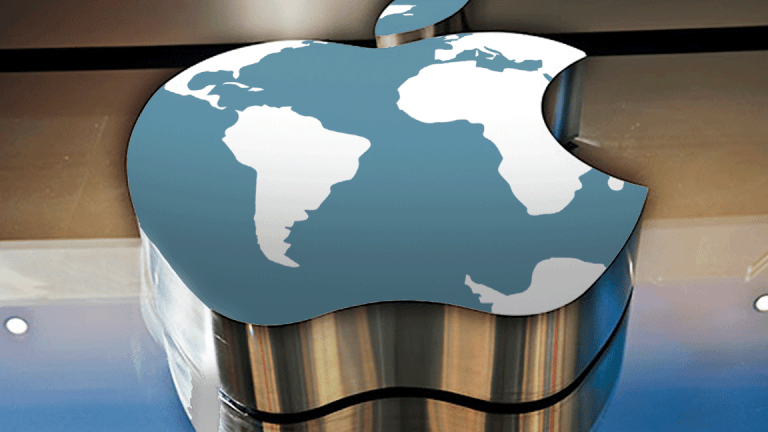 Apple China iPhone Sales Dive; Huawei Extends Lead in World's Biggest Market
Apple sees its China Iphone sales plunge in the final three months of last year, according to a closely watched industry report.
Apple Inc. (AAPL) - Get Report saw its China iPhone sales plunge in the final three months of last year, according to a closely watched industry report published Monday, while rival Huawei Technologies extended its lead in the world's biggest smartphone market.
International Data Corp. figures show Apple's iPhone sales fell by an annual rate of 19.9% over the final quarter of last year, clipping its market share to around 11.5% from 11.8% as slowing economic growth, higher prices and longer replacement times kept more of the company's key products on shelves around the world. Huawei, meanwhile, took its market share to just under 30%, thanks to a 23.3% increase in fourth quarter shipments, as the China-backed technology giant continues to extend its lead over foreign rivals.
Apple shares were down 0.5% to $169.63 on Monday, valuing the Cupertino, California-based group at around $803.5 billion.
Apple was the first U.S. bluechip to cite weaker China demand when the world's biggest tech company told investors on January 2 that revenue for the three months ending in December would come in around $84 billion, notably shy of the Street consensus of around $94 billion and the company's own previous guidance of between $89 billion and $93 billion.
Apple's China sales over the three months ending in December fell 34% to $13.17 billion, the company reported on January 29, compared to a 4.5% top in overall topline revenues.
"In the letter we shared earlier this month, we said we are proud to participate in the Chinese marketplace and that we believe our business has a bright future there over time," CEO Tim Cook told investors at the time. "Despite the challenging December quarter, our revenue from China grew slightly for the full calendar year. Macroeconomic factors will come and go, but we see great upside in continuing to focus on the things that we can control."
Huawei's grip on the domestic China market, where is shipped 105 million units last year to earn a 26.4% market share, comes as the world's biggest telecoms equipment maker finds itself in the cross hairs of governments around the world as lawmakers debate the security risks associated with a Beijing-backed tech company designing and installing next-generation equipment that could be used for political or corporate espionage.
U.S. Secretary of State Mike Pompeo is set to put voice to those concerns during a visit to Europe this week, in fact, where he is expected to warn leaders in Slovakia, Poland and Hungary, the cite of a new Huawei logistic center, of the dangers of opening 5G networks to Chinese technology.
Earlier this month, Reuters reported that U.S. State Department officials pressed European leaders to exclude Huawei equipment from its 5G rollout plans, arguing that security risks linked to the China-backed company have made their products unsafe and potentially open to hacking and espionage.
The agency also said the EU could amend a 2016 cybersecurity law that would effectively ban Huawei from one of its biggest markets, a move that could open the door for next generation equipment makers such as Nokia and Ericcson as well as Germany's Deutsche Telekom.
Germany has also made moves to assess security risks posed by Huawei, with Chancellor Angela Merkel telling an audience during her recent visit to Japan's Keio Univeristy that she wants assurances that "the company doesn't just simply hand the data to the (Chinese) state" if its awarded 5G contracts in Europe's biggest economy.