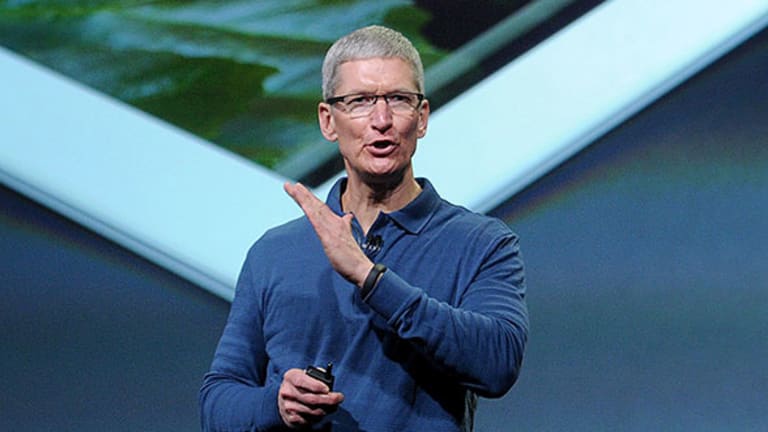 Apple CEO Tim Cook Receives a 15% Pay Cut for 2016
Apple is cutting the paychecks of CEO Tim Cook and other executives because of missed goals in 2016.
Updated from 12:39 p.m. with additional information.
Apple (AAPL) - Get Apple Inc. Report CEO Tim Cook saw his pay cut by about 15% for 2016 because the tech giant missed revenue and profit goals for the year. Apple's sales of $215.6 billion were lower than its $223.6 billion target, while its operating income of $60 billion narrowly missed its $60.3 billion goal.
Cook received $8.75 million in total compensation for the year, vs. the $10.28 million he received in 2015, according to an SEC filing on Friday. 
Other Apple executives saw their pay cut as well to reflect the company's "strong pay-for-performance alignment," the company wrote in the filing. 
The five-year CEO's 15% pay cut was higher than other executives, however, who on average took a 9.6% decline. This is because a larger portion of Cook's pay is comprised of cash incentives.
"We have clear performance expectations of our executive team, and the design of our executive compensation program reflects these expectations," Apple said in the filing.
Shares of Apple were up about 1% to $117.79 in early afternoon trading on Friday. The stock rose about 12% in 2016.
Much of the company's decline in revenue in 2016 can be attributed to slowing smartphone sale trends. The iPhone makes up the lion's share of Apple's sales, but the company only sold 212 million units in fiscal 2016 vs. 231 million in 2015.
Meanwhile, Apple launched its new iPhone 7 line in September, right at the end of its fiscal year. Despite being a highly-anticipated launch, so far sales have fallen short of some analysts' expectations. 
While Cook's $8.75 million pay package for 2016 may still seem like a lot, it isn't "outrageous" considering the job, said Peter Morici, a University of Maryland business professor and former director of economics for the U.S. International Trade Commission, on Fox Business' "Varney & Company" on Friday morning. 
"He's doing a pretty good job in a pretty tough environment," Morici said. "He's the one CEO I'm not going to say is overpaid. I'd rather focus on the CEOs of IBM (IBM) - Get International Business Machines Corporation Report or General Motors (GM) - Get General Motors Company Report in that regard." 
(Apple is held in Jim Cramer's charitable trust Action Alerts PLUS. See all of his holdings here.)
Additional reporting by Rachel Aldrich