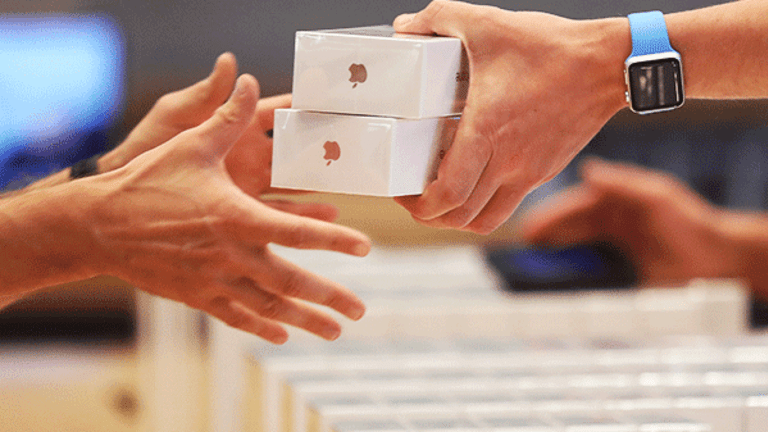 Apple CEO Tim Cook Blames Media Reports for Disappointing iPhone Sales
Leaks, rumors and mock-ups of the iPhone 8 are causing consumers to rethink purchasing the current iPhone, according to Cook.
Apple (AAPL) - Get Apple Inc. (AAPL) Report has never been a company that gives clues about what it's working on. That strategy may have hurt one of the company's most important sales figures in its latest earnings report, however. 
The tech giant on Tuesday reported falling iPhone sales for the fiscal second quarter, saying it shipped 50.8 million iPhones versus Wall Street's expectations for 52 million units sold. Apple's revenue fell short of estimates for the period, but earnings came in above analysts' predictions. 
Shares of Apple were sliding 1.1% to $145.92 on Wednesday morning. 
CEO Tim Cook said the disappointing iPhone sales (units sold were down 1% year-over-year, with revenue rising 1% annually) can be traced to the plethora of rumors about the 8th generation model that's due out later this year. As consumers read leaks and rumors about the upcoming iPhone 8, including stories like our own, they may have been persuaded to hold off from buying the iPhone 7. The trend is likely what caused iPhone purchase intent to hit a nine-year low during the quarter, according to a survey of 4,000 consumers by 451 Research, which was cited in a recent UBS note. 
"We're seeing what we believe to be a pause in purchases of the iPhone, which we believe is due to the earlier and much more frequent reports about future iPhones," Cook said on the company's earnings call. "And so that part is clearly going on, and it could be what's behind the data. We are seeing that in full transparency." 
As the company remains tight-lipped about what's in the works for the next iPhone, as it always is, many members of the media and tech communities, as well as analysts, have circulated mock ups, patents and other rumors suggesting what the iPhone 8 will look like. The difference this time is that the news is so hotly anticipated, given that it's the tenth anniversary edition of the groundbreaking device, as well as general interest in Apple given its rising share price and status as America's most valuable company.
A search query for "iPhone 8 leaks" over the past year on Google News yields a whopping total of more than 104,000 results. And a search of the hashtag #iPhone8 on Twitter yields a plethora of results with purported renderings of the iPhone 8's design. 
An organic LED screen, wireless charging, biometric screening and augmented reality technology have all been rumored to be in the next edition of Apple's legacy smartphone. One rumor was circulating on the eve of Apple's earnings, claiming that the iPhone 8 might not be released until 2018, citing supply chain constraints. 
The rumor mill churns ahead of almost every new iPhone release, but Cook noted that it seemed to occur earlier and much more frequently this year. Speculation about the iPhone 8 started even in the days leading up to the iPhone 7's release, with some unsatisfied by many of the iPhone 7's new features, such as water-resistance, a new home button and, perhaps most controversially, the lack of a headphone jack. Some of the initial rumors about the iPhone 8, such as an all-glass or ceramic iPhone design, have since dissipated. 
Despite Cook's concerns about the rumors hurting sales, the payoff could come in the form of an iPhone 8 "super cycle" later this year. Analysts have been at odds over whether the company will see a greater-than-expected jump in sales of its 10th anniversary iPhone, as existing owners' pent-up demand causes them to upgrade in droves.  
TheStreet's Jim Cramer, who owns Apple in his Action Alerts PLUS Charitable Trust Portfolio, has cautioned against using the term super cycle, however. If investors get too excited about the iPhone 8, the stock could have a huge run-up ahead of earnings and then experience a selloff afterward.