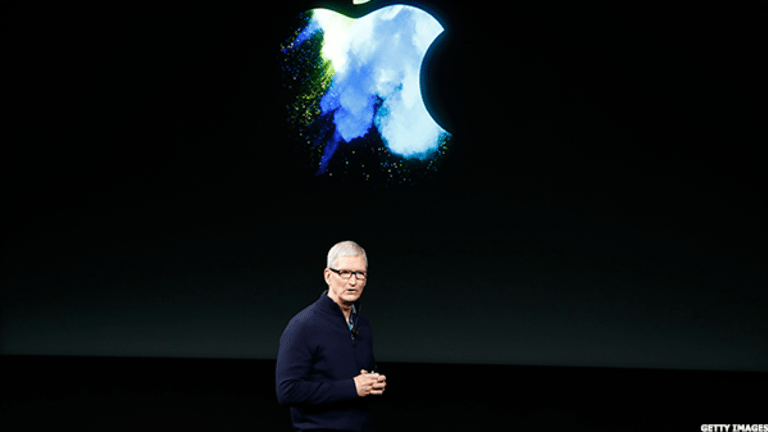 Apple Can Return $300 Billion to Shareholders Even Without a Tax Holiday
Taking on debt to fund capital returns is a much cheaper option for Apple than paying taxes to repatriate offshore cash.
Apple (AAPL) - Get Apple Inc. (AAPL) Report isn't waiting for a tax holiday on offshore cash to pump up its dividends and buybacks.
As a sign of Apple's "strong confidence in our future," CEO Tim Cook pledged to boost its capital returns to shareholders through March 2019 from the previously-announced $250 billion to $300 billion, during the company's first-quarter earnings call after the close Tuesday.
Apple reported $256.8 billion in cash and equivalents in the quarter, with $239.6 billion of it outside the U.S. 
President Trump has proposed a tax holiday that could help Apple and other cash-rich tech companies pay dividends and buy back shares-- though the government could place restrictions on shareholder returns, or provide incentives to add jobs or invest in infrastructure.
"With Apple's cash pile growing to over $250 billion, questions regarding repatriation tax policies and buybacks return," said Moody's Investors Service analyst Gerald Granovsky in an emailed statement about Apple's cash dilemma. "Expansion of the shareholder return program by $50 billion puts more pressure on the company to raise debt absent repatriation."
For Apple and other blue chip tech companies, paying low single-digit interest on debt to fund moves is much cheaper than repatriating cash at a 35% corporate tax rate.
The company has increased its leverage in recent years to cover shareholder returns and other expenses, even as its cash balance has topped a quarter of a trillion dollars. 
Apple issued $11 billion in debt during the second fiscal quarter, and reported long-term debt of $84.5 billion. The growth in debt over the last half decade is noteworthy. In the second fiscal quarter of 2015, Apple's long term debt was $40.1 billion -- less than half its current total. In the second fiscal quarter of 2013, according to FactSet, Apple had no long-term debt.
President Trump supports a 15% corporate tax rate, and Secretary of the Treasury Steven Mnuchin said in late April that the administration is in talks on a proposal. "We're working with the House and Senate on that, but I will say it will be a very competitive rate that will bring back trillions of dollars," Mnuchin said at a White House briefing.
Despite the growing cash balance, Apple shares have been down Wednesday following the earnings report, which contained lower-than-expected unit sales of iPhones. 
Top stories on TheStreet right now:
S&P 500 Higher as Jobs Report Shores Up Chances of June Rate Hike
Here Are Some Companies Apple Might Acquire With its Huge $250 Billion Cash Stockpile
People Are So Crazy About Costco They Wouldn't Mind Paying Even More to Shop for Bulk Ketchup
While some elements of the report disappointed, Jim Cramer and the AAP team found some examples of strength. Find out more with a free trial subscription to Action Alerts PLUS.
Editor's pick: This article was originally published on March 3 at 2:46 p.m. ET.